A bedpan is a collection container for urine or stool. You use a bedpan when you have an ailing patient that's not able to leave their bed to use the bathroom.
How Are Bedpans Used 
Users have different positions at which to use bedpans. They can sit on a sofa or lay in bed and use bedpans. These bedpans come in two major types. Plastic bedpans have lids that help keep them clean and contaminant-free. 
You can also wash these plastic bedpans. On the other hand, grey paper pulp bedpans are disposable. However, both disposable and washable plastic bedpans are effortless to use and safely collect all urine and faeces. 
These bedpans come in different designs too. The slipper pans are perfect for users that lie down. They're fitted with handles for ease of use while some also have lids to prevent spillage.
Slipper bedpans are more convenient for people who're recovering from lower body surgery or a bone fracture and aren't able to sit up. Disposable pulp bedpans on the hand are often made from recycled pulp and are more suitable for a hospital setup than a home setup.
These bedpans are more convenient for use with a bedpan supporter. Besides, they require a macerator for special handling and disposal. Common bedpans are more hygienic, and offer single use for any incontinence.  They're eco-friendly and disposable in a macerator and some have attached commode chairs for ease of use.
How Do People Sit On Bedpans 
It's quite straightforward to help your patient use a bedpan if you both relax and don't find it embarrassing. Once you feel at ease, strictly follow these steps:
Add some small amount of body powder on the bedpan's rim to facilitate sliding. If the bedpan doesn't have liners, you can use a bed pad under it to collect any spills.

Support the bedpan into the right position and have the person lift up their hips slightly or sit up. Slide the bedpan under the person.

Alternatively, if you have a helper, support the patient to lift their hips as your helper slides the bedpan under your patient's buttocks.
How Do Bedpans Work for Males 
Bedpans work the same way for both males and females. However, females use a bedpan for urine and faeces, while males prefer a urinal for urine and a bedpan for faeces. Therefore, when using a bedpan with a man, follow the above procedure step by step.
Why Are Bedpans So Hard to Use 
Bedpans are hard to use because they involve the users' privacy. For patients who care a lot about their private parts, it may be challenging to use bedpans. Likewise, it's difficult for the caregiver to touch the other person's private parts to clean them or position them well for a bedpan.
Where to Buy Bedpans 
Frederick Bassett invented bedpans in New York during the late 18th century. Initially, they were made from metal, but they've since evolved to include other materials like pulp and plastic. Bedpans are so much in use today.
Caregivers use bedpans in nursing homes, at home, and in the hospital to help elderly patients and ailing or recuperating patients. Most importantly, bedpans have different price ranges depending on their quality and material. 
| Name | Where to Purchase | What You Get |
| --- | --- | --- |
| #1 Homecraft General Purpose Bed Pan | Buy Now | |
| #2 SUPVOX Inflatable Bed Pan | Buy Now | |
| #3 Tovee Blue Heavy Duty Bedpan | Buy Now | |
| #4 YUMSUM Firm Thick Stable PP Bedpan | Buy Now | |
| #5 Performance Health Fracture Bed Pan | Buy Now | |
Best Bed Pans To Buy In 2021-Top 5
This bedpan is made from propylene and is convenient with shower chairs, a pan rack, and a commode.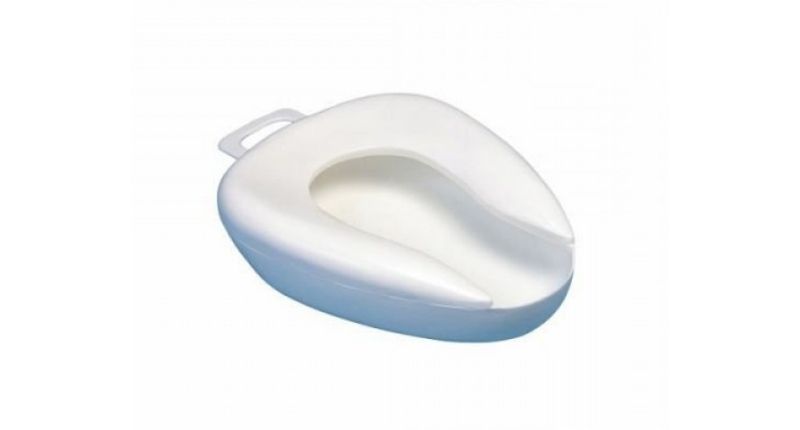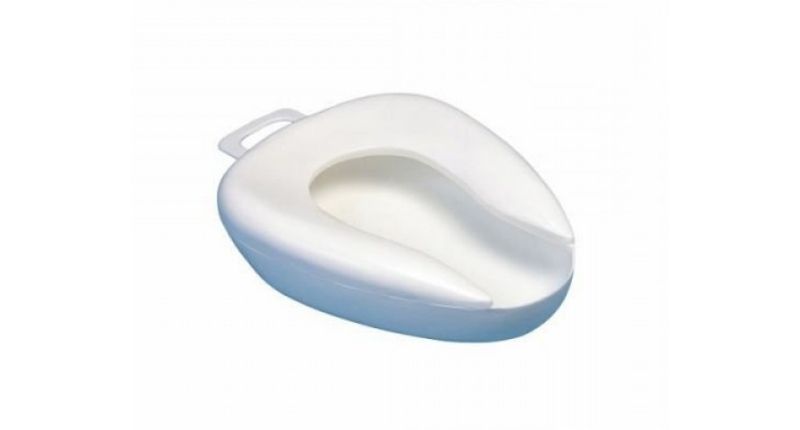 Pros & Cons
Pros
Easy to clean
Auto-clavable
Quality polypropylene
Cons
This bedpan is made from velvet PU materials making it soft and resistant to tear and wear. It has excellent elasticity to suit the user's specific needs.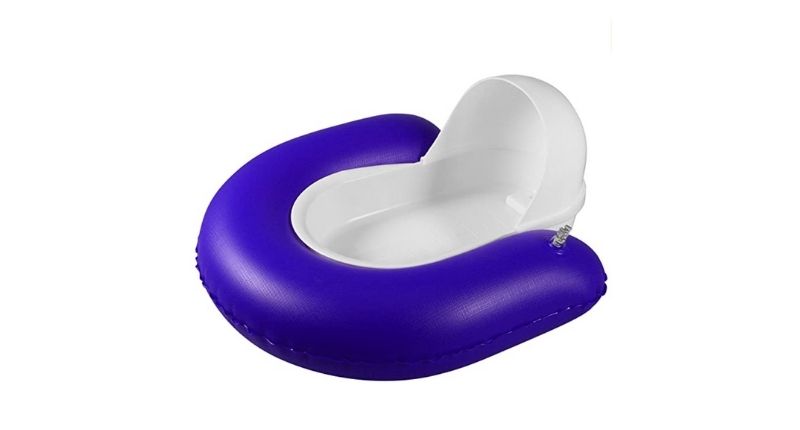 Pros & Cons
Pros
Inflatable
Highly durable
Highly ergonomic
Cons
It's not suitable for users over 50kg
This bedpan is made of high-quality PP materials giving it more durability. It's ideal for both hospital and home setups.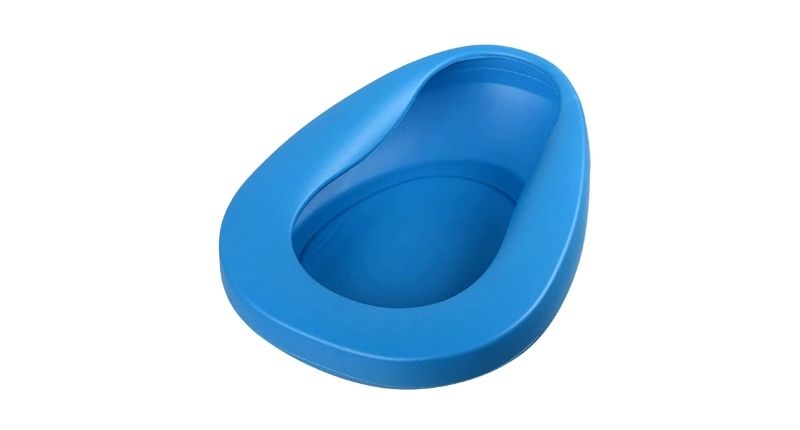 Pros & Cons
Pros
Portable
Easy to clean
Smooth and contoured
Cons
This bedpan has smoothly contoured edges for the user's maximum comfort. It's made from durable PP materials and can support up to 100kgs.

Pros & Cons
Pros
Reusable with an anti-spill
Fully auto-clavable
Easy to clean
Cons
Doesn't work with bucket seats
This bedpan is more convenient for patients recovering from surgery and disabled persons. It has a lid to prevent spillage and handles to help caregivers fit and remove them.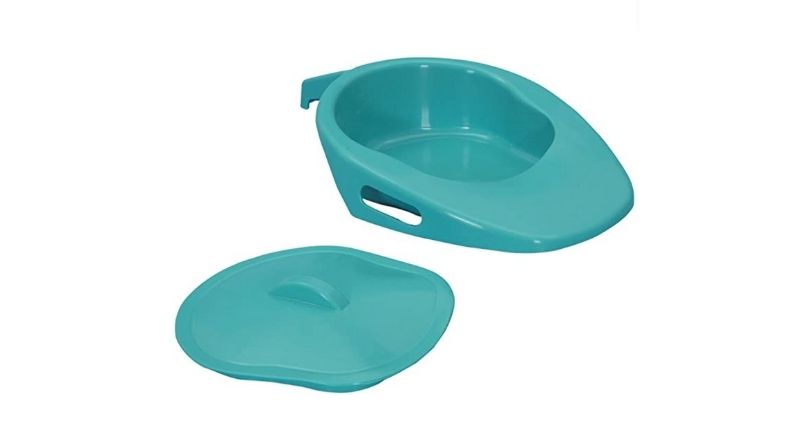 Pros & Cons
Pros
Lightweight
Auto-clavable
Durable
Cons
Cover not as reliable as others
How Do I Choose a Bedpan
A good bedpan has an excellent capacity to hold all the content and to support the user comfortably. An ideal bedpan is 13inches wide and at least 15inches long for big-bodied elders or patients. It should hold at least one litre of content to prevent spillages and overflows.
A stainless bedpan is also more durable and often can carry a weight of 100kgs. Plastic bedpans, too, are easy to clean and are rust-free.
As for the shape and design of a bedpan, a gently contoured design that can easily mould to the buttocks is preferable and more comfortable. The bedpans with a toilet design and have an anti-spill plan are also more safe and convenient.
It will also help if you choose an auto-clavable bedpan which you can clean with water of over 121°C for maximum sterilisation. You should also be comfortable with the normal bedpans, which you can simply clean with household detergents to sanitise. 
What is the difference between a fracture pan and a bedpan 
A bedpan is incontinence equipment for anyone confined and who can't go to the bathroom, while a fracture pan is specific to people with hip fractures.
How can I make it more comfortable? 
Bedpans come in different sizes, so choose one that accommodates your body weight. Also, select your preferred bedpan material.
To pop in a bedpan, place it directly underneath you as you lay on your back. Once your buttocks have fully covered it, proceed to poop.
What can I use instead 
Use pulp macerators in place of bedpans.
To use an inflatable bedpan, sit on it, and inflate it to your most comfortable position, ensuring it covers a better part of your buttocks to prevent spillages. Once your back is well covered, pee or poop in the bedpan.