Overbed tables are extremely useful for individuals that are living with mobility challenges. If someone has difficulty getting out of bed or sitting upright, an overbed table can help immensely. As the name suggests, overbed tables are mobile tables placed over the individual's bed.
These are especially common in hospitals, hospice homes, and retirement homes. Overbed tables help those with mobility issues live much more accessible with tasks that others take for granted.
What Can an Overbed Table Be Used For?
An overbed table is highly useful for a myriad of ways rather than a single-use. For example, a patient may use these to have meals on. This is especially useful during recovery, such as from injury or surgery in a hospital.
They are also helpful simply to have a surface for writing on. The same patient may finish their meal and clear away the dishes so that they can use the table for writing. If a patient is unable to cease working while confined to a bed, this is a necessary use to stay productive.
They also see a use for laptops, holding books, phones, or for entertainment. An overbed table might hold medical supplies, devices, or diagnostic equipment.
Where to Buy an Overbed Table
Overbed tables are a common enough item that you won't struggle to find an excellent place to buy them. Many stores will sell them in person, which is helpful if you need one immediately.
However, many people with mobility issues aren't able to simply go out and visit a store. Buying one online is an excellent solution and can often lead to a cheaper purchase. You also will have a much larger selection than you would in a single store, which is helpful for customisation.
Take a look at our top picks:
| Name | Where to Purchase | What You Get |
| --- | --- | --- |
| #1 My Pick: Days Overbed Table | Buy Now | |
| #2 YP Overbed Table | Buy Now | |
| #3 Days Overbed Table | Buy Now | |
| #4 Days Writing Surface  | Buy Now | |
| #5 NRS Portable Option  | Buy Now | |
Best Overbed Tables to Buy in Ireland
Here's an overview of the current best options:
The Days Overbed Table with Castors is our pick for the best all-around overbed table. This table has a sturdy 10kg weight limit and a range of adjustable heights. 
It's an excellent multipurpose option that will suit any needs excellently.
Pros & Cons
Pros
Wheeled model
Holds up to 10kg
Adjustable
Great price
Our pick for a more expensive option is the YP Overbed Table with additional mousepad space. This table is specifically marketed to have more than one use and is more a mobile table than specifically an overbed table.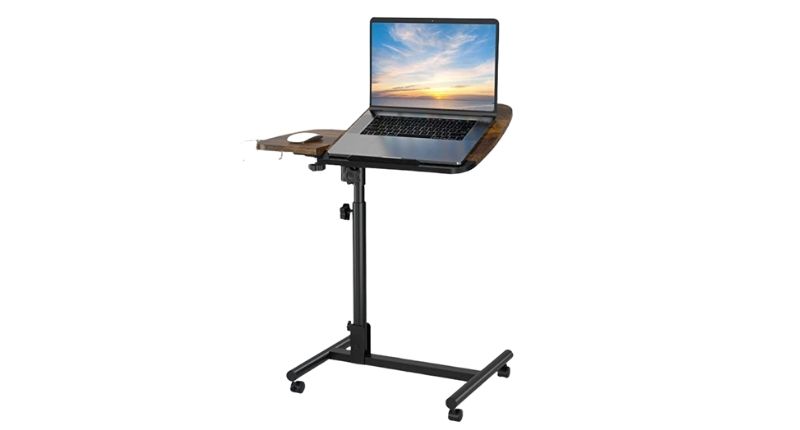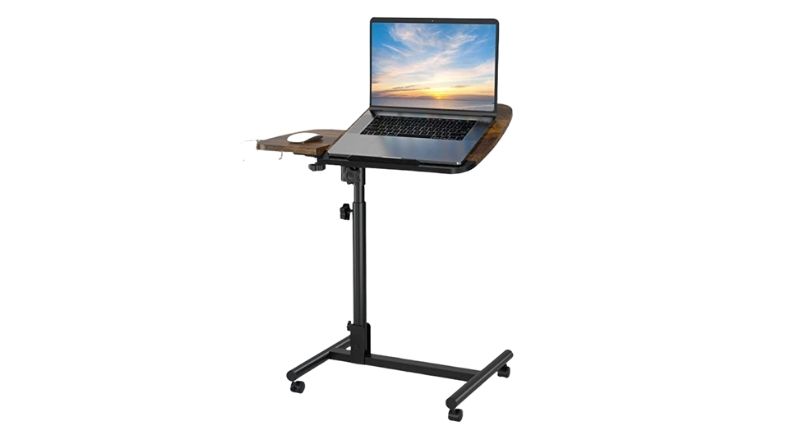 This versatile option fits a sofa, couch, or bed as it is height adjustable. The laptop space can also be tilted from 180 – 360 degrees to suit all. 
Pros & Cons
Pros
Fold away
Contemporary design
Ideal for laptops
Wheeled model
Cons
Expensive due to modern design
There are many alternatives to go for if these options are more expensive than you want to pay. This Days overbed, for example, has the same benefits like our Best All-Around pick without the wheels.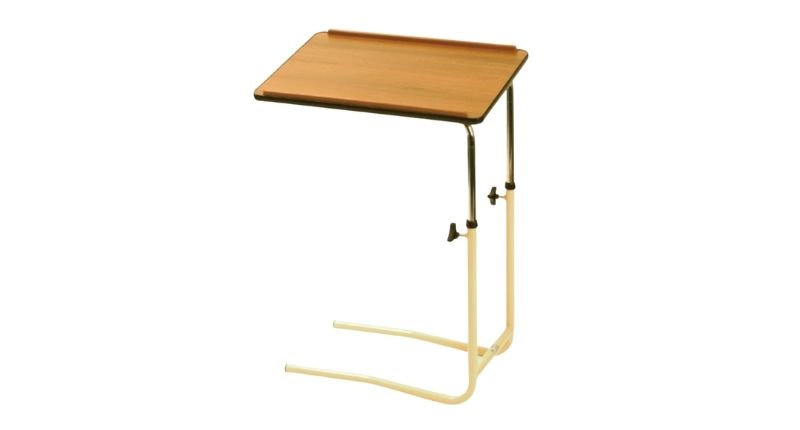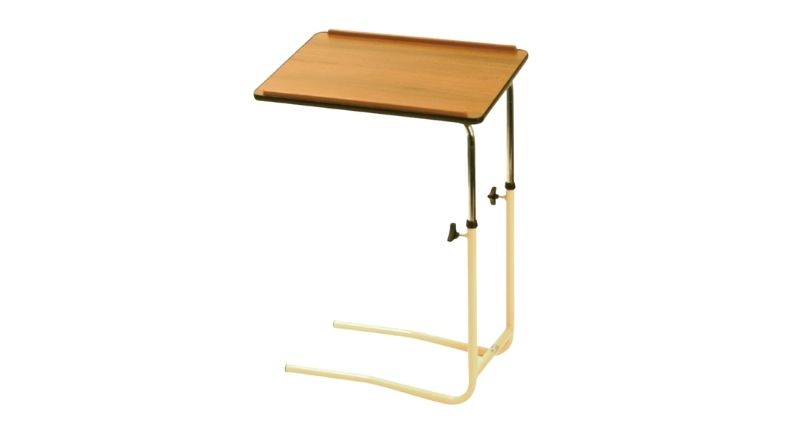 This makes it less mobile but just as sturdy and practical.
Pros & Cons
Pros
Inexpensive
Practical use
Sturdy
Cons
Industrial design
No wheels
Another affordable option is the Days Writing Surface, which can hold a bit less weight but is useful for practicality.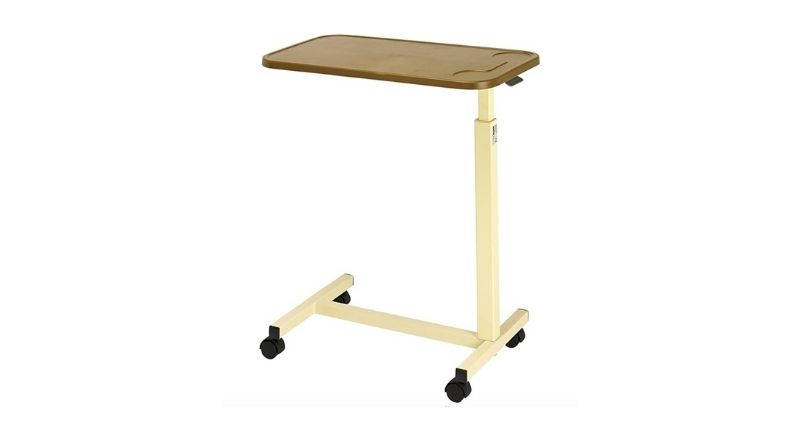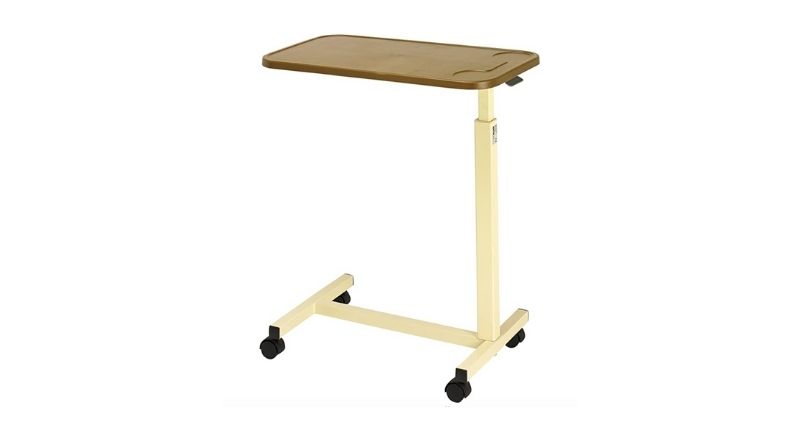 This is an excellent option for wheelchair mobility to use for work supplies and other storage.
Pros & Cons
Pros
Wheeled model
Adjustable height
Ideal for writing, reading, eating
Cons
Industrial design
Plastic surface
Finally, the NRS Portable Overbed is a solid and affordable option. This piece has a powder-coated steel frame and can tilt up to 45 degrees to help with tasks like reading and writing.
Four castors help to keep it portable and easy to position as well.
Pros & Cons
Pros
Tilts
Adjustable
Wheeled model
Cons
More expensive
Bulky bottom
How to Use
Overbed tables are simple enough that anyone can use them. The exact use depends on the table itself, so let's break it down a bit.
Many of the available options have wheels that let you roll the table into place. If not, simply move the table so that the legs are under the bed and the table is over the user. From there, you can adjust the table's height as needed. It's a good idea to get the table in place and stable before placing anything on it to avoid spilling or injury.
How Much Weight Can They Take?
This depends on the overbed table in question. Most can support the weight of the average load of objects, from heavier meals to office supplies and a laptop. In this article, we've included an option that can hold up to 50kg as well as one that can only hold up to 10kg, but many other ranges exist.
How to Keep an Overbed Table From Popping Up
Some overbed tables may have an issue where they pop up. This can cause spillage of items on the table or otherwise inconvenience the user. To prevent this, make sure that the table is well-balanced and that the adjusting mechanism is locked in place.
Who Made the Hospital Overbed Table?
The overbed table was invented by Daniel A. Hartman and L. Dale Foster. They came into prominence in the mid-1980s, especially for use in hospitals.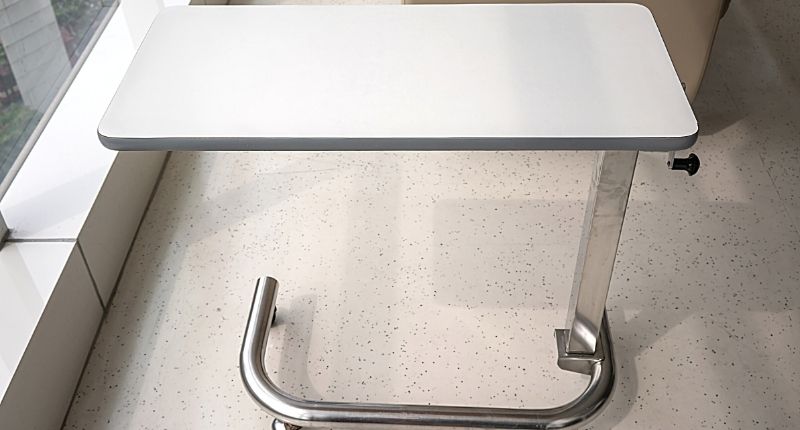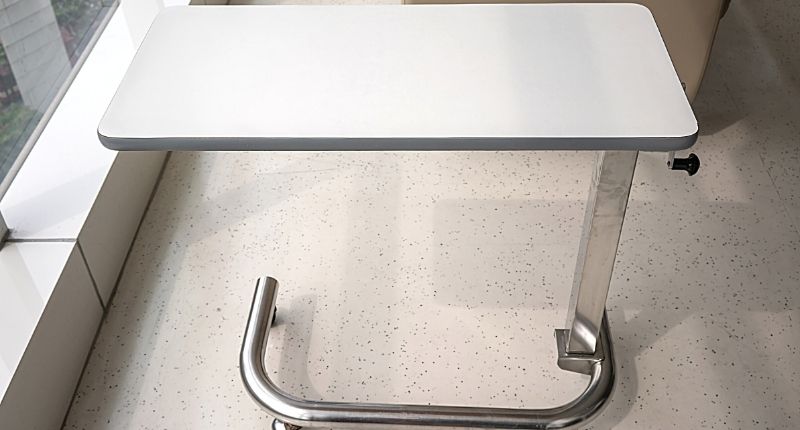 They also began to see extensive at-home use for patients confined to bed rest in the same time period and early 90s. Today, they are a staple in nearly every hospital worldwide.
How to Make an Overbed Table
If the thought of buying a table doesn't suit your needs or desires, you may want to make your own. Thankfully, making an overbed table is relatively easy.
The only supplies you'll need is your building material – wood, sturdy foam, plastic, and PVC all work just fine. Build a solid base to ensure that it's balanced and has room to move over the bed. The most straightforward DIY table will be a flat top, but you can take the opportunity to put in other features like a cup holder.
Other Options for Serving People in Bed or Chairs
One of the many options is a table tray. The Staytray with bean bag is excellent at keeping heat away from your lap. It also does a great job of staying put in your lap due to the bean bag helping with grip and stability.