Warmth, security, and peace: three creature comforts that humans crave. When we're stressed, a weighted blanket is an excellent option to help us find peace. More recently, weighted blankets have been sought out by those looking for an alternative treatment, or therapy, for anxiety. 
A weighted blanket differs from regular bedtime coverings in that it incorporates additional bulk and structure to provide major health boosts and improve sleep quality. The outer cover holds dense filling, which, when layered over the body, creates a feeling of being held, hugged, or cradled. 
What started as a therapeutic tool for one person, eventually made its way into the Irish market so that everyone could access the benefits of this practice. More than just a trendy household item, there are many reasons to use a weighted blanket when you sleep!
In this article, we'll elaborate on these, answer frequently asked questions and show you the best options.
5 Best Weighted Blankets to Buy in Ireland 
Here, we've rounded up the top 5 blankets that appeal to all our senses:
| Name | Where to Purchase | What You Get |
| --- | --- | --- |
| #1 Our Choice: Kocoono BASIC - Best Overall | Buy Now | |
| #2 Kocoono LUXE - Best Luxury | Buy Now | |
| #3 Buzio Shaggy Faux Fur - Best Value | Buy Now | |
| #4 SCM W/ 2 Covers - Best Variety | Buy Now | |
| #5 Sivio Kids - Best Kids | Buy Now | |
Best All Rounder – Kocoono BASIC 
Kocoono offer yet another great choice for eager sleepers when it comes to weighted blankets, this option is the Kocoono Basic Weighted Blanket. Don't let the name fool you though, compared to many other blankets on the Irish market this choice is by no means basic.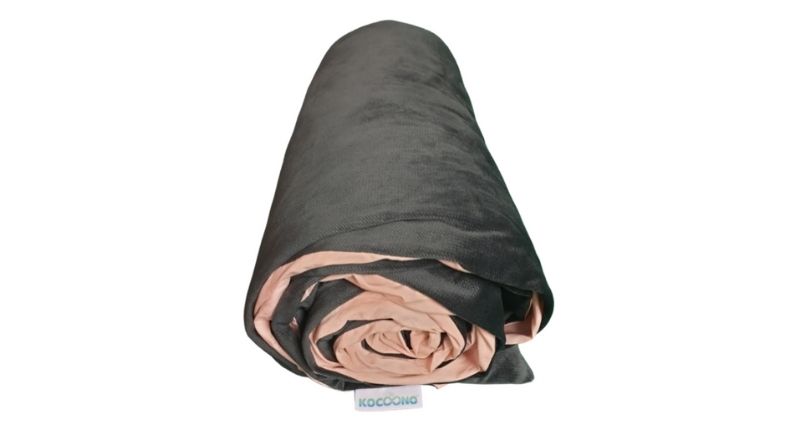 Available in 2 colours and 3 weights, the basic version comes with a double sided cover of which one side is 100% cotton. The other side is a soft to the touch velvet fabric to keep you cosy and your sleep aid stylish when on display at home.
Kocoono refer to this blanket as their basic option as it does not feature the removable weight option as in their LUXE blanket. It also does not feature the in-built shoulder embrace to directly target should and neck pain BUT that doesn't mean it won't be effective in general for achieving quality and restful sleep.
You can enjoy the benefits of Deep Pressure Therapy with the simpler version of Kocoono. Overall this is an affordable, stylish and top quality option for customers.
Pros & Cons
Pros
Multiple colours & weights
Affordable option
100% cotton material
Double sided cover – cotton & velvet
Cons
No removable weight feature
Best Luxury –

Kocoono LUXE 
For those who toss and turn at night due to stress, anxiety or persistent issues with sleep, the Kocoono LUXE Weighted Blanket is for you. A luxurious option for all sleepers, this blanket features two fabric options when purchasing along with multiple choices of weight. 
One option in this luxury range features deluxe velvet on one side and breathable cotton on the other, giving the user the best of both fabrics. This option is available in two colours, turquoise/ navy and grey/peach.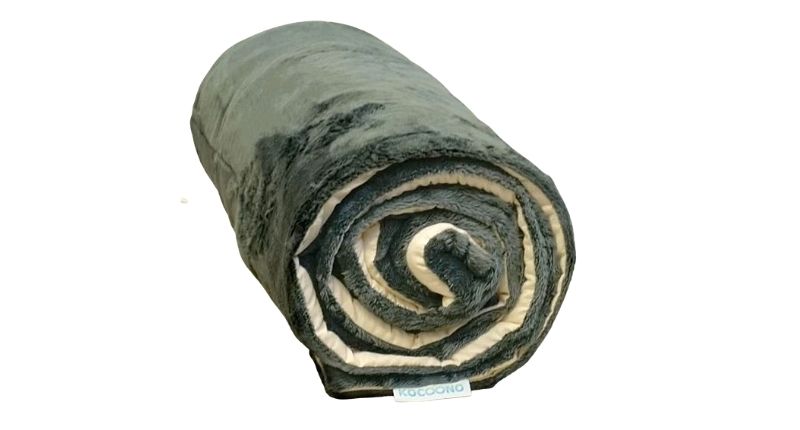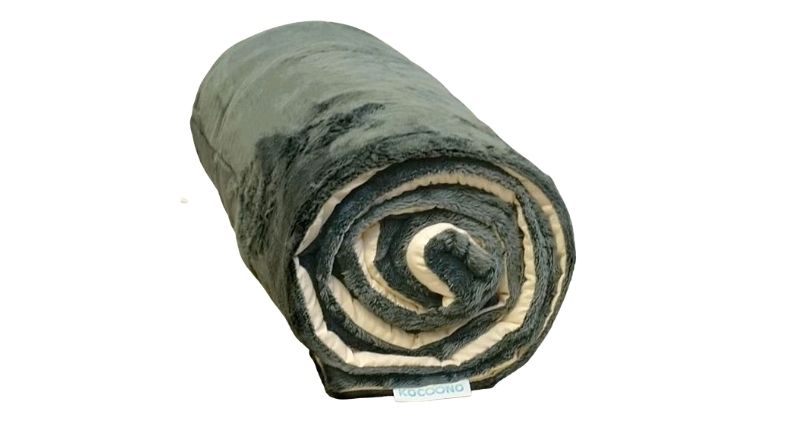 The second Kocoono LUXE weighted blanket includes a mink fabric on one side and once again, breathable cotton on the opposite side. This mix means you can enjoy the cosy, soft feeling of luxury fabric while also sleeping under breathable material at night.
When choosing a weight Kocoono offer advice on their website and suggest that a weighted blanket be 10% of your body weight. This formula ensures you get the ideal blanket for you in terms of distributing weight evenly across the body and cocooning you for the deep, peaceful sleep to come.
Pros & Cons
Pros
100% cotton shell
Removable, washable cover
Removable weights – great t0 adjust for kids
In-built 'shoulder embrace' for neck/ shoulders
Cons
Best Value – Buzio Shaggy Faux Fur 
If an elegant look and luxurious texture are your top priorities, this blanket's a winner. Reversible from plush fleece to sherpa, we think it's the peak of style and textural comfort.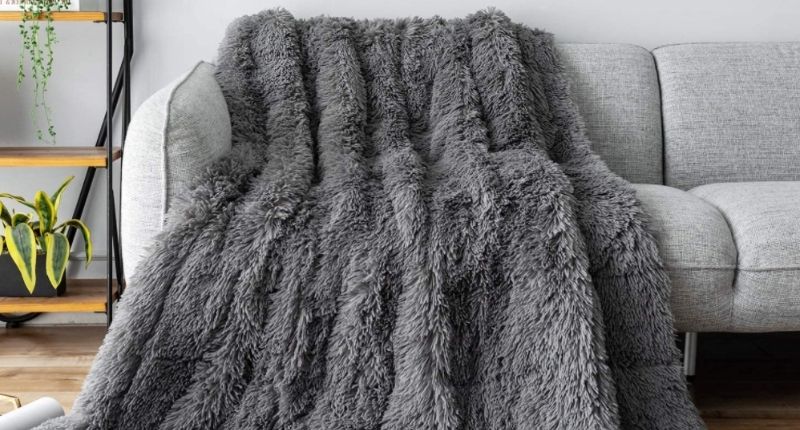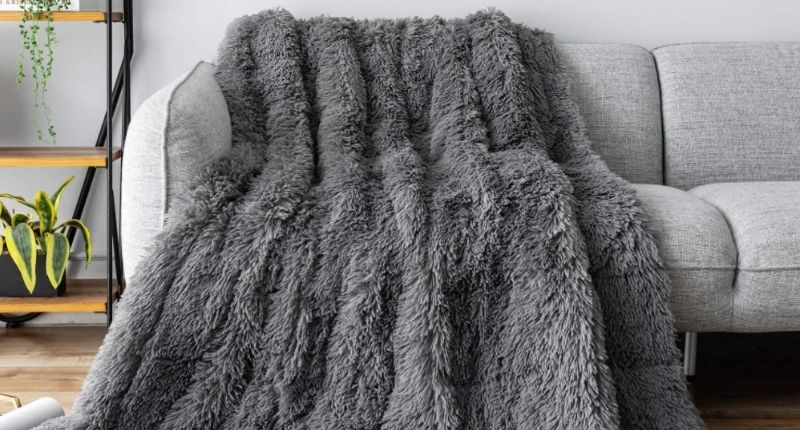 Weighing in at 9kg, it is one of the lighter options on this list, so this one is best if you're looking for aesthetic appeal rather than clinical sleep help. The polyester construction makes for a permeable material that won't get too warm. 
Curl up in this one to watch a movie at home, or lay atop a guest bed for the ultimate in soft and sensual accommodations. 
Pros & Cons
Pros
Luxurious Faux Fur
Reversible
Breathable
Light option
Cons
More focus on aesthetic than purpose
Best Variety – SCM Weighted Blanket W/ Two Covers 
Next on the list is the SCM weighted blanket which comes with two replaceable covers too. This option is best for variety as you can choose from four different weight and size options plus it comes with the extra covers too.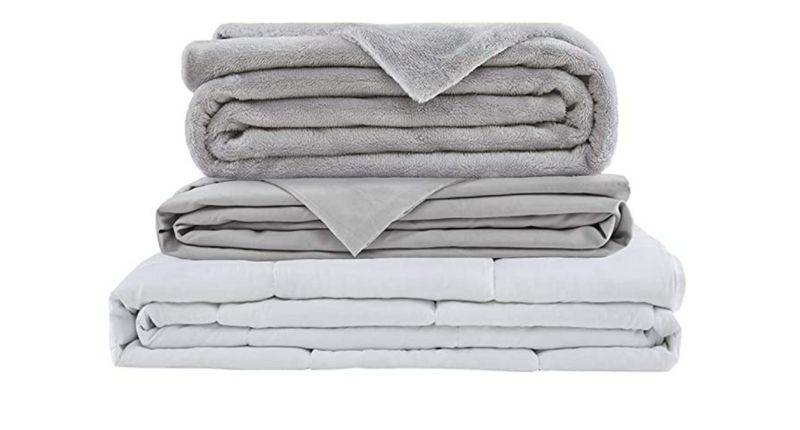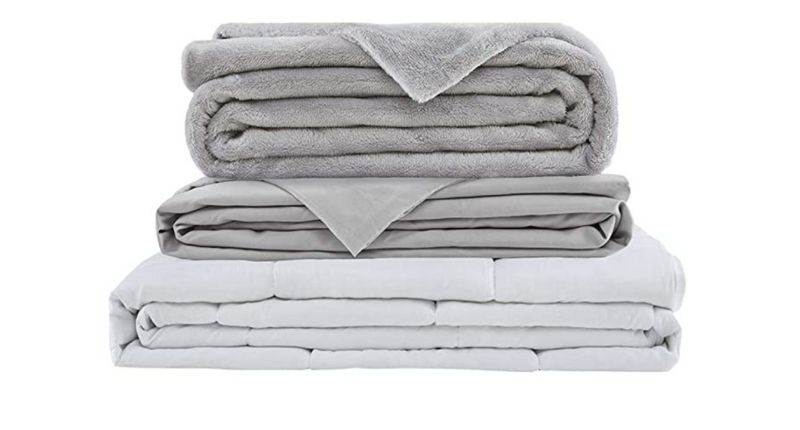 The inner layers of this version is 100% microfibre plus with filling that is hypoallergenic, odourless and non-toxic too. There is just one grey colour option to choose from with this choice.
Pros & Cons
Pros
Extra covers provided
Choice of weight & size
Hypoallergenic filling
Cons
Not as luxurious as other options
Best for Kids – Sivio Kids 
Both sides of this weighted blanket are made using 100% breathable, natural cotton and is available in 5 colours/ patterns. The internal micro glass beads are evenly distributed using an internal small square pattern which allows for even temperature and pressure. 
Weighted blankets work to promote deeper sleep for children by applying gentle pressure which mimics the feeling of being hugged. This is a moisture wicking material so you don't have to worry about accidents at night soaking into the blanket.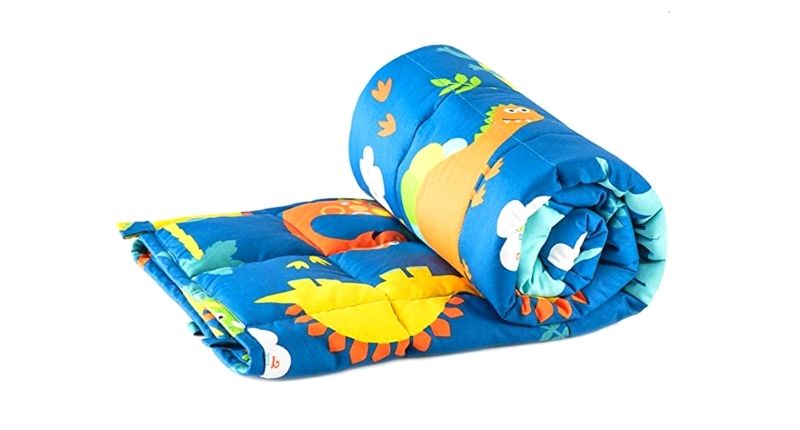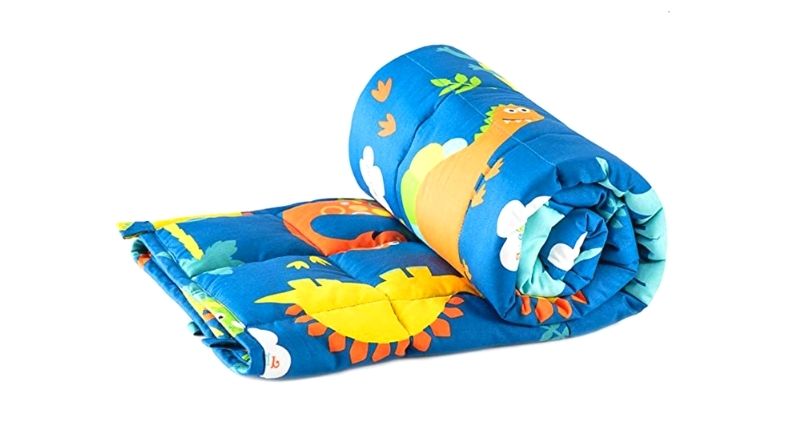 Three options of weight and size are available to choose from which start at 1.4kg weight, and then 2.3kg and finally 3.2kg weight.
Pros & Cons
Pros
3 weight options
5 colour options
Moisture wicking material
Natural cotton
Cons
Only suitable for children
What Are the Benefits? 
Weighted blankets encourage deep sleep through the use of sensory integration therapy, which involves tactile focal points to help the brain stabilise. Deep-touch pressure is also an element that contributes to its healing properties.
There are numerous psychological effects of weighted blankets. Warming, protective, and secure, they give sleepers a mental boost as well as health benefits such as relaxation and deep sleep. Add to your self-care routine as a decompression method. 
What Is a Weighted Blanket Used For? 
Weighted blankets have been around since the 1970s, but exploded in popularity in the U.S. in the late 1990s. They began as a touch and sleep aid in the special-needs community, primarily for use in children with autism, after research showed the potential of these types of blankets on patients with additional needs. 
A weighted blanket creates an artificial environment that stimulates feelings of closeness and comfort. The pressure of a weighted blanket feels like a "hug," acting as a means of closeness. They are helpful for alleviating symptoms of imbalances such as anxiety, stress or trauma. There are also advocates in favour of their effect on dementia, PTSD, and restless leg syndrome. 
Even for people without clinical disorders, a weighted blanket is a great purchase. Insomniacs can enjoy the same sensory benefits as those with more serious conditions. The gravity blanket may help regulate sleep patterns and guide people into a deeper, more restful sleep. Ask your doctor if you are unsure about the science behind this method of self care. 
How to Use One 
When used alone or layered on top of regular bed coverings, the gentle pressure of a weighted blanket helps soothe and settle the nerves, by imitating the sensation of cuddling. This coziness promotes security and comfort while resting. 
Just like other forms of holistic healing, for example acupuncture, a person or patient can experience beneficial side effects from simple practices like deep touch pressure therapy. Holistic treatments can work to support those taking medicine for sleep, anxiety or even children in the family who have a problem when it comes to settling down to sleep.
Evidence can be found online in anecdotal form but also in research studies which explore the ways in which deep touch pressure treatments are used to care for adults and children.
What Is It Filled With? 
Weighted blankets differ from regular bed coverings in that they have two parts. This allows the manufacturer to fill them with heavy material that renders weighted blankets effective. Usually the inner portion is compartmentalised into smaller areas that hold pellets or beads. 
The outer shell is similar to a conventional duvet cover, usually made from cotton, microfibre, fleece, rayon, mink fabric (plush), flannel, or a combination. There are also more niche textures available such as T-shirt yarn and recycled materials. 
The inner portion also comes in a wide range of options. Plastic and synthetic pellets are the most economical. Micro glass beads are bulkier and more expensive, but require fewer than plastic to attain the same weight. On the environmentally-friendly spectrum are organic choices like beans, grains, and sand.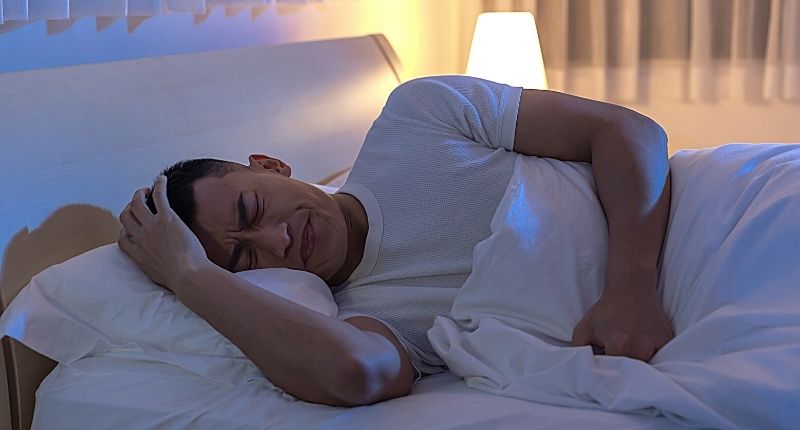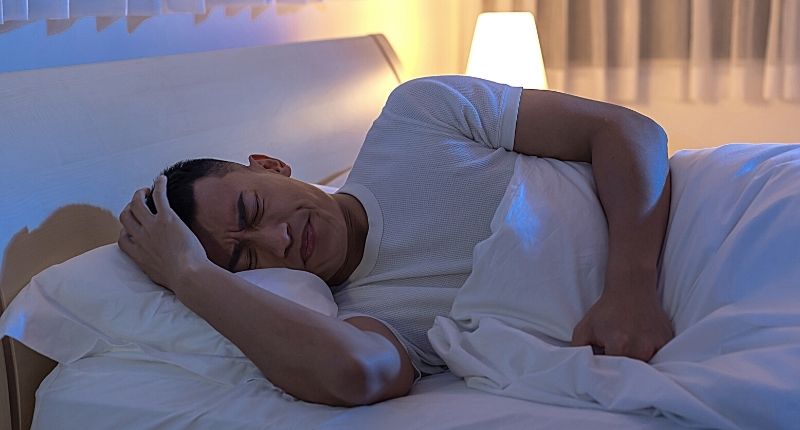 While the sensory feel is paramount to the weighted blanket experience, there are other elements to consider. Look for which product best suits your needs, such as hypoallergenic or moisture-wicking properties, or an eco-friendly company policy.  
There are various options on the market, but ultimately it's up to your individual preferences. Choose a material you love for a comfortable touch, and you'll pick a winner. Below you will find some further information and 
How to Choose a Weighted Blanket 
When shopping, consider things like texture, possible allergic reactions, and environmental impact. Of course, since a weighted blanket is about the sensation of comfort, your tactile preferences are a big priority. 
What Size Should I Get? 
This is entirely dependent on the size of your bed and your taste in decorating. Most blankets are designed to cover standard beds, so look for them in sizes like twin, full, queen, and king, just as you would a set of sheets or a duvet/quilt cover. 
How Heavy Should a Weighted Blanket Be? 
For optimal results, the blanket's weight should equal roughly 10% of your body weight. Heaviness is variable, depending on fabric and size of the blanket, but if you are new at sleeping with a weighted blanket you might try one on the lighter end first. 
The Risk of Using a Weighted Blanket
It's easy to get overheated when using – though you can offset this with the right materials. With kids, it's best to have a parent help them set up, as the awkward size and weight can overwhelm little ones at bedtime. 
Due to their bulk, weighted blankets aren't easy to travel with. They can also be challenging to wash, as they don't always fit in a standard washing machine, and can include materials in their structure that aren't washing-machine friendly. Check the label to ensure best care practices. 
Are They Safe for Kids? 
Yes! The concept of weighted blankets began with studies of autistic children and possible coping mechanisms. Weighted blankets are safe—even for side-sleeping. In fact, we encourage you to use them for your child to promote better, comfortable sleep, regardless of health. 
Sleep Better, Feel Better 
Find the therapeutic effects and cozy up under your comfy new sleep companion. With the many benefits of a weighted blanket, you'll soon be able to quit tossing and turning and enjoy a better rest.