A thermometer is a small device used to measure temperature. They either have a mercury-in-glass element or an infrared sensor that detects a temperature change and gives that temperature a numerical value. This medical device is used daily in hospitals to monitor the body temperature and overall health of patients.
But, sometimes we may need to check the temperature level of someone at home who has taken to wrapping themselves up in blankets. A person's body temperature can give you a quick indication of the condition of their health and the action you need to take next regarding medical advice.
The operation of each thermometer listed below does vary in terms of features however they all carry out the most fundamental and basic function of recording body temperature. 
An infrared thermometer can convert a warm temperature into a numerical value of 22 degrees Celsius or 72 degrees Fahrenheit. That value lets you know whether you may need medical attention. Such a product has become more of a necessity in recent times due to the Covid-19 pandemic, as fever is one of the main symptoms of this virus.
Thankfully there are a wide range of thermometer products available to order online in Ireland. In this article we will provide a list of reliable thermometer brands and models along with the factors you need to consider before purchasing the correct one for your home. 
Where Can I Buy a Medical Thermometer?
While you can buy thermometers at your local pharmacy, you can find a wider choice on a site like Amazon UK. Thermometers bought online can be a bit more expensive  but they have many extra features and give more accurate temperature readings.
Below we will outline the position of the best thermometers to buy in Ireland: 
Many people still use regular mouth thermometers, but we recommend using a non-contact infrared thermometer as they are proven to be a reliable source of temperature level in the home. Most importantly you can check the temperature level of a person without having to make contact between the skin and the medical device. Battery inclusion is an added plus with most of these thermometer brands as it saves you buying another product after delivery. 
As the name implies, a non-contact medical device allows you to take temperatures without placing the instrument in someone's mouth, ear, or armpit. Thus, you can check several different people's temperatures without needing to sanitise after every single one, saving time and maybe lives.
Brand Accuracy Level
Typically with medical devices the more you invest in your order the more accuracy you get. Thermometers can be very sensitive in terms of reading body temperature and so investing in a higher quality product will give the user increased levels of accuracy. The choice listed below offers decreased risk of cross-contamination due to the non-contact feature of the medical device. Children can also have a calmer experience when getting their temperature taken at home using non-invasive products.
The same goes for other medical devices like pulse oximeters which measure pulse rate and oxygen saturation levels in the blood when placed on the finger. There are cheaper options of all these products available in pharmacies however their effectiveness and accuracy in times of illness could be questioned. A pulse oximeter is used to measure heart rate or oxygen saturation levels in the blood. The medical device is placed on the fingertip and a small screen provides rapid results.
So, do some research before making an order online or simply look at our guidance below where we cover factors like features, battery inclusion and even cleaning.
Non-contact & Infrared Options for Home 
To give you an idea of what contact infrared thermometers can offer, here are some product reviews of our favourites from Amazon UK. Many of the features and pros are the same, but these are at least a few quality products you can choose from.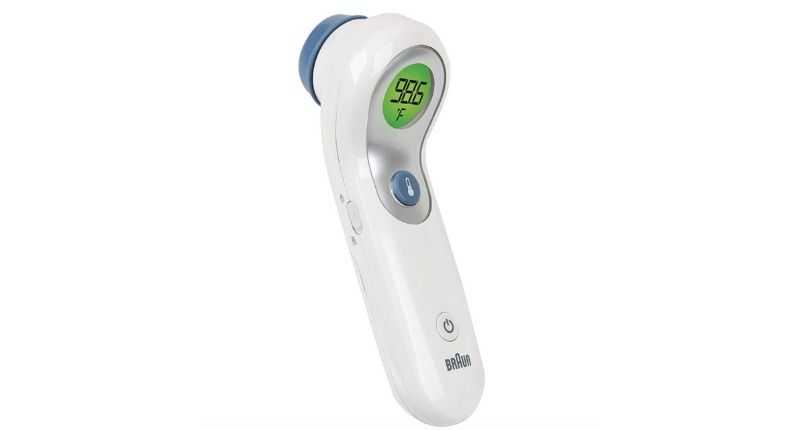 Dual use – No touch and touch forehead measurement options

Colour-coded temperature display

Backlit display for use in the dark and silent mode to avoid waking up a sleeping child

Measurements in 2 seconds
High temperature alarm feature
Pros & Cons
Pros
No touch mode suitable for when your child is sleeping
Different modes – foods and liquids
Temperature memory recall
Suitable for baby and adults
Cons
Other models measure within 1 second
More expensive than other models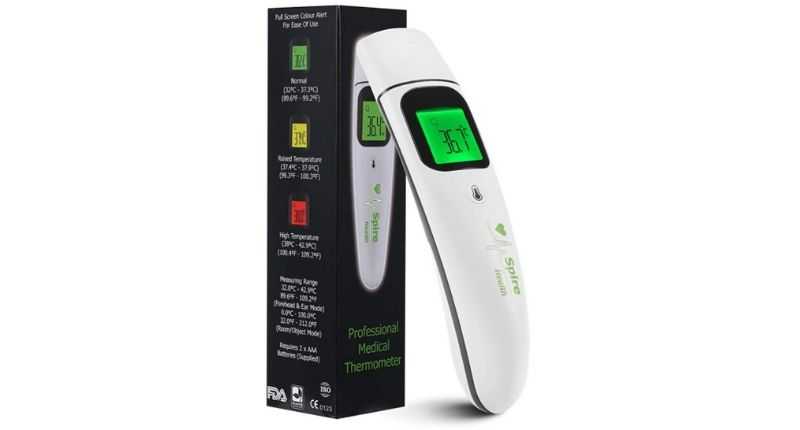 5 in 1 methods of measurement including object, room, liquid, forehead and ear temperatures
High accuracy sensor probe
Recommended for baby but can be used for adults, children and elderly also
35 readings stored in memory
Pros & Cons
Pros
12 month warranty from date of purchase
1 second readings
Temperature warning system feature
Mute mode option
Batteries included
Cons
More expensive than other models
Measures temperature within one second 

Measures room, object and body temperature

Different colours indicate normal, low fever, and high fever body temps

High measurement accuracy within 0.1 degrees Celsius

Clear display lets you easily read the temperature in the dark
Pros & Cons
Pros
Handy for quickly checking temperatures anytime
Read temperatures with just one push of a button
Not as "in your face" as larger non-contact options
It fits easily into your handbag or a small bag
Suitable for use with adults, children and babies
Cons
Comes without batteries – 2 AA required
Setting up takes a little longer than other models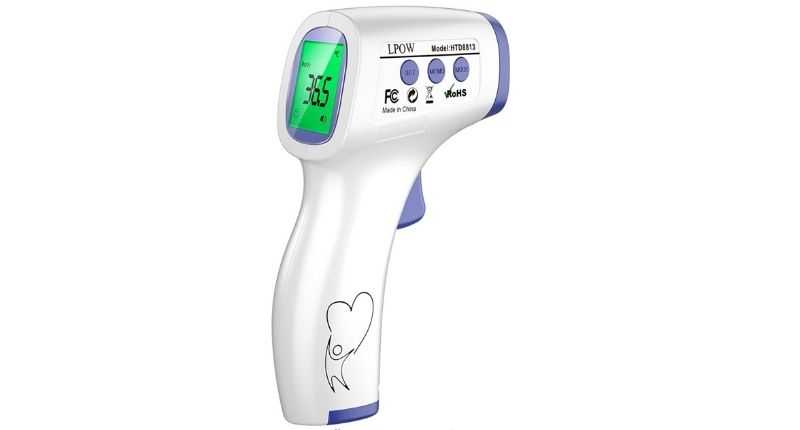 It uses three colours to indicate temperature severity

Stores up to 50 temperatures to track changes

A high-sensitivity infrared sensor works indoors and out

Can read temperatures between 1 to 5 cm away

Large LED display lets you see temperatures at a glance
Pros & Cons
Pros
It gives temperature readings in a second
Suitable for checking several temperatures without needing cleaning
Comfortable to use for people with hand problems
Excellent for kids who don't like mouth thermometers
Stores 50 temperatures to accommodate a whole family
Cons
It does not work best in cooler temperatures
Temperature readings may fluctuate sometimes
It feels a little flimsy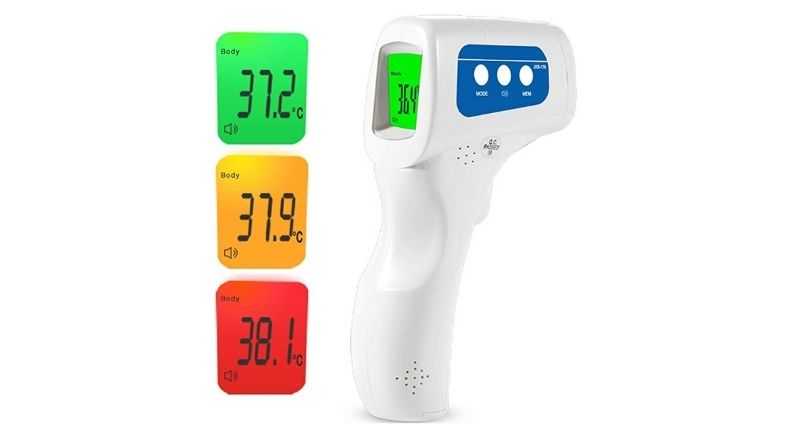 Can take temperatures for bodies, rooms, and surfaces

Can read temperatures from 3 to 5 cm away

Colour-coded temperature readings for normal, elevated, and fever temperatures

Switch between Fahrenheit and Celsius temperatures easily

Recalls up to 32 temperature measurements
Pros & Cons
Pros
It makes taking temperatures while physically distancing easy
One-second temperature-taking technology works well
Silent mode helps with checking a sleeping baby or child's temperature
Colour-coding speeds up temperature reading
It doesn't spread any germs
Cons
Leaving in cold temperatures affects its functionality
Plastic might be a little cheap
Is the Thermometer the Most Important Medical Device for Your Home?
A thermometer can let you know if you have a fever, which is one of the first signs of being sick with a virus.
Knowing how high that fever is can also let you know if immediate medical attention is necessary. More recently, having a fever is a sign of possibly having COVID-19, so having a thermometer can let you know if maybe you have it.
With your home thermometer, you can check your temperature as necessary. With a contagious virus going around, you can see whether you need to get to a doctor or quarantine at home.
How to Read a Temperature Level?
When reading a thermometer, you need to take your temperature and note the number on the little screen.
For a non-contact infrared thermometer, you place the thermometer's infrared sensor close to your forehead (3 to 5 cm away). These thermometers often have colour-coded numbers in green, yellow, and red, letting you know the severity of the temperature.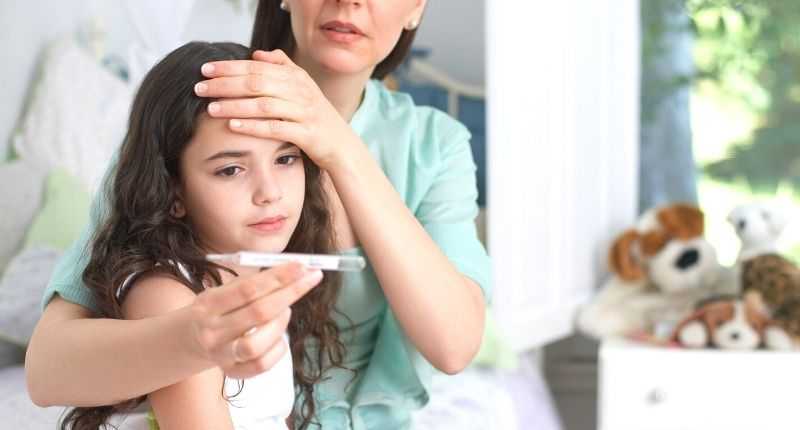 For a regular infrared thermometer, you would place the infrared sensor under your tongue for around a minute. Sometimes you'll hear a beep when the thermometer has taken your temperature. You'll then see your temperature on the tiny screen.
How to Clean?
We recommend cleaning your thermometer both before and after you take your temperature. You can clean it using either a small amount of rubbing alcohol or washing it with soap and lukewarm water before rinsing it with cool water. Either let the instrument air dry or wipe with a clean, dry cloth.