If you struggle with mobility, you know how difficult it can be to choose an easy-to-use aid convenient for your lifestyle. An online search brings you to list after list of different products – walkers, rollators, canes – it can be overwhelming!
We will cover one popular mobility aid to help you with your search – The Zimmer Frame! If you aren't quite sure what a Zimmer Frame is or whether it is right for you, we are here to help you learn more about it. Read on to learn more about this helpful product and how it can help you get moving.
What is a Zimmer Frame?
A Zimmer Frame is your standard walker, designed to help you get from place to place safely and efficiently. Even if you have not heard the name, you would likely recognise a Zimmer Frame if you saw one in person.
Lightweight and simple in design, a Zimmer Frame has four legs, usually with safety grips at the bottom of each one. Some Zimmer Frames have wheels attached to two or more of the legs for easier maneuverability. The Zimmer Frame will help support your weight, allowing you to walk and move around with greater stability.
Who Invented it?
William Cribbes Robb designed the walker in the UK during the 1940s. Shortly afterward, Zimmer Holdings (an American company) picked up the design and improved upon it, popularising the product and transforming it into the walker we commonly see today.
Why is it Called a Zimmer Frame?
We refer to the walker as a Zimmer Frame because it was popularised by Zimmer Holdings, the American-based company mentioned earlier. Over time they produced so many walkers that people began referring to them as "Zimmer Frames," similarly to the way that many people refer to vacuums as "Hoovers" or facial tissue as "Kleenex."
What is the Difference Between a Walker and a Zimmer Frame?
A Zimmer Frame and a walker are the same things. As mentioned above, people refer to walkers as Zimmer Frames because Zimmer Holdings popularised them in the 20th century.
What is it Used For?
A Zimmer Frame helps you get from place to place if you struggle with mobility. It can help whether you are moving from your living room to your kitchen or out and about. The lightweight nature of a Zimmer Frame means that you can easily take it wherever you need to go, especially as many styles fold up for easy transport.
More Reading: 10 Best Mobility Scooters 
Best Zimmer Frames to Choose in Ireland
So, how do you choose a Zimmer Frame that is right for you? We compiled a list of our favourites below, as well as our top pick for elderly individuals.
| Name | Where to Purchase | What You Get |
| --- | --- | --- |
| #1 Our Pick: Bariatric Folding Walking Frame | Buy Now | |
| #2 Hi-Riser Folding Frame | Buy Now | |
| #3 Folding Adjustable Walking Aid | Buy Now | |
| #4 Days Hi Riser Folding Frame | Buy Now | |
| #5 NRS Healthcare Lightweight Height Adjustable Folding Frame | Buy Now | |
Top 5
#1 Bariatric Folding Walking Frame
This Zimmer Frame from Go Mobility is lightweight and perfect for individuals of all shapes and sizes. Its adjustable height ensures that you will be able to grip the handles comfortably.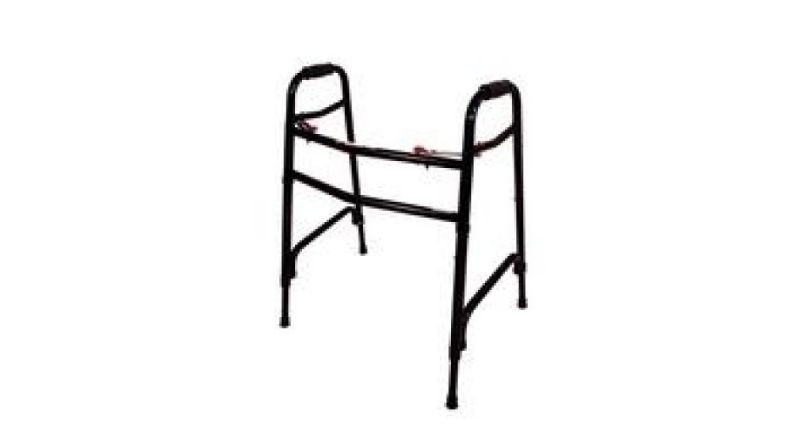 It can accommodate users up to 220 kg, making it an excellent choice for larger individuals. We also love how easy it is to fold up and take with us on the go.
#2 Hi-Riser Folding Frame
This walker from Go Mobility is a good choice for individuals who need a little extra help getting out of their chairs. It has an extra set of handles located lower on the frame, perfectly positioned to help you stand up.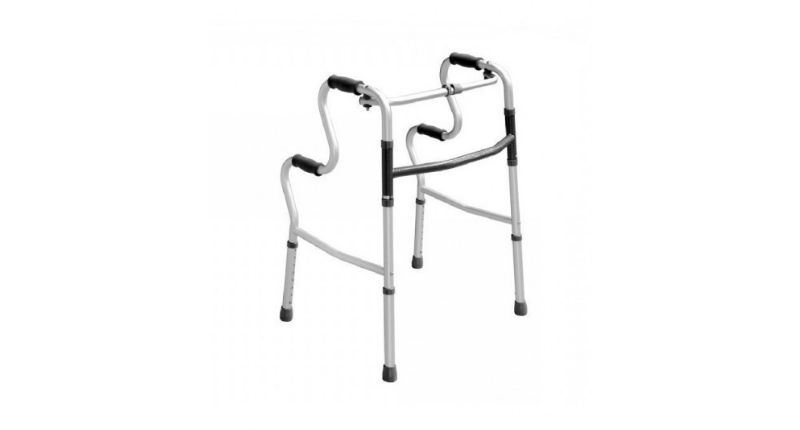 You can even turn the walker around and use it as a toilet support rail. The adjustable height and ability to fold up also make this a convenient choice for your Zimmer Frame.
#3 Folding Adjustable Walking Aid
This folding walker is lightweight aluminium and folds up to bring with you when you leave home. Our favourite feature is the plastic grips, which are comfortable to hold and easy to clean.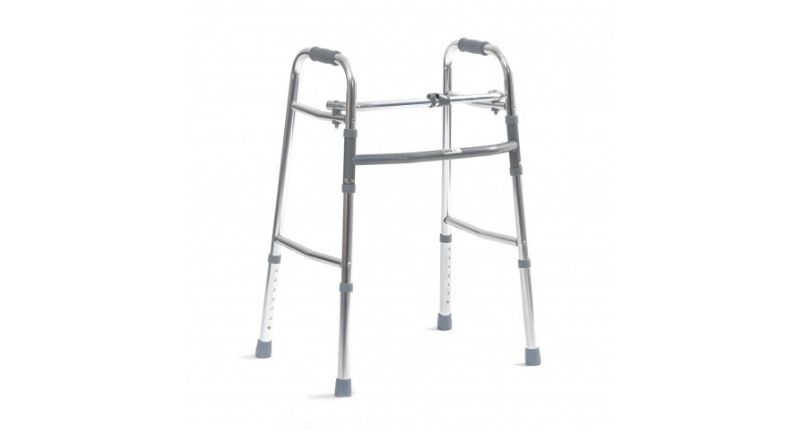 You can also adjust the height on this walker to the best position for an easy grip.
#4 Days Hi Riser Folding Frame
The Days Hi Rising Folding Walking Frame, available on Amazon, is another excellent option if you are looking for a walker to help you stand as well as move around.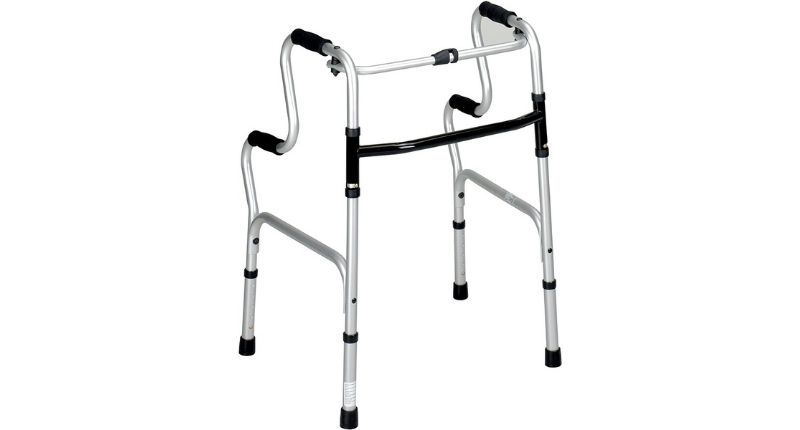 It has two sets of handles, with the lower set designed to help you push up to a standing position. It can be used as a substitute for toilet safety rails and folds flat to store and transport, making it a great choice if you are on the go.
#5 NRS Healthcare Lightweight Height Adjustable Folding Frame
The last Zimmer Frame on our list is an ideal option for individuals who travel often. We recommend it for people of all different hand strengths, and it folds easily to fit into the trunk of a car.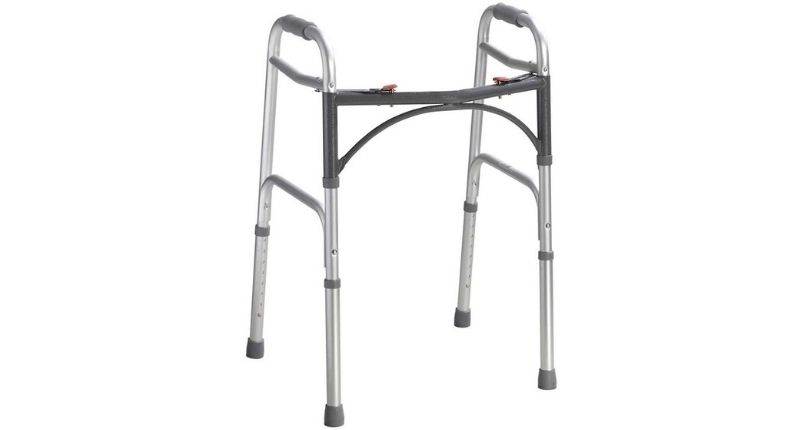 Like the others on our list, this walker has adjustable height settings and comfortable grips that you will love.
Which Walker is Best for the Elderly?
We chose the Bariatric Folding Walking Frame from Go Mobility as the best pick for the elderly. Its lightweight and easily foldable nature make it simple to transport and bring with you wherever you need it.
It also accommodates larger individuals, making it a good choice for all different types of people. Walking can be a great source of exercise for older individuals, so pick up your Zimmer Frame to help you get moving!
More Reading: 10 Best Rollators in Ireland
How to Use a Zimmer Frame: Step-by-Step
One of the reasons that Zimmer Frames are so popular is because they are simple to use. Let's break it down, step-by-step.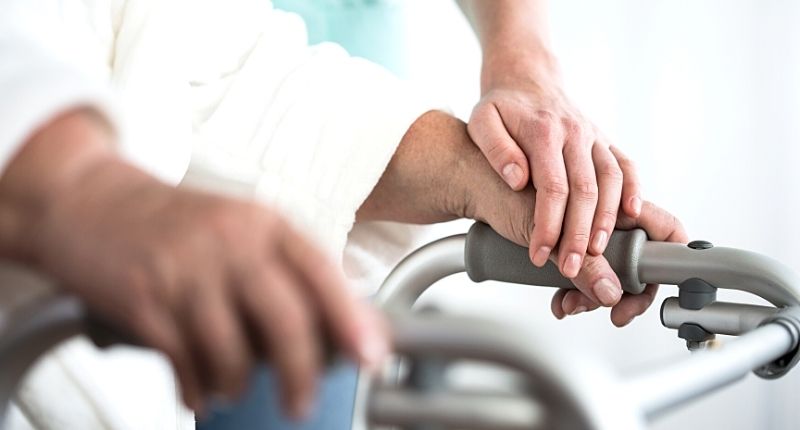 Step 1: Prepare 
Before you get moving, take a minute to prepare your Zimmer Frame. If it is adjustable, set the height to a comfortable level. Make sure that you can grasp the handles without difficulty. Before leaving your home or other familiar space, practice moving around. Try to keep the Zimmer Frame on flat ground to avoid dangerous situations.
Step 2: Grasp the Handles
Grasp the Zimmer Frame firmly on the handles. Stay safe by holding on only to the intended handles and not other parts of the walker.
Step 3: Use the Zimmer Frame to Move Forward
Wheeled Zimmer Frame: Lean on the Zimmer Frame and push it forward while taking slow and even steps. Use the Zimmer Frame to support your weight and allow the wheels to help you move forward.
Un-Wheeled Zimmer Frame: Slightly lift the Zimmer Frame and move it forward a few inches. As you do so, take small steps with the Zimmer Frame. Be careful not to push the Zimmer Frame too far out in front of you.