Unlike a walker, a rollator has three or four wheels for easy mobility plus handlebars for more upright walking. If your condition requires you to stop often to get some rest, a rollator is also convenient due to its built-in seat and back support.
Some even add on baskets or pouches to conveniently carry personal items or shopping. With all these features, which is the best rollator? Let's find out!
What Should I Look for in a Rollator Walker?
To get the right rollator for your condition, consider these features before buying one.
Number of Wheels
Rollators can have three or four wheels. The former is narrower and easily manoeuvrable around tight corners. However, it is not as stable, carries less weight, and lacks a seat. Therefore, we recommend four-wheelers like the ones in the review below.
There is also the issue of wheel size, whereby large ones are better for outdoor use because they manoeuvre over rugged terrain easily. Make sure to check if they are puncture-proof too.
Foldability
If you move around frequently, pay attention to this factor. Whether travelling in a car or aeroplane, a compact rollator is convenient, and the best one should fold to the smallest size possible. The same case applies to storage.
Weight
Weight also plays a huge role when it comes to transportation. A lightweight device is more convenient to carry in a car or airplane. Also, it is easier to push around when walking.
Weight Capacity
Depending on the build quality, some rollators can hold more weight than others. Those with heavy-duty steel frames, for instance, can support over 170 kgs and are perfect for users with big bodies. Be sure to measure your weight and pick an appropriate device.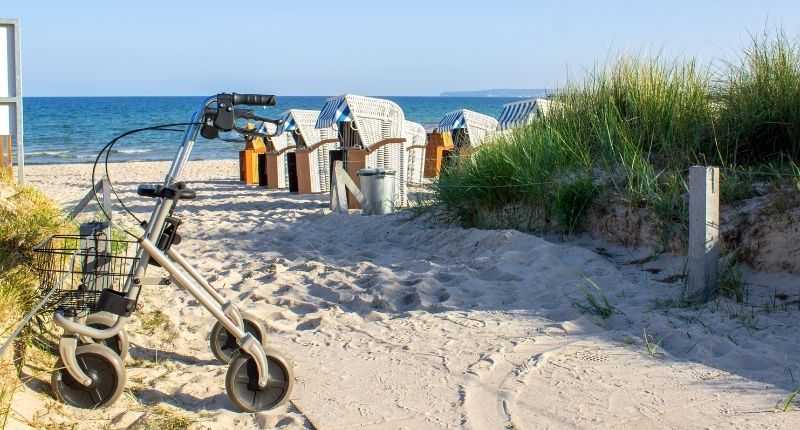 Height
There are two factors to consider here: seat and handle height. Short users need to look for a device with a low seat and handle from the floor. On the other hand, tall users need tall rollators to avoid bending over. Consider the height adjustment when evaluating each one.
Overall Width
When using the rollator indoors, it must fit through the doors and hallways. You can measure the width of the narrowest spaces in your house then pick a device that is at least two inches narrower.
Comfort
One of the highlight features of rollators is their seats and if your condition requires you to rest frequently, get one with a cushioned seat and backrest. Make sure it is the right size as well, especially widthwise.
Storage
Some rollators have pouches, while others have baskets. Pouches are smaller but can collapse when folding after use. With baskets, you have to remove them before folding. However, they hold more items and are perfect for shopping.
More Reading: How to Choose a Zimmer frame
Top 10 Rollators to Buy in Ireland
| Name | Where to Purchase | What You Get |
| --- | --- | --- |
| #1 My Pick: Days Lightweight Rollator Red | Buy Now | |
| #2 Days Lightweight Rollator Aluminium | Buy Now | |
| #3 Heavy Duty Rollator Blue | Buy Now | |
| #4 Stander EZ Fold-N-Go Rollator | Buy Now | |
| #5 Days Breeze Indoor Rollator | Buy Now | |
| #6 Kmina Pro Rollator | Buy Now | |
| #7 Days Rollator Blue | Buy Now | |
| #8 Low Seat Lightweight Rollator | Buy Now | |
| #9 Patterson Medical Four Wheeled Rollator | Buy Now | |
| #10 Days Lightweight Rollator Silver | Buy Now | |
In addition to having four wheels for easy mobility, this rollator features a lightweight aluminium frame that is easy to push around. The wheels are puncture-proof, so you don't have to worry when you push off the pavement.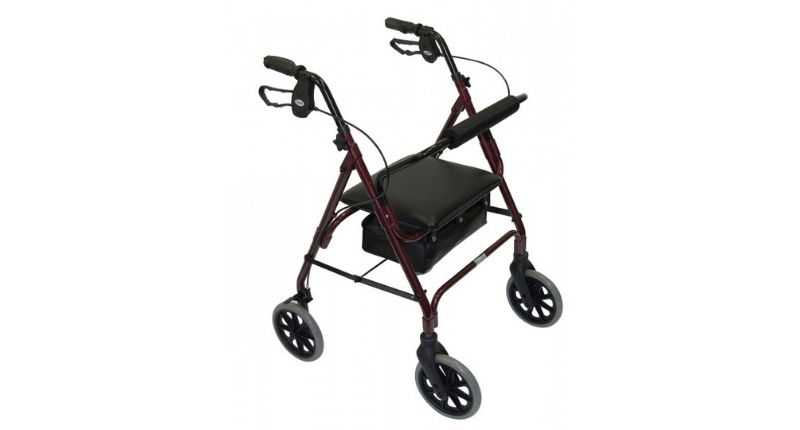 Specifications
Weight: 7.2 kg

Max User Weight: 165 kg

Height Adjustment: 81 – 93 cm

Seat Width x Depth x Height: 36 x 33 x 54 cm

Assembled Dimensions: (81 – 93) x 60 x 61 cm
Ergonomic handles give you a comfortable and grippy surface to support yourself, and they are adjustable height-wise to enable you to walk upright. The adjustment suits average-size users, so it might not be a perfect fit for tall or short people.
Brakes are crucial components in rollators, and this one has easily accessible lockable brakes with loops for inserting your fingers.
If you get tired, the padded seat and cushioned safety bar give a comfortable resting place to catch a breath. It lifts to uncover a storage bag where you can carry water or snacks to eat when resting.
Pros & Cons
Pros
Lightweight frame
Puncture proof tyres
Easy to manœuvre
Quick access to brakes
Cons
Height adjustment may not suit those who are tall
If you have trouble bending, this rollator is perfect for any such condition. It has a unique design that always stays in a standing position when folded or unfolded. As such, you won't have to strain or hurt your back when getting ready to go.
Specifications
Weight: 7 kg

Max User Weight: 130 kg

Height Adjustment: 81 – 93 cm

Seat Width x Depth x Height: 46 x 20 x 61 cm

Assembled Dimensions: (81 – 93) x 66 x 68 cm
What's more, the mobility aid comes with a walking stick as standard, which you can use for support when climbing steps or when you don't want to roll on wheels.
At only 7 kg, the rollator is lightweight and easy to carry into or out of storage. Despite this, it has a sturdy aluminium frame that can hold up to 130 kilos. While seated, a cushioned safety bar supports your back for comfort and safety.
Pros & Cons
Pros
Standing position – folded or unfolded
Lightweight
Walking stick included
Cushion safety bar
Cons
Seat not as spacious as other models
As the name suggests, this rollator has a heavy-duty design to hold more user weight. It features a heavy-gauge steel tube frame that is sturdy enough to carry 178 kgs, puncture-proof wheels, and an extra-wide 48 cm seat to accommodate a wide-body frame.

Specifications
Weight: 12.3 kg

Max User Weight: 178 kg

Height Adjustment: 83 – 94 cm

Seat Width x Depth x Height: 48 x 35.5 x 59 cm

Assembled Dimensions: (83 – 94) x 67 x 72.5 cm
The seat has a comfortable padding layer, and it lifts to expose a storage basket large enough to fit shopping items.
With this high capacity comes powerful brakes with an easy locking mechanism. Additionally, they have loops that wrap around your fingers for easy operation.
Pros & Cons
Pros
Extra-wide seat
Carries up to 178kg
Puncture-proof wheels
Storage basket under seat
Cons
Too wide for some people
Heavier than other models
The Stander EZ is the most travel-friendly rollator due to its compact foldable design, which folds to become up to 3 x smaller than average rollators (25 x 28 x 83 cm). At this size, you can fit it on the front seat of your car or in the overhead bin of an aeroplane.

Specifications
Weight: 6.8 kg

Max User Weight: 113 kg

Height Adjustment: 83 – 91 cm

Seat Width x Depth x Height: 48 x 35.5 x 59 cm

Assembled Dimensions: (83 – 91) x 64 x 58 cm
Add on its lightweight construction (6.8 kgs), and you get an easily portable mobility aid that you can take almost anywhere. Collapsing the EZ requires only the touch of a finger and a built-in lock buckle keeps it compactly folded when on the move.
The rollator comes with a two-pocket organizer that includes an upper pouch to keep handy items close by and a large undercarriage basket to store large items.
A 100% satisfaction guarantee and limited lifetime warranty back the unit, making it a risk-free purchase that will be the last rollator you will need to buy.
Pros & Cons
Pros
Travel Friendly option
Folds 3 times smaller than average
Lightweight frame
Two pockets
Cons
Not suitable for those over 113kg weight
Cloth fabric may stain
If you are looking for a stylish alternative to a household trolley, this assistive walking device is perfect for indoor use.

Specifications
Weight: 5.5 kg

Max User Weight: 100 kg

Height Adjustment: 83.5 – 94.5 cm

Seat Width x Depth x Height: No seat

Assembled Dimensions: (83.5 – 94.5) x 66 x 54 cm
It is a simple and lightweight device with only a storage tray to carry light items like books and TV remotes around the house. There is no built-in seat. But since it is for indoor use, there are plenty of other resting surfaces.
Part of its simple design includes a single-hand brake operation that you can pull using either hand to stop unwanted movement or lock for safety.
The handles also adjust quickly to suit the height of the user. After use, the device folds down to a compact size for easy storage.
Pros & Cons
Pros
Ideal for indoor use – compact
Adjustable handles
Storage tray
Hand brake
Cons
No built in seat
Only suitable for up to 100kg weight
Tall people won't have to struggle to walk using this Kmina rollator. Tall options like the Kmina Pro feature a 5-step height adjustment system which raises the handles from 89 cm to 103 cm, an ideal height for users who are 5'9" to 6'6" (175.26 – 198.12 cm).

Specifications
Weight: 8.16 kg

Max User Weight: 136 kg

Height Adjustment: 89 – 103 cm

Seat Height: 62 cm

Assembled Dimensions: N/A
On top of that, it has a high 62 cm seat for tall women or men to sit comfortably, and it can hold up to 136 kgs.
Despite its size, the device is relatively lightweight, and this is due to an aluminium frame. Four large wheels make it suitable for indoor and outdoor use, while an 11-pound capacity (5-kg) fabric bag gives you enough space to store personal items when going out.
Regarding safety, this rollator features a handle brake system that is adjustable to control the level of brake power.
Pros & Cons
Pros
Caters for tall people
Light aluminium frame
Large wheels suited to outdoors
5k storage bag
Cons
Cloth fabric may stain
My not suit shorter people
A well-padded seat and cushioned safety bar give superb comfort when resting on this Rollator Blue. Its handles are also comfortable to hold due to their ergonomic design, and you can raise or lower them to suit your preferred height.

Specifications
Weight: 7.2 kg

Max User Weight: 165 kg

Height Adjustment: 81 – 93 cm

Seat Width x Depth x Height: 36 x 33 x 54 cm

Assembled Dimensions: (81 – 93) x 61 x 60 cm
Adjacent to the handles are easily accessible lockable brake loop handles that wrap around the fingers for easy control.
The entire structure is held in place by a sturdy and lightweight aluminium frame on four puncture-proof wheels. You can walk the rollator indoors or outdoors and store personal items within close reach on the compartment under the seat.
A foldable design makes it easy to store the rollator after use or transport it in a car or plane to your destination.
Pros & Cons
Pros
Sturdy, light frame
Cushion safety bar
Puncture proof tyres
Ergonomic, adjustable handles
Cons
Not suitable for taller people
Compared to the Kmina Pro, this rollator has a low seat design for short users. It rises only 50 cm from the ground, while the handles adjust from 75.5 – 87.5 cm. All these measurements are relatively smaller than in most assisted walking devices, which is convenient for shorties.

Specifications
Weight: N/A

Max User Weight: 165 kg

Height Adjustment: 75.5 – 87.5 cm

Seat Width x Depth x Height: 36 x 33 x 50 cm

Assembled Dimensions: (75.5 – 87.5) x 61 x 60 cm
The padded seat improves comfort, and it is complemented by a cushioned safety bar for back support when resting. Under it is a storage bag for conveniently keeping items within close reach.
A lightweight aluminium frame makes it easy to carry the rollator in or out of storage, and you can fold it to a compact size before storage or transportation.
The device rolls on puncture-proof wheels, making it ideal for indoor and outdoor use. It also features ergonomic handles for comfortable gripping and easy-to-access lockable loop brakes.
Pros & Cons
Pros
Low level seat
Suitable for shorter people
Folds compactly
Puncture-proof wheels
Cons
Not suitable for those of average or tall height
Available in quartz and ruby colours, this rollator features large swivel front wheels for easy manoeuvrability. The rear wheels handle the braking, which consists of easy-to-use loop handles for easy operation.

Specifications
Weight: 6.8 kg

Max User Weight: 160 kg

Height Adjustment: 78 – 90 cm

Seat Width x Depth x Height: 35.5 x 31.5 x 53.5 cm

Assembled Dimensions: (78 – 90) x 60.5 cm
Should you get tired, the device's padded seat and backrest form a comfortable resting surface, with the backrest doubling up as a safety bar.
Under the seat is a large basket that comes in handy when you have to carry shopping and other items.
A lightweight aluminium frame holds all these parts together, and it is sturdy enough to withstand daily wear and tear.
Pros & Cons
Pros
2 colours – Quartz & Ruby
Large swivel wheels
Large basket under seat
Light & sturdy frame
Cons
Not suitable for taller people
More Reading: 10 Best Mobility Scooters in Ireland
Best Rollator for Under €100
Days' rollator silver stands out due to its affordable price. It costs less than €100 but still gives you all the basic features, such as a large under-seat basket for storing your shopping and items you need for your walk.

Specifications
Weight: 6.42 kg

Max User Weight: 100 kg

Height Adjustment: N/A

Seat Width x Depth x Height: 30 x 30.5 x 53 cm

Assembled Dimensions: 68.5 x 62 cm
The unit incorporates durability into its design as it features a rust-free aluminium frame that is also very lightweight.
Lockable brakes with loop handles simplify operations, while ergonomic, height-adjustable main handles give a comfortable grip.
All in all, if you are on a tight budget and you want a simple assistive walking device, this should be your go-to option.
Pros & Cons
Pros
Affordable option
Large basket under seat
Lightweight frame
Height adjustable handles
Cons
Basic features only
Maximum user weight is 100kg
History of the Mobility Walker
When Was the Rollator Invented?
Rollators came into existence in 1978 after Swede scientist Aina Wifalk invented the wheeled device. She was a polio patient, and in the 70s, the disease progressively restricted her ability to walk.
Four-legged walkers were not as comfortable to walk with, so she strengthened the frame, put on four wheels and brakes to improve their design. She presented the first rollator in 1978 and later founded a company to produce them with the help of the Swedish state development fund.
Why is it Called a Zimmer Frame?
Technically, Zimmer frames and rollators are very different. Zimmer frames only have two non-swivel wheels at the front. Also, they don't have brakes, seats, or baskets.
So why are rollators called Zimmer frames? In Britain, the term Zimmer frame is a genericized trademark from Zimmer Holdings, one of the leading manufacturers of these devices.
Therefore, many Britons associate any assistive walking device with Zimmer frames and call them so. 
Use of a Rollator
The use and popularity of the wheeled walker grew steadily over time, but things picked up during the new century. More young people with injuries or disabilities embraced the device, which continues to alleviate the stigma associated with rollators to date.
Additionally, it encourages the invention and improvement of features to make rollators easier to use, safer, more comfortable, and more durable.
Benefits of Using a Rollator
What is the Difference Between a Walker and a Rollator?
Walkers are the pioneers of assistive walking devices as they came into existence in the 50s. Their design has not changed much since then. They have no wheels, which means you have to walk while lifting the device to move.
However, rollators have wheels on all four legs, which drastically improves mobility because you can walk continuously without any lifting.
Is It Better than a Cane?
It depends on your condition. If you require heavy support with multiple resting intervals, a rollator is better. However, if you have regained lower body strength and need minimal assistance, a cane is better.
Which Health Conditions Can Benefit from a Rollator?
Use a rollator if you:
Have enough strength for body balance but need a place to sit frequently

Have to carry oxygen tanks or other essential items

Don't have enough upper body strength to lift a walker
However, if you need an immobile walking aid to place most of your weight on, a walker is better as it can hold more weight without the risk of shifting positions.
More Reading: Rollators for Disabled Dogs
Brakes
Do All Rollators Have Brakes?
Yes, they do. Brakes are crucial safety features that keep the device from shifting when you want to halt movement, control speed, or navigate around corners.
Fixing the Brakes
Brake issues are common with walkers, but you can fix this. The problem is usually with the cable, so the task is to adjust the tension. Depending on the device, you can do this either at the rear wheel or at the handle.
Loosen the tension adjustment screw locking nut, then turn the tension adjustment screw clockwise or anticlockwise to tighten or loosen the brakes. It is very similar to brake adjustment on a bike.
Replacing Brake Cables
Begin by removing the brake wire cap on the rear wheel, then unscrew the fastening bolt and nut. Thread the cable through the loose nut, then unhook the connecting spring linking the wheel to the brake shoe.
Next, undo the bolt and wire from the body of the rollator, then pull the cable sleeve to expose the twisted wire. Follow this wire to the handle on the opposite end and loosen the bolt connecting it to the handle.
Remove the wire anchor cap, then complete the disassembly by threading it through the plastic covering. Fit in the new brake cable by following these directions in reverse.
Read this for more info and detailed instructions.
Wheels
How to Replace the Wheels
Replacing the wheels is easy. For the rear wheels, lock them in place using the brakes. If changing a front wheel, hold it firmly using your other hand.
Next, remove the hubcap using a flat head screwdriver to expose the lock nut. Unscrew the locknut using a socket wrench, then release the brake to remove the wheel.
Fit in the new wheel and screw it back by doing these steps in reverse.