Wheelchairs are one of the most used mobility aids in Ireland. They can be used both by people who cannot walk and those who can walk but need assistance at times.
The reason a person may need to use a wheelchair varies from illness to old age to a specific disability. Injury is yet another reason men and women turn to mobility aids and assistive devices like wheelchairs.
In case you didn't know, a wheelchair is essentially a chair on wheels used to enhance the movement and quality of life of many people. Various forms of wheelchairs are available to purchase on the Irish market, but which one is right for you?
What Wheelchair is Right for Me?
There are two primary categories of wheelchair – manual and electric. Manual wheelchairs can be pushed from behind by an aid or moved by the user themselves by propelling the wheels of the chair forward by hand.
Electric wheelchairs, also called motorised wheelchairs, are propelled forward by a motor, and accompanying batteries. The best option for you depends on you as an individual and the reason you are choosing to purchase a wheelchair.
Some people require a mobility aid like a wheelchair due to disability or illness. Such disabilities include injury to the spine, injury to the brain, cerebral palsy, and multiple sclerosis (MS) among many others.
Others wish to use a wheelchair as they get older and find it more difficult to get around. Elderly wheelchair users benefit from such assistance when making longer journeys outside or when they are recovering from an injury or surgery.
The best wheelchair for you will depend on your health condition, how much you wish to invest and whether the wheelchair is meant for short-term or long-term use. Let's first look at the top 10 electric wheelchairs available in Ireland today.
| Name | Where to Purchase | What You Get |
| --- | --- | --- |
| #1 My Pick: WHILL Model C Powerchair | Buy Now | |
| #2 Rascal P327 | Buy Now | |
| #3 D10 Folding Electric Wheelchair | Buy Now | |
| #4 Jazzy Sparky Kids Powerchair | Buy Now | |
| #5 Jazzy Air Powerchair | Buy Now | |
| #6 Pride iGo Plus | Buy Now | |
| #7 KWK Heavy Duty Electric Wheelchair | Buy Now | |
| #8 KWK Foldable Lightweight Wheelchair | Buy Now | |
| #9 Pride iGo Wheelchair | Buy Now | |
| #10 Jazzy 600 ES | Buy Now | |
10 Best Electric Wheelchairs
#1 WHILL Model C Powerchair – Best Expensive Option
Top of the list is the WHILL Model C Powerchair. This electric wheelchair option is contemporary, versatile, and powerful. If you are willing and can afford to invest, this is the best powered wheelchair option available.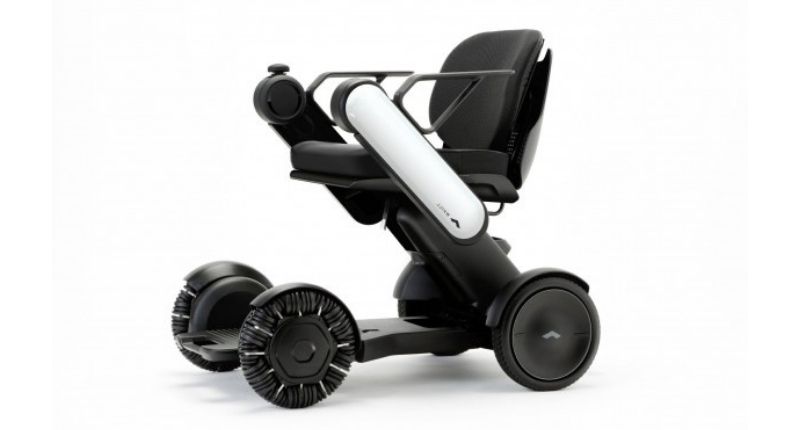 Created by a group of Japanese friends, the Model C Powerchair factors in tight turns, speed, and transport of your mobility aid. With a sleek and compact design, this choice of wheelchair even has an accompanying app to check battery life, speed and can be used to lock the power chair also.
The design also incorporates user-experience as it was created to look like you are driving a mobility device rather than sitting back in one. The high-tech nature of this choice along with superior functionality makes it the best electric wheelchair to buy in Ireland.
Specifications
Drive Range – 10 miles
Max User Weight – 114kg / 18 stone
Max User Speed – 4mph
Length – 38.8 inches
Width – 21.5 to 23.5 inches
Turning Radius – 29.9 inches
#2 Rascal P327 – Best Affordable Option
The Rascal P327 is next on our list for a host of reasons. This is the best affordable electric wheelchair option in Ireland and the second choice in our top 10 list. This option is suitable for indoor and outdoor use and has a great driving range.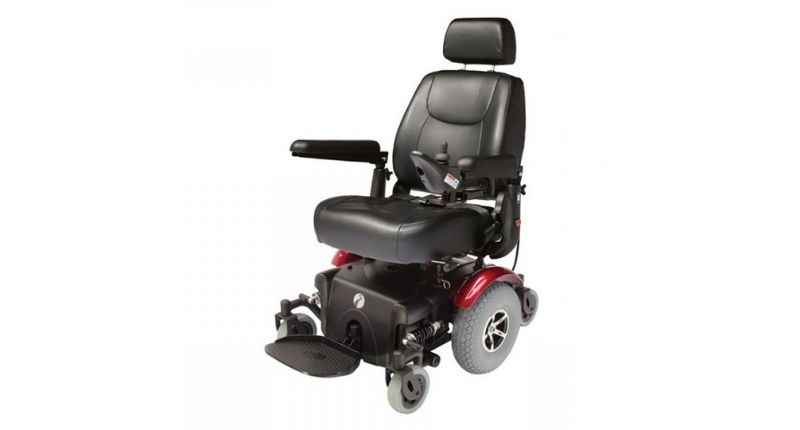 With mid-wheel drive and full suspension, the Rascal P327 guarantees a pleasant and smooth ride. For an affordable price you get a comfortable Captain's Chair and a few optional extras like an extra – wide chair for one.
Specifications:
Drive Range – 20 miles
Max User Weight – 136kg / 21 stone
Max User Speed – 4mph
Length – 44 inches
Width – 27 inches
Colours – Red or Teal
#3 D10 Folding electric Wheelchair – Best Folding Wheelchair
The D10 Folding Electric Wheelchair makes it on to this list thanks to its innovative technology and design. A lightweight, foldable, strong model of wheelchair, this option is ideal for travel both locally and internationally.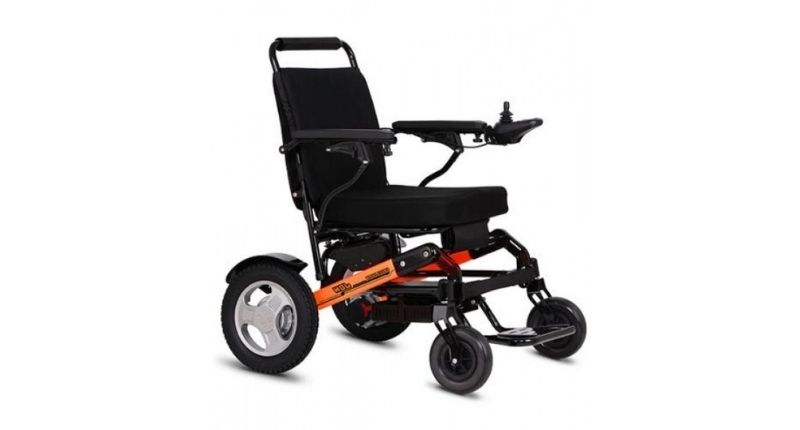 An ultralight frame is at the core of this design, made from both magnesium and aluminium. The transportation of a wheelchair can be a challenge however the D10 has been designed with transport in mind – bus, car, train, airplane.
Specifications:
Drive Range – 13.7 miles
Max User Weight – 150kg / 23 stone
Max User Speed – 4mph
Length (in use) – 37 inches
Width (in use) – 25.5 inches
Turning Radius – 33 inches
#4 Jazzy Sparky Kids Powerchair – Best Option for Kids
Our next choice is for the kids. The Jazzy Sparky Kids Powerchair is made specifically for paediatric use and even incorporates tight spaces in its design.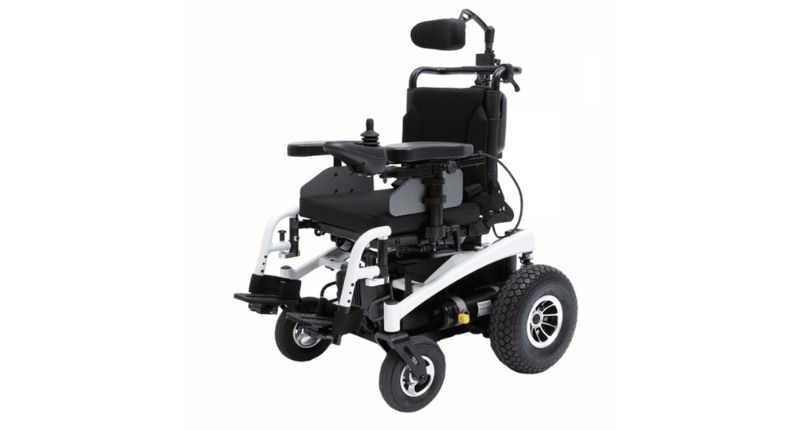 Created for active children this option is compact but strong. The adult supervising the use of this wheelchair, be it a parent or guardian, can manually tilt the chair backwards into a recline position. The supervising adult can also utilise the powered 30-degree tilt feature.
Specifications:
Max user weight – 56.7 kg/ 8 stone 13 lbs
Max speed – 4 mph
Length – 38 inches
Width – 24 inches
Turning radius – 29.25 inches
#5 Jazzy Air Powerchair
Next on our list is the Jazzy Air Powerchair which gives the user the option of elevating their power chair when out and about. This power chair can be elevated to 10 inches while still maintaining a speed of 3.5 mph.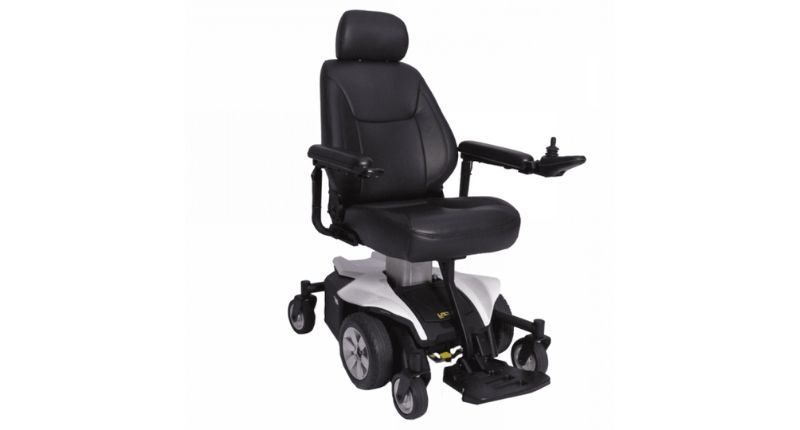 This wheelchair is fitted with recognised suspension technology which enhances the stability and safety of this model whether elevated or not. Mid-wheel drive combined with a contemporary look; this is a great option for wheelchair users.
Specifications:
Max user weight – 137kg / 21 stone
Max speed – 4 mph
Length – 42 inches
Elevation – 10 degrees
Turning radius – 19 inches
#6 Pride iGo Plus
This option from Pride Mobility offers lightweight functionality to the wheelchair user. It is made with transportation in mind as it features advanced folding technology.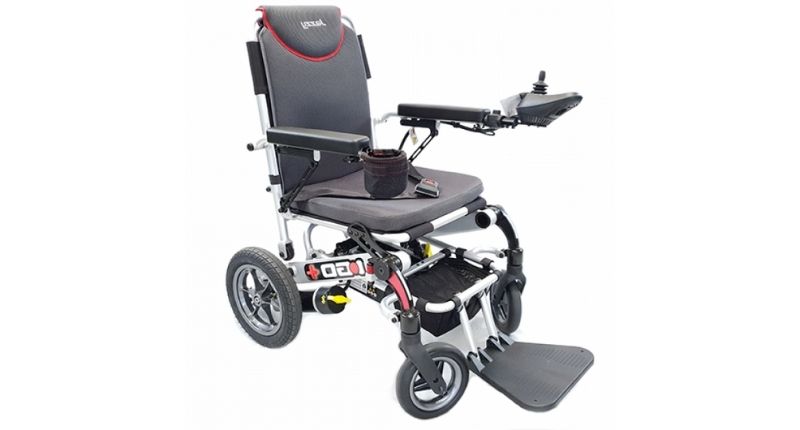 The Pride iGo Plus is durable while being light. The folding system offers comfort to users when travelling with their power chair or storing it away if needed. This model is easy to use with LED controls and the option to adjust speed.
Specifications:
Max User Weight – 109kg / 17 stone
Max User Speed – 3.6mph
Length – 23.5 inches
Width – 23.5 inches
Turning Radius – 24 inches
#7 KWK Heavy Duty Electric Wheelchair
Next up is a heavy-duty wheelchair by brand KWK which prides itself on a sturdy but lightweight design. This power chair can withstand everyday use and is easily transportable from place to place.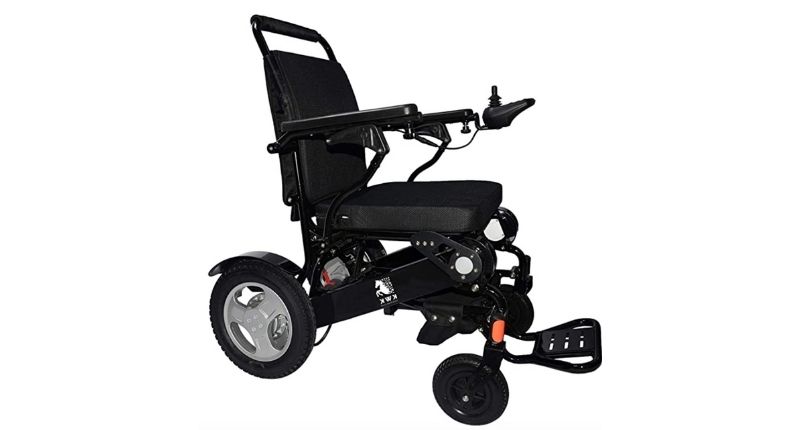 For an electric wheelchair which is classed as heavy duty, this model comes with a pleasantly surprising turning radius of 33 inches. This feature ensures you can get around those tight corners be it at home or when out for the day.
Specifications:
Drive range – 15.5 miles
Length – 39 inches
Width – 24 inches
Turning Radius – 33 inches
#8 KWK Foldable Lightweight Wheelchair
Another KWK option on our top 10 list is the KWK Foldable Lightweight Wheelchair. Like the previous model mentioned this KWK wheelchair offers a powerful power chair while having a lightweight frame.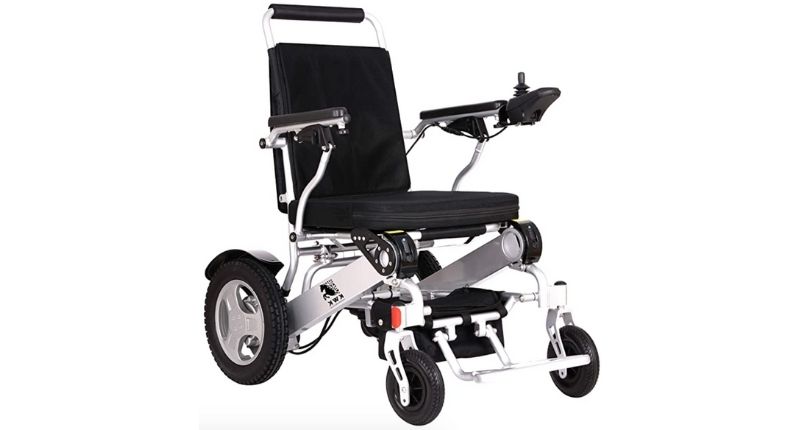 KWK models are made with aerospace aluminium material to create a lightweight but durable frame which is perfect for travelling around and bringing your power chair with you. With a long driving distance this is a good option if size is not a factor in your final choice.
Specifications:
Max User Weight – 180kg / 28 stone
Drive range – 15.5 miles
Length – 39 inches
Width – 24 inches
#9 Pride iGO Wheelchair
The Pride iGo is a former model of the Pride iGo Plus which made the number 6 spot on this list. Futuristic in design this model may not be to everyone's visual taste, but it hits the mark for the affordable price point.
From unique folding technology for ease of transport, to an adjustable, comfortable seat, this model is a contemporary choice at a good price. Front suspension and storage under the seat are other good features of this option.
Specifications:
Max User Weight – 120kg / 18 stone
Max User Speed – 3.7mph
Length – 34.5 inches
Width – 23.6 inches
Turning Radius – 35 inches
#10 Jazzy 600 ES
The final choice of electric wheelchair on our list is the Jazzy 600 ES. The stable design and high performance of this power chair is highlighted by the brand. This option may not be to everyone's budget, however.
What earns this model a place on this list is the all-terrain nature of the product due to large 14-inch wheels suited to various terrain. Suspension technology is another feature which adds to the user control of this model.
Specifications:
Max User Weight – 136kg / 21 stone
Max User Speed – 4 mph
Length – 35.5 inches
Width – 24.5 inches
Turning Radius – 20.5 inches
How does an Electric Wheel Chair Work?
The electric wheelchair was created as a solution to the pitfalls of manual wheelchairs and have fast become one of the most widely used mobility aids across the globe.
The man who invented the electric wheelchair was George Klein. The Canadian inventor worked with a team to create the first electric wheelchair back in 1953. The influence of the first model called the Klein Drive Chair still lives on in contemporary electric wheelchair models.
An electric wheelchair works using battery power which drives the motor/s. The type of batteries used varies from model to model, but they are all rechargeable. An electric wheelchair is usually controlled by the user through a joystick or handlebar however, other methods of control are available depending on a person's disability.
Why use an Electric Wheelchair
Using an electric wheelchair gives a disabled, elderly, or injured person independence, accessibility, and safety both at home and outside the home. They can be a temporary solution to an injury or a more permanent method of transport for someone with a disability.
The components of an electric wheelchair include a battery or batteries, a controller, a seat, a drive system (motor) and other additional features depending on the model. Some are designed to be compact, others focus on drivability or comfort.
Do wheelchairs have seatbelts?
Power wheelchairs have seat belts to maintain the safety and stability of the user while driving. It is very important to ensure a seat belt is fastened during each use of the power chair as this will help prevent the user from injury.
How do you get fitted for a wheelchair?
It is important for a wheelchair user to check the measurements of a power chair before purchasing.
Physical stores may offer a fitting but if not the general rule of thumb is to run your finger along the edge of the person sitting in the wheelchair. Your finger should fit between their body and the seat sides for example.
If you are purchasing online, then simply compare the wheelchair specifications to the user's body measurements. This way you can easily tell if a power chair is going to fit comfortably or not.
How long does it take to charge an electric wheelchair?
The time it takes to charge an electric wheelchair will vary depending on the model. More expensive models can have more efficient batteries requiring less charging time while others which omit a lot of power may require more time to recharge.
It is best to charge your electric wheelchair overnight after use. Typically the time it takes to charge fully ranges from 5-8 hours.
Can wheelchair tires go flat?
Solid tires will not go flat but reduce the comfort of driving or using a power chair. Pneumatic tires which are now a popular choice for electric wheelchair buyers can go flat.
The reason for this is they are like bicycle tires as they are filled with air. Although pneumatic tires require more maintenance, they very much improve the quality of the journey in a wheelchair – less bumps.
Limitations of Electric Wheelchairs
Use in Sports
Wheelchairs can also be used in sports like basketball for example. This version of a wheelchair is different to a regular manual wheelchair as it accommodates the user moving and turning quickly without tipping over. The wheels on such wheelchairs are angled to give more stability to the user. They are referred to as negative cambers.
Beach wheelchairs allow a user to travel across uneven sand and bumpy terrain at the beach. They are specifically designed to tackle this sort of ground while most power chairs are not.
Only quality all-terrain wheelchair models, which come at a cost, travel across sand safely and comfortably, although compact sand is preferred over loose sand.
Are Electric Wheelchairs Street Legal?
In Ireland electric wheelchairs or power chairs are not classed as a road vehicle but as an SPV – special purpose vehicle. This status means that it is legal to drive your power wheelchair in pedestrianised street areas, in bus lanes and on footpaths.
Power wheelchairs are not required to have insurance as they are not classed as a road vehicle however users should follow guidelines set out by the Road Safety Authority (RSA) for power wheelchairs and mobility scooters. These guidelines include, facing oncoming traffic, use of pedestrian crossings and footpaths where possible.
Are Wheelchair Ramps Required
Wheelchair ramps are becoming more and more plentiful in public spaces for the accessibility of those using wheelchairs and mobility aids. For more information read about Best Practice Access Guidelines from the Irish Wheelchair Association.
For comfort at home, depending on the structure of your house, a wheelchair ramp can be very helpful when entering and exiting a building. Ramps can also help wheelchair users move between different levels of a home safely. There are grants available towards the installation of ramps in an Irish home. More information can be found from Citizens Information.
Can a Wheelchair Bound Person Fly
Yes, of course. A person who is wheelchair bound can fly abroad on an airplane with the support of ground staff and cabin crew specific to the chosen airline. Aer Lingus for example states that the passenger needs to be able to sit upright in the airplane seat in order to travel.
Prior to booking you should make the airline aware that you are wheelchair bound or travelling with someone else who is to ensure they can accommodate you fully. The protocol is usually to board the wheelchair user first before the rest of the passengers to ensure they board safely.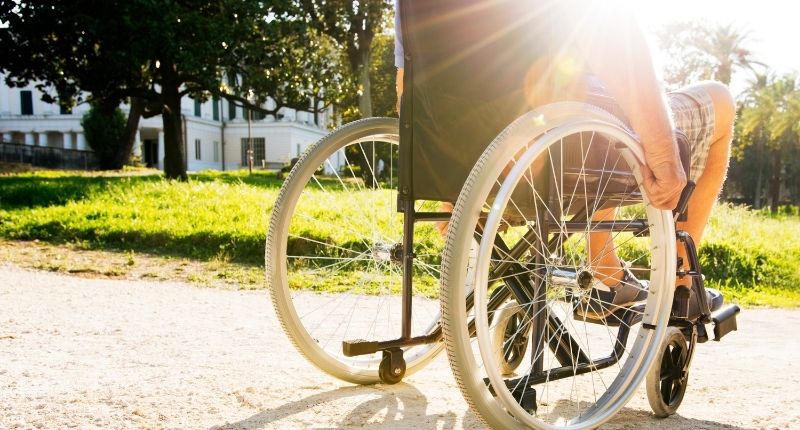 Do bear in mind that power wheelchairs will almost always have to be stored in the bottom of the aircraft and cannot board with the user as they contain batteries.
Batteries this size and type cannot be brought on board and so the wheelchair user will need help from staff to be transported using a manual wheelchair before, during and after the flight.
Other types of Wheelchairs
Mobility Scooters
This form of mobility aid is seeing a surge in popularity as the world becomes more accessible to all than ever before. Mobility scooters offer increased independence to users with mobility, health, or age -related barriers to mobility.
They can travel faster than power wheelchairs and generally have a longer driving range. This form of motility allows for easy access on public transport and everyday travel.
One affordable model of mobility scooter which is available to purchase in Ireland is the Kymco Komfy 8. This model is our top pick for a mobility scooter purchase as it is a reasonable price for a mobility aid with a ton of features.
Read More: 10 Best Mobility Scooters to buy in Ireland 2021
Single Arm Drive Wheelchairs
These models of wheelchairs have controls on one side of the mobility aid. The user can drive and control the powerchair through a joystick located at the end of one of the arms and so only a hand is needed for control.
One option is the LFLLFLLFL Electric Wheelchair which is a lightweight, foldable, electric model. It has two armrests but only one armrest contains the controls for driving the chair. The aluminium alloy frame means this option can be lifted with one hand.
Reclining & Tilted Wheelchairs
Depending the on the person using the wheelchair and their reason for using it, you may need a power chair which reclines and tilts forward for day-to-day use.
A great choice for a reclining and tilted wheelchair is the ZLYJ Reclining Wheelchair. For example, this model will recline up to a 180-degree tilt for user comfort. Not only does this stretch the body and release the spine from a seat position but it also allows the user to sleep or rest when using the chair.
Standing Wheelchairs
This option of wheelchair can be more expensive but very beneficial for the body. To prevent muscle spasms from long term wheelchair use a standing wheelchair can give the user the option of straightening their body safely while still using the wheelchair.
One great choice for a standing wheelchair at a reasonable price is the BJH Standing Electric Wheelchair. This option will switch 180 degrees to a standing position for the user's comfort. This model can be switched from electric power mode to a manual mode also. Control settings can be placed on either the right or left arm of the chair too.
Manual Self-Propelled Wheelchairs
A manual, self-propelled wheelchair means that the user either pushed themselves forward or an assistant at the rear of the chair. Manual wheelchairs have two large wheels for the purpose of propelling the user forward.
A great choice of manual wheelchair is the Aktiv X5 Deluxe Modular Self Propelled model. Suitable for occasional use or everyday use, this option has a lot of features compared to other manual chairs. Features include adjustable backrest and height, optional wheels, moving leg rest and quality nylon seat cover.
Manual Attendant Propelled Wheelchairs
This option is suitable for those who will have a person or attendant pushing them forward in transit. The wheels on these options are not as suitable for wheelchair users to move themselves forward so this is why they are called 'attendant propelled' wheelchairs.
The YIQIFEI Manual Attendant-Propelled wheelchair is a contemporary choice with a sporty look. The seatbelt is 'anti-leaning' for the safety of the user and has non-slip pedals. Mesh material is used to keep the chair breathable and comfortable against the skin.
All terrain wheelchairs
This form of wheelchair features wheels which are durable and strong enough to tackle terrain like grass or rough and uneven surfaces. They are great for users who want to use their wheelchair for outdoor adventures which take them off road and onto uneven ground.
For example, the MobiQuip G-Explorer All-Terrain offers very large pneumatic tires like bicycle tires to smoothly ride over rough surfaces. This wheelchair is featured as the second-best manual wheelchair to buy in our top 5 list below.
Smart Wheelchairs
If you want a futuristic, high-tech powerchair then take a look at the HYYWMGX Electric Wheelchair. The control of a SMART chair lies in your mobile phone which lets you manage features like folding and opening.
This option boasts a 30 plus mile driving range and its own personal app. The tires allow for use on various terrains like grass and gravel for example. Driving up to 5 miles per hour this option is excellent in many ways but an investment and not to everyone's budget.
| Name | Where to Purchase | What You Get |
| --- | --- | --- |
| #1 Our Pick: Aktiv X5 Deluxe Modular Self-Propelled Wheelchair | Buy Now | |
| #2 MobiQuip G-Explorer All-Terrain | Buy Now | |
| #3 Aktiv X2 Lite Self-Propelled | Buy Now | |
| #4 MobiQuip Carrymate Wheelchair | Buy Now | |
| #5 Days Escape Light Wheelchair | Buy Now | |
5 Best Manual Wheelchairs
#1 Aktiv X5 Deluxe Modular Self-Propelled Wheelchair
The ultimate choice of manual wheelchair is the Aktiv X5 Deluxe. As the name suggests this model offers all the best features a manual wheelchair can offer. Thanks to an aluminium frame this is a lightweight model which can be folded up easily and transported.
Many adjustments can be made to this wheelchair too. For one, the armrests can be flipped backward and removed. The leg and back rests either fold down or are easily removed for your own personal comfort. Three options of seat size are also available.
Specifications:
Seat Width: 16 inches
Seat Height: 16 – 20 inches
Backrest Height: 17.5 inches
Max User Weight: 140kg
#2 MobiQuip G-Explorer All-Terrain
This all-terrain option is ideal for that person who loves to travel and explore. The G-Explorer comes with large, sporty style pneumatic tires. These wheels make this wheelchair capable of tackling terrain like grass and rough ground with no issues.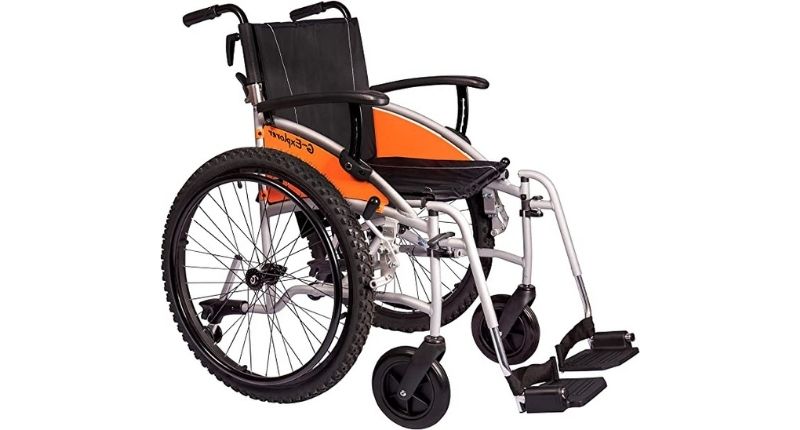 Tire grip and performance are one aspect of this model while another is the lightweight frame and quick folding system. These features make this option the best for transporting to those adventure destination and using off-road.
Specifications:
Seat Width – 18 t0 20 inch options
Max User Weight – 114kg
#3 Aktiv X2 Lite Self-Propelled
The Aktiv X2 Lite manual wheelchair is a great option for those who want to use one on occasion. Not really suitable as an everyday wheelchair, this lightweight choice is easy to transport for the day or for an appointment.
This model comes with brakes for the attendant who is pushing the wheelchair but can also be switched to a self-propelled mode too. Whether you have someone attending your wheelchair or you are moving yourself around this option can cater to both.
Specifications:
Seat Width – 16 inches
Seat Height – 16 inches
Backrest Height – 18 inches
Max User Weight – 113kg
#4 MobiQuip Carrymate Wheelchair
Next on the list is the Carrymate manual wheelchair which is designed for transport and travel. Sold alongside its own carrier bag this portable travel chair is suited for transit use or infrequent transportation needs.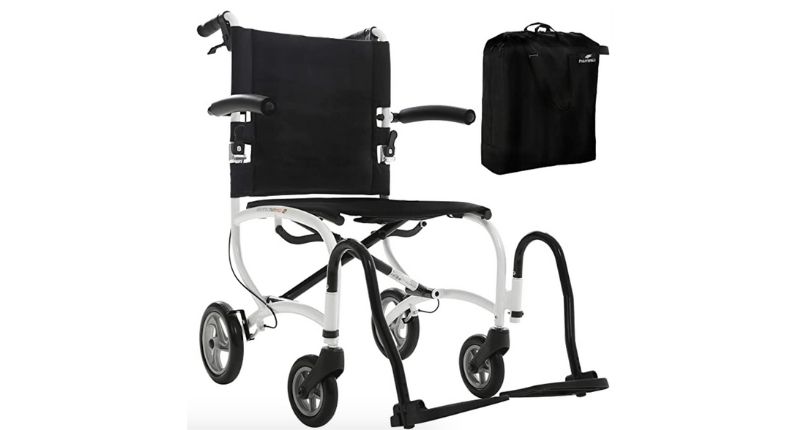 It is very lightweight, is foldable and weighs only 8 kilograms. For such a light frame this chair can still carry users up to 95kg in weight. Puncture free wheels are fitted but this can result in a bumpy ride so this chair would be more suited to indoor, flat surfaces.
Specifications:
Total weight – 8kg
Max User Weight –  95kg
#5 Days Escape Lite Wheelchair
The final manual wheelchair on our list is the Days Escape Lite Wheelchair. It comes in two choices of colour, one is Ruby Red and the other is Silver Blue which is a light blue shade.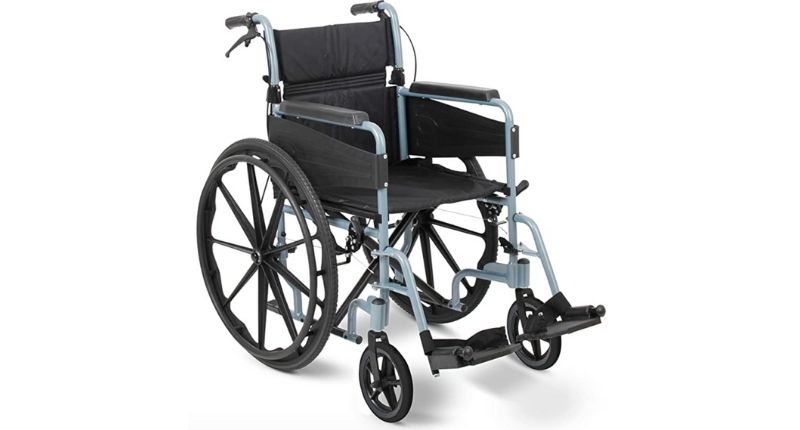 As the name suggests this choice has a lightweight frame for easy of transport. It comes with a foot lever and heel cups for functionality and user comfort when getting around. A basic choice but a great one too.
Specifications:
Seat Width – 16 inches
Seat Height – 20 inches
Backrest Height – 15.7 inches
Max user weight – 100kg
How Do you Qualify for a Free Wheelchair?
The government of Ireland will supply certain people with a free wheelchair if they are a medical card holder or are part of the Long-Term Illness Scheme. The person seeking a mobility aid must be assessed by an occupational therapist to qualify for a free wheelchair too.
So, even if you hold a medical card or are a part of the scheme mentioned you are not guaranteed a free mobility aid. If using a wheelchair for short-term use and a free one is not an option, you could rent one instead.
Where Can I Rent a Wheelchair?
You can rent a wheelchair in Ireland easily from Mobility Hire. They offer both manual and power or electric wheelchairs on a rental basis for as long as you need one. You can book a courier delivery of your rented wheelchair or opt to collect from various locations across Ireland.