Commode chairs are great for people who can't travel to the bathroom themselves or are at risk of falling. Commodes have been used in some form or another by people for thousands of years.
What is a Commode Toilet and How to Use It?
A commode is a moveable toilet that doesn't require running water. It has a toilet seat with a bucket underneath it so that people who can't use the bathroom themselves won't have to travel far.
We know that Sir John Harrington invented the flush toilet in 1596, but the inventor of the commode is unknown.
The earliest known chamber pot, the predecessor of commodes, was found in Egypt and dated to the 1300s BC. For centuries, chamber pots were the primary resource for using the toilet, and they eventually were incorporated into furniture to create the forerunner of the modern commode.
Where Did the Word Commode Come From?
The word commode originated in 18th century France and derived from the French word for convenience. Original commodes were a chest of drawers or cabinets with a large area near the waist or chest level to place personal items.
Later on, commodes stored chamber pots. The idea of using furniture to conceal the pots morphed into a wooden chair that people could sit on with the pot stored inside.
How to Use
Most people who use commodes need help to use them.
To help someone use a commode:
Put some water in the commode container and place it under the seat.
Help the person to sit on the commode.
Give them some privacy if it is safe to do so. Otherwise, wait with the user.
Once finished, help them to clean themselves by wiping their underside. Then, clean the person with a washcloth that has been doused in warm water and soap to remove any remaining waste. Lastly, towel them dry.
You can then help the person off the chair.
Finally, dump the container in the toilet and wash with disinfectant.
Where Can I Buy in Ireland?
You can purchase a commode chair in Ireland from Go Mobility & Medical.
Go Mobility & Medical is an award-winning mobility company and the largest online mobility shop in Ireland. They have more than 12,000 products to choose from, and they deliver nationwide.
Top 5 Commode Chairs
If you're looking to buy a commode chair, think about the needs of the person who will be using it and the person who will be assisting them so you can make the best decision.
| Name | Where to Purchase | What You Get |
| --- | --- | --- |
| #1 Our Pick: Homecraft Sherwood Bariatric Commode | Buy Now | |
| #2 Bariatric Mobile Commode | Buy Now | |
| #3 Days Deluxe Shower Commode Chairs Attendant / Transit | Buy Now | |
| #4 Homecraft Bedroom Commode | Buy Now | |
| #5 Days Folding Commode and Toilet Surround | Buy Now | |
#1 Homecraft Sherwood Bariatric Commode
The Homecraft Sherwood Bariatric Commode is an excellent choice for a premium commode chair at a reasonable price. This Patterson Medical chair can be used anywhere in the home and has a metal frame for extra support. The thick padded backrest and seat supply extra comfort for the user.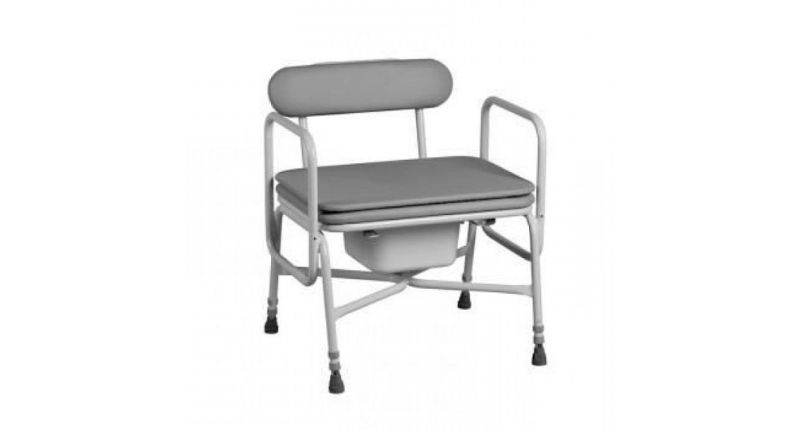 This commode seat is also adjustable, ranging from 480mm to 635mm high. Other accessibility features include removable armrests for easy transfer from chair to bed or wheelchair and a seat width of 660mm for extra room.
Also, you can remove the large square container from either the front or back for easy emptying.
Pros & Cons
Pros
Premium commode for great price
Thick padding
Adjustable height
Easy emptying
Cons
Not suited to all budgets
#2 Bariatric Mobile Commode
Another Patterson Medical product, the Bariatric Mobile Commode, allows versatility as you can use it as a commode, shower chair, or over the toilet. The comfortable seat and back is a polyurethane material for easy cleaning, and the swing away or removable armrests allow for trouble-free movement.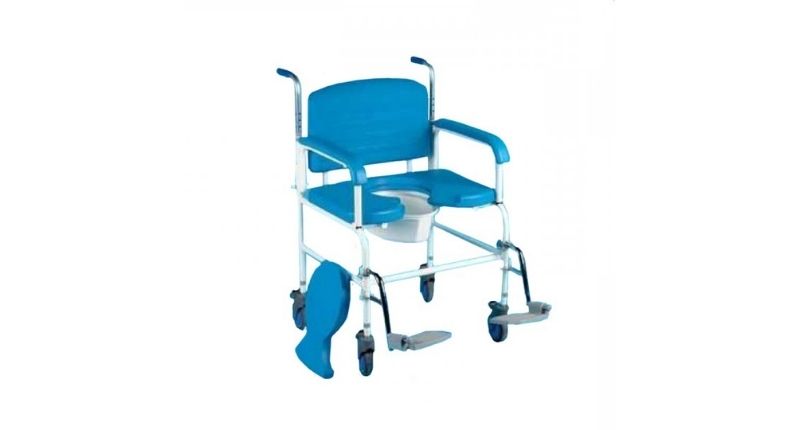 This mobile commode has four lockable swivel casters, so it can be easily moved and then locked in place for safety and stability. Height adjustable pram handles also give more comfort to the person pushing the chair.
With this model you're paying for the added versatility and comfort.
Pros & Cons
Pros
Multiple uses
Easy clean material
Removable armrests
Adjustable height
Cons
Not suited to all budgets
Clinical design
#3 Days Deluxe Shower Chairs Attendant / Transit
Lightweight with a detachable back, the Days Deluxe Shower Commode Chairs Attendant by Days Healthcare is easy to move around and store. This model is all about versatility since its rust-free aluminium frame allows for use in a shower cubicle or wet room.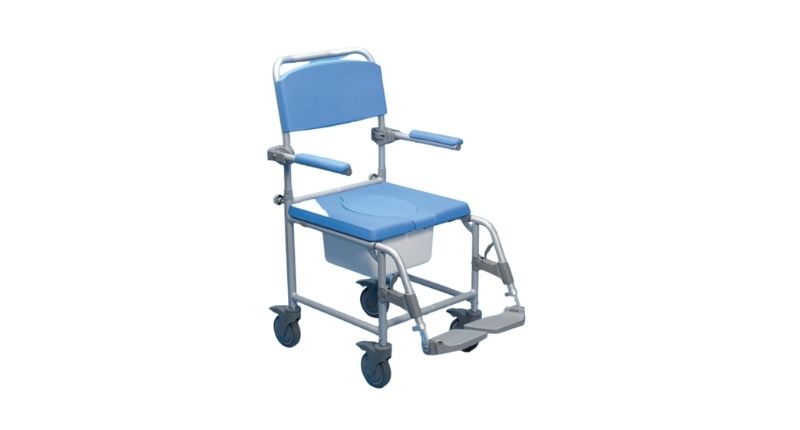 Accessibility features abound in this deluxe commode. A mobile chair with brakes on the front castors, this commode can be attendant or self-propelled.
Swing away detachable footrests, and moveable armrests allow for easy transitions. You can also place this chair over the toilet if you'd prefer.
Pros & Cons
Pros
Lightweight
Detachable backrest & footrests
Adjustable armrests
Rust-free frame
Cons
Clinical design
Not as much padding as other models
#4 Homecraft Bedroom Commode
The Homecraft Bedroom Commode is a woven chair that looks like the rest of your furniture. With a removable cushion, this option can be used as a regular armchair as well.
The woven fabric wipes clean for ultimate hygiene, and the inside pan is removable for easy cleaning. A clean and simple piece of furniture, this commode has a vinyl seat pad for extra comfort and has a weight capacity of up to 160kg or 25 stone.
Pros & Cons
Pros
Woven fabric
Armchair design
Removable cushion
Easy clean
Cons
Not mobile – no wheels
Not as practical as other models
#5 Days Folding Commode and Toilet Surround
The Days Folding Commode and Toilet Surround is a budget-friendly choice. This folding aluminium chair comes with a clip-on toilet seat that is easily removable for cleaning.
A commode is also a toilet surround that provides extra support and safety while sitting or standing. No more need to grab rails in the bathroom!
Pros & Cons
Pros
Budget friendly
Clip-on toilet seat
Rails to surround toilet
Foldable
Cons
Not mobile – no wheels
No padding
Types
You may hear the word commode used in different contexts. This confusion comes from the evolution of the word.
To understand the use of the word commode, these are a few definitions you may hear:
A commode can be a piece of furniture with a basin, jug, and towel rail with space for a chamber pot. These commodes were common in the 19th century.
A commode can also be a chest of drawers or cabinets that are longer than they are tall. This definition was the original meaning of 'commode' and originated in France around the year 1700.
Also, the word could refer to a chamber pot chair that is usually on wheels and commonly seen in hospitals. In modern British and Irish English, this chair is the most common meaning of the word 'commode.'
How to Install
If you've had a commode delivered, you may have to assemble it. The chair should come with instructions on how to put it together. They usually can be put together by hand or only require simple tools.
To install the frame over the toilet:
First, remove the back piece.
Then, put the toilet lid and seat up so you can place the frame over the toilet bowl.
Next, insert the splash guard into the frame.
Once you've done these steps, the frame is ready to use.
Cleaning
After every use, you must clean your commode to decrease bacteria transmission chances and keep your home sanitary.
All you'll have to do to clean a commode is remove the container from the chair and empty the contents into the toilet. After this, wash the container with a toilet brush, using a germ-killing disinfectant and water.
How to Decontaminate
Your commode should be disinfected after every use to prevent the spread of germs. To properly disinfect, make sure you are cleaning with a germ-killing disinfectant.
Otherwise, you are not removing germs from the commode. Also, remember to wipe down the toilet seat with a disinfectant wipe.
How to Unclog
If your commode becomes clogged from dumping waste into it, a plunger is the best way to fix the problem. If the plunger doesn't work, then you'll need to snake the drain.
How Do I Keep My Commode from Smelling?
Bacteria cause foul odours. You can remove bacteria from your commode by using a germ-killing disinfectant.
To keep your commode from collecting bad smells, you'll need to clean it properly after every use. It would be best if you also cleaned immediately to keep odours at a minimum.
Commode Liners
Commode liners are an excellent option for fast and easy cleaning.
A commode liner is a sheet of plastic that goes inside the commode's container for easy cleaning.
Can Commode Liners Be Flushed?
No, commode liners are not meant to be flushed and can clog your toilet. They are landfill safe, so dispose of them in an outside bin.
Frequently Asked Questions
⭐ What is a Bedside Commode?
A bedside commode is a portable toilet for people who have difficulty getting to the bathroom.
⭐ Where Can I Donate a Commode in Ireland?
You can donate your commode to senior centres, hospitals, or charity shops. Just be sure to call first to ensure the establishment you've chosen accepts commodes.
⭐ What is the Difference Between a Commode and WC?
The difference between a commode and a water closet is that a water closet flushes while someone has to empty the commode themselves.
⭐ Can You Use a Commode in the Shower?
You can only use a commode in the shower if your model says it is shower safe. Otherwise, water can cause the commode to rust and may pose a safety hazard for the person using it.
⭐ Which Commode Chair is Best?
The best commode chair is the Homecraft Sherwood Bariatric Commode. This commode is reasonably priced, adjustable, and can be used anywhere in the home.