E-scooters have become a popular means of transport around many cities in Ireland and Europe. This is good news for the environment and the decongestion of cities around the globe.
The main reason for its popularity is that it is lightweight, economical and fast for moving small distances from one point to another. In this article, we shall look at the Xiaomi M365 Pro.
What is the Best Xiaomi Scooter?
The Xiaomi Scooter Pro 2 is the best e-scooter on the market. It is quite similar to its predecessor, the Mi 365. It is loved for being practically silent, fast and has a high battery power that keeps it going for medium distances.
You can also track the speed via a mobile app. The e-scooter has a foldable design and weighs a mere 14.2 kg.
Is the Xiaomi M365 Pro Worth it?
Xiaomi has made various changes to the design and technology while making the M365 Pro compared to the original. These changes include a sophisticated display and a higher deck.
This option also delivers a remarkable 40.4 kilometres, which is over 16 kilometres more than its predecessor. Its motor also delivers acceleration from 0 to 24 km/h in just 5.3 seconds. This is a second faster than the original M365 and the competing Segway Ninebot Max.
Where to Buy One in Ireland?
You can buy the Xiaomi M365 Pro online or in physical stores around Ireland. Some of the locations you can buy e-scooters online include sites like Scooters Ireland, Halfords, and Amazon.
Check additional stores in your city and check their prices to compare to models sold online.
Which is the Best Electric Scooter Model in 2022?
Many reviews put the OKAI ES200 as the best e-scooter model in 2022 but XIAOMI is yet another popular choice for electric vehicle enthusiasts. While OKAI offer high speed and sleek design, it certainly can come at a cost.
More Reading: All You Need to Know About Segway Ninebot Max G30e ii
XIAOMI top the list for most affordable but investable e-scooters whether you go for the Mi 3 or the M365 Pro. They have a reliable reputation and give a rider everything they could need for an excellent driving experience.
What is the Difference Between the M365 & the M365 Pro?
Various features make the Xiaomi M365 Pro better than the original model. The manufacturer has upgraded the motor from 250W to 300W. It also enhances the battery life from 7.8Ah to a whopping 12.8Ah.
This enables the e-scooter to run for a longer range of 30 km on a single charge. On the downside, the Xiaomi M365 Pro battery takes 8.5 hours to recharge compared to the original model's 5 hours. These upgrades make it a worthwhile buy.
How Fast is the M365 Pro?
The Xiaomi M365 Pro moves at a top speed of 15.5 mph. This is a significantly higher speed than most premium e-scooter models on the market. If you want to ride the e-scooter faster, make sure you are significantly lighter than the maximum weight of 100 kg.
Furthermore, when you begin your journey, make sure the battery is at least 50% charged. The quality of tires also affects the speed of the electric bike.
How to Turn on Bluetooth (M365 Pro)
When you connect your Xiaomi app to your scooter via Bluetooth, you can view the remaining power, speed and other riding statistics. A Bluetooth icon on the display panel lights up when you connect with the mobile app. Long-press the start button to light up the panel to connect your Bluetooth.
Then, turn on the Bluetooth feature on your mobile phone and open your Xiaomi e-scooter app. Finally, connect the Bluetooth feature on your device with the name that shows up and start accessing the above features.
How to Activate Cruise Control (M365 Pro)
Cruise control helps avoid hand fatigue and improves your ride. You can activate the cruise control feature by pressing the acceleration button continuously for five seconds.
On the other hand, you can turn off the cruise control feature by pressing any acceleration and brake buttons. Finally, to set the advanced settings, press the start button and the brake button simultaneously.
How Long Does the M365 Pro Battery Last?
The M365 Pro battery lasts for up to 18 miles as it has a capacity of 474 Wh. You will recharge this battery from empty in eight to nine hours. This battery should serve you for one to three years, depending on your usage.
How Long Do Electric Scooters Last, On Average?
If handled with care, the electric scooter has an average lifespan of three to five years. If the scooter is used for commercial purposes, it may not last more than three years.
This means that you may not have to change your battery before it reaches the end of its life.
Will E-Scooters Become Legal in Ireland?
Scooters are considered personal-powered transport systems and are treated as bicycles under the Irish Road Traffic and Roads Bill 2021. Therefore, they will be legal and not be subject to mandatory licenses.
Do I Need Insurance for One?
Since they are regarded as powered bicycles, they are not subject to mandatory insurance like those imposed on motor vehicles. However, if the option is available in the insurance market, you can purchase personal accident insurance.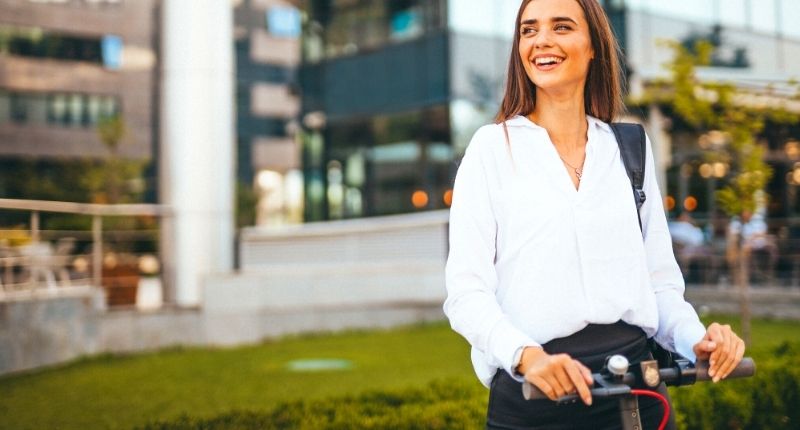 Are Electric Scooters Safe?
Electric scooters are safe as long as you take the necessary safety precautions. This involves safety maneuvers on the road, wearing the right protective gear such as helmets, and following the traffic rules.
Can a 14-Year-Old Drive an Electric Scooter?
Yes, but of course this is completely at the parent's and guardian's discretion. Most e-scooter brands class their models as safe for use by people aged 14 and up but do be mindful of purchasing an electric scooter with a very high speed limit as there are a few that can travel up to 45km/hr.
Xiaomi M365 Pro Security Features
The Xiaomi 365 has a dual-brake system, e-ABS anti-lock braking, and a rear mechanical disc brake system. It also comes with a warning tail light for added safety. Finally, it has skid and shock-resistance tires.
Safety Gear that all Riders Should Wear
The safety gear that all riders should wear includes elbow guards, gloves, knee guards, boots and riding pants. Other protective gear includes a full-face helmet and a chest protector.
What is the Maximum Speed of an Electric Scooter?
The maximum speed of an electric scooter is about 15 km/hr. Some of the premium models on the market have higher speeds than this.
Which Brand of Electric Scooter Should I Choose?
There are several electric scooter brands on the market. Some of the best brands in the market include Okai, Xiaomi, Kugoo, Segway and Unagi. Many of these brands have three or more models among the top electric scooters.