Mobility scooters offer a range of people increased independence and access to transport across Ireland by the way of a scooter. Such independence was once not possible for people with mobility-related health conditions or an age-related barrier to mobility.
The first mobility scooter was created in 1954 but branded as an electric or self–propelled wheelchair. It featured three wheels, a large seat for the driver and prolonged battery life but was not popular in the marketplace at the time.
Years later two men took a stab at the mobility device market as they searched for a solution to challenges with human mobility in everyday life. In 1978 these two men by the names of Ray Hodgkinson and Martin Corby began a business by the name of RayMar to do just that.
The Benefits of Using a Mobility Scooter
People today, both men and women, seek out the help of a mobility scooter for a variety of reasons. Health conditions which inhibit the motility of the human body are the primary reason for their use, but also age-related factors typically associated with the elderly.
Life expectancy has increased globally on a consistent basis, which means an increase also in the number of ageing people in the world. Of course, life expectancy differs from continent to continent depending on health care, systems, the wealth of a population and resources available.
In more affluent countries families are turning to mobility aids like scooters to help their elderly family members get around safely and more independently.
Instead of using a walking stick or walking frame which requires physical strength and movement from the user, mobility scooters can propel the driver forward, backwards and around objects easily.
Benefits of using mobility scooters:
Increased physical activity & speed of travel
Ease of travel & can go on public transport
Energy level conservation
Improved mental wellbeing – confidence, independence.
Increased opportunity for socialization
More Reading: How to use a Rollator & best ones to buy
Top 10 Mobility Scooters in Ireland
The best mobility scooter to buy depends on three things: budget, mobility level of user and frequency of use. In other words, there isn't a one size fits all model when it comes to this technology.
We have put together comprehensive lists of the best mobility scooters available in Ireland today and have made sure to include options for everyone.
| Name | Where to Purchase | What You Get |
| --- | --- | --- |
| #1 My Pick: Kymco Komfy 8 | Buy Now | |
| #2 Cabin Car Scooter | Buy Now | |
| #3 FreeRider Landranger Deluxe | Buy Now | |
| #4 Apex Finesse Sport | Buy Now | |
| #5 ATTO Sport Folding Mobility Scooter | Buy Now | |
| #6 Pride Ranger All Terrain | Buy Now | |
| #7 FreeRider FR1 Scooter Scooter | Buy Now | |
| #8 Colt Pursuit ES13 | Buy Now | |
| #9 Colt Twin Scooter | Buy Now | |
| #10 FreeRider City Ranger 6 | Buy Now | |
Top mobility scooter brands include Scooterpac, Kymco Healthcare and Freerider to name a few. Some brands specialize in affordability, other in luxury mobility scooters which are efficient enough to mimic a very small car.
What's great about most mobility scooters is that you can upgrade in the future by trading in your older model for scrappage. Just like trading in a motor car you can get up to €300 on some models for parts and put this cash towards a newer, more high-tech option for yourself or a loved one.
#1 Kymco Komfy 8 – Best for the Elderly
The Kymco Komfy 8 is our pick for the elderly. An affordable option, this mobility scooter is designed for the user's comfort and ease of travel.
This model focuses on flexibility and manoeuvrability to create a high performing choice for the elderly.
The ergonomic design makes this mobility aid our top pick plus its 8mph speed capacity. For the price, compared to other models on this list, the Komfy 8 is packed with extras to help you enjoy your journeys, either long or short, using this model.
Wraparound handlebars are designed to let the user rest their arms while steering, eliminating any potential discomfort or tiredness while driving. A handbrake feature and batteries suitable for regular, long-range use make this our most recommended scooter.
What makes this mobility scooter the best choice for the elderly? Rear suspension technology to absorb shocks to the scooter plus large soft to touch switches and controls for easy use. Lastly, a large, comfortable seat that reclines and swivels too – hence the name Komfy 8!
Specifications
500-watt motor
Pneumatic tyres
Maximum user weight – 160kg
Max Speed – 8mph
32km range (between charges)
10-inch wheels
45 a/h batteries x 2e
Dimensions
Length – 128cm
Width – 60cm
Maximum slope – 10 degrees
Pros & Cons
Pros
Adjustable wraparound handlebars
Adjustable suspension
4 Metallic colours – blue, red, silver & black
Reclinable captain's chair
USB port
Cons
Not suited to every budget
#2 Cabin Car Scooter – Best Expensive Option
Scooterpac brings a new level of mobility technology to the table with the Cabin Car Scooter. This is the closest thing you will get to a motorized vehicle, which can offer ease of transport and conserve energy levels during the day.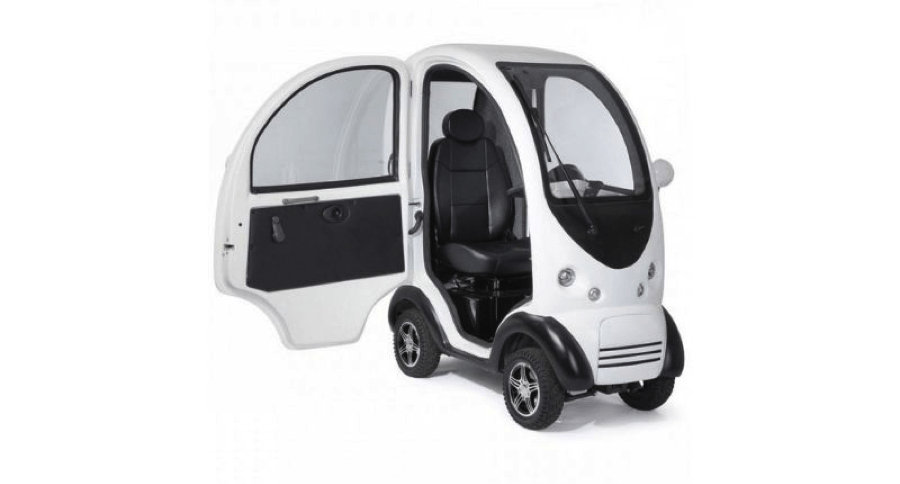 Of course, this is the most expensive option of a mobility scooter and not for everyone. It makes the top of the list for sheer technology and innovation.
This is a world-first for scooters as it features parking sensors with a camera, a heating system and air-con, plus central locking to maintain the safety of belongings inside.
The suspension and specialized tyres allow for comfort on journeys. The real winning feature of this option of scooter is the hard shell on the outside and windscreen wipers which means that living in Ireland or the UK you can still get out and about on cold, rainy days.
Specifications
75 a/h batteries
30-mile drive (between charges)
4mph or 8mph speed options
9 inch allow wheels
14-inch pneumatic tyres
Suspension technology
Option to upgrade battery type
Maximum user weight – 205kg
1200w motor
Dimensions
Length – 171cm
Width – 79cm
Ground clearance – 14cm
Pros & Cons
Pros
'World first' mobility cabin car
Legally classed as a roadworthy vehicle – Class 3 (in UK only)
4 colours – white, red, blue & green
Reversing camera & indicators
USB ports
Cons
Expensive model
Not suited to indoor use
#3 FreeRider Landranger Deluxe
The Landranger Deluxe is our pick for best all-terrain mobility scooter. Specially designed to move through grassy areas and places like parks with multiple terrains.
The core of this model is strength and ability.
To allow for ventures into the great outdoors this FreeRider scooter model is more compact and weighs less than other options created by this scooter brand.
Shock absorption is a major feature too which is a must if opting to use a mobility scooter on bumpy or uneven ground.
Specifications
13-inch pneumatic tyres
Maximum speed 8mph
50 a/h batteries x 2
Maximum user weight – 160kg
Dimensions
Length – 139cm
Width – 63cm
Ground Clearance – 12.7cm
Pros & Cons
Pros
Suitable for all terrains
2 colours – Red & Silver
Shock absorption technology
Comfort seating
Lightweight – 123kg
Cons
All-terrain model is larger than others
Not suited for indoor use only
#4 Apex Finesse Sport
Next comes the Apex Finesse Sport created by the brand Pride Mobility. This proof is in the name of this model as it has been designed for optimal movement and activity.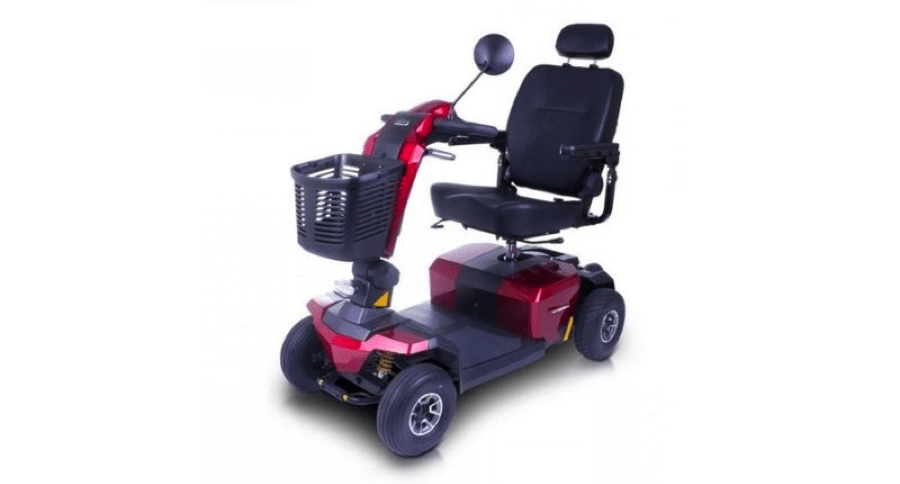 Those who wish to use a mobility scooter to remain active day to day with loved ones or to get around independently will benefit from this compact model.
Excellent front and rear suspension for comfort when driving is a necessity and the core feature of this design.
Specifications
Maximum speed 8mph
50 a/h deep cycle batteries x 2
Maximum user weight – 181kg
Total weight (minus batteries) – 73kg
Dimensions
Length – 119cm
Width – 64.8cm
Ground Clearance – 5.6cm
Pros & Cons
Pros
Front & rear suspension
10 inch alloy wheels
LED lighting front & rear
Easy to use controls
High torque motor
Cons
One colour available
May be too compact for some
#5 ATTO Sport Folding Mobility Scooter
As the name suggests this model is a sports edition of a mobility scooter. This is because of its sleek, modern appearance combined with its high-performance features.
The functionality of this model is second to none as it can fold up and be put away or be taken easily by car to alternative locations for use.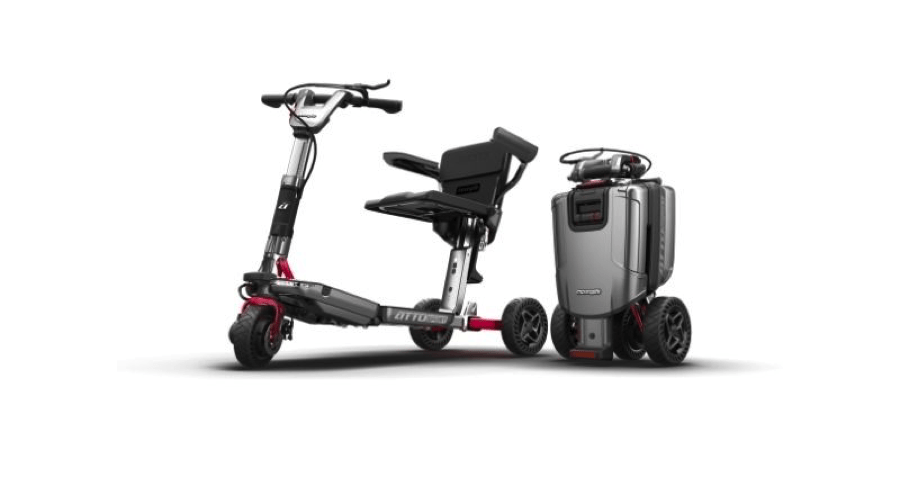 Compared to other models on this list the ATTO Sport Folding Mobility Scooter is 2mph slower with a shorter radius distance between charges. However, if you are looking for a compact, light and convenient scooter to take places or use at home this is for you.
Specifications
Maximum speed 6mph
24V 5.2 a/h lithium batteries
Maximum user weight – 136kg
Total weight – 30kg
Dimensions
Length – 120cm
Folded Length – 39cm
Width – 56cm
Folded Width – 42cm
Ground Clearance – 10cm
Pros & Cons
Pros
Foldable model
Handle for portability
Holder for crutches
Contemporary look
Cons
Max speed 6mph
Max user weight 136kg
#6 Pride Ranger All Terrain
The next mobility scooter on our list is another all-terrain option. The Pride Ranger All-Terrain features durable, large tyres suitable for tackling any sort of ground you choose to travel on.
Even better this option is suitable for those looking for an all-day scooter which is made for long journeys and day trips.
Take advantage of the longevity, durability, and comfy captain's chair and enjoy a long day out with family or friends. Outdoor trips are made easy with this mobility scooter.
However, this model does come at a higher price than other options on this list and is more weighty too due to the chunky pneumatic tyres.
Specifications
Maximum speed 8mph
75 a/h deep cycle batteries x 2
Maximum user weight – 159kg
Total weight (minus batteries) – 124kg
Dimensions
Length – 155cm
Width – 83cm
Ground Clearance – 14cm
Pros & Cons
Pros
5 inch pneumatic tyres
Captains seat
Front & rear suspension
All-terrain model
Cons
Not as compact as other models
One colour option available
#7 FreeRider FR1 Scooter
The FreeRider FR1 model is a great scooter choice for everyday use. This model can take to the pavement or road* with confidence as it features large, durable tyres and a host of handy features for regular driving.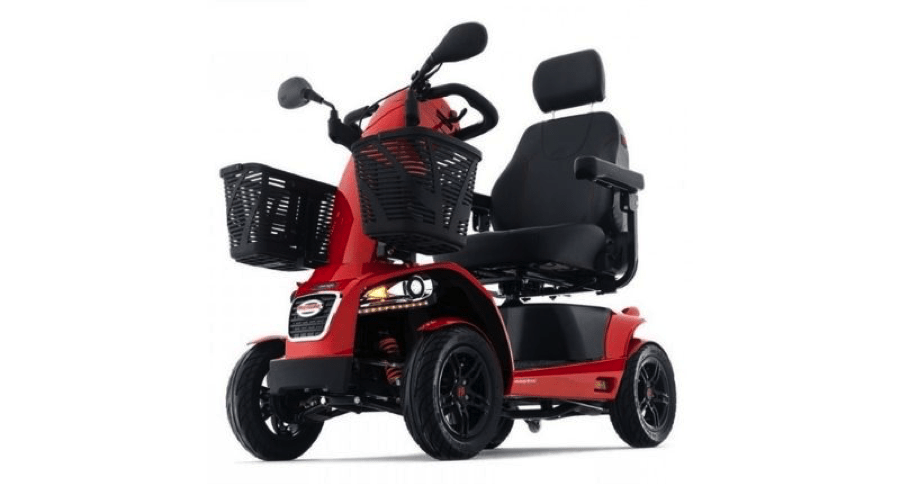 This sporty look scooter offers mobility with style and confidence. Safety is a key element of this model with mirrors, LED lights and an LCD dashboard for ultimate visibility when driving.
This option includes a USB port and two front baskets for carrying your belongings or doing the shopping.
Specifications
Maximum speed 8mph
75 a/h batteries x 2
Maximum user weight – 181kg
Total weight – 161kg
Dimensions
Length – 139cm
Width – 68cm
Ground Clearance – 15cm
Pros & Cons
Pros
13 inch pneumatic tyres
2 colours – Orange & Grey
Front wishbone suspension
USB port
Cons
Not as compact as other models
Not suited to indoor use only
#8 Colt Pursuit ES13
Another model produced by the Pride Mobility brand the Colt Pursuit is made with a focus on driving in comfort. This mobility scooter is an affordable, comfortable option for those looking for a mobility aid for daily use.
Specifications
Maximum speed 8mph
50 a/h deep cycle batteries x 2
Maximum user weight – 159kg
Total weight (minus batteries) – 73kg
Dimensions
Length – 136cm
Width – 63.5cm
Ground Clearance – 8.9cm
Pros & Cons
Pros
13-inch alloy wheels
Front & rear suspension
High back seat
LED lights
Cons
High distance from ground
Not suited to all terrains
#9 Colt Twin Scooter
The Colt Twin mobility scooter offers a 4-wheel model with the manoeuvrability of a 3- wheel scooter.
The two front wheels work closely together in a dual format to improve the turning radius and create the compact design of this model – ideal for home use.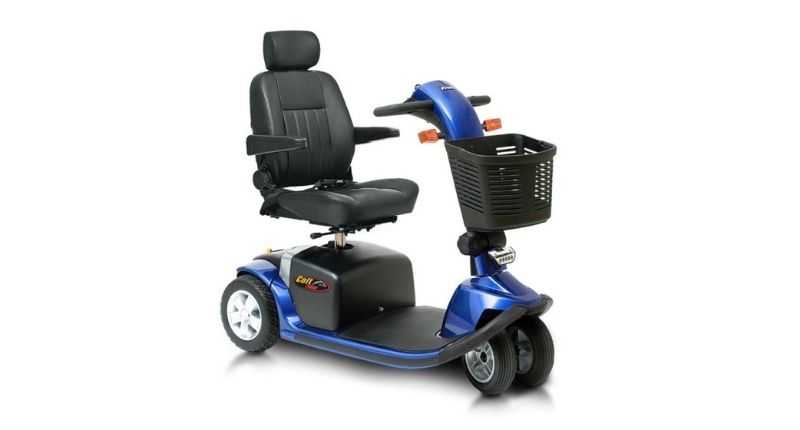 Specifications
Maximum speed 4mph
31-36 a/h deep cycle batteries x 2 / 40-45 a/h
Maximum user weight – 158.5kg
Total weight (minus batteries) – 62.5kg
Dimensions
Length – 116cm
Width – 56cm
Ground Clearance – 5.7cm
Pros & Cons
Pros
4 wheel drive on 3 wheels
Enhanced turning radius for tight spaces
LED & signal lights
Easy disassembly
Cons
Not suited to all terrains
Max speed 4mph
#10 FreeRider City Ranger 6
This lightweight scooter makes it ideal for outdoor use, whether you want to run some errands or just get from a to b independently.
The City Ranger 6 is compact and light making it easier for the driver to use and manoeuvre around quickly on the pavement. This model is nice to look at as much as it is safe to use outside of the home.
Specifications
Maximum speed 6mph
36 a/h or 50 a/h batteries x 2
Maximum user weight – 136kg
Total weight (minus batteries) – 8.9kg
Dimensions
Length – 124cm
Width – 61cm
Ground Clearance – 11.4cm
Pros & Cons
Pros
City scooter model
Lightweight
Compact size
Speedy but safe
Cons
One colour option only
Max user weight 136kg
Mobility Scooter Accessories
There are a range of accessories and extras which you can add to your mobility scooter aid to enhance the functionality of your chosen model. One very popular addition to a mobility scooter is a canopy.
Only some scooters, those on the higher end of the price scale, have an outer shell or cover of some sort to protect the driver from the elements.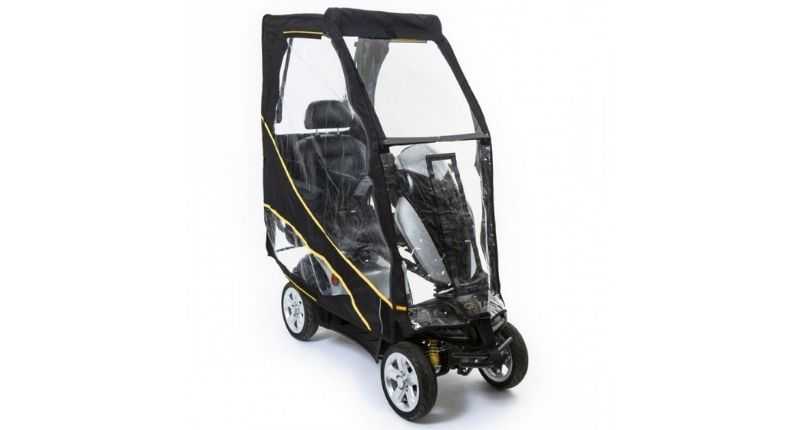 The Scooterpac Canopy is the perfect extra to add to your scooter as it offers more flexibility and options for the driver when taking a scooter out for the day or even out to do the shopping.
To avoid getting caught in rain, or hail on your scooter take a look at this one size fits all canopy which can be folded and brought with you anywhere.
Types of Mobility Scooters
There are many different types of mobility scooters, these include;
3-wheel
A mobility scooter with 3 wheels gives the user more flexibility in smaller spaces due to a more compact design. This type of mobility scooter has two wheels at the back and one at the front making the overall size of the scooter more compact which is a benefit when using in shops or moving around at home.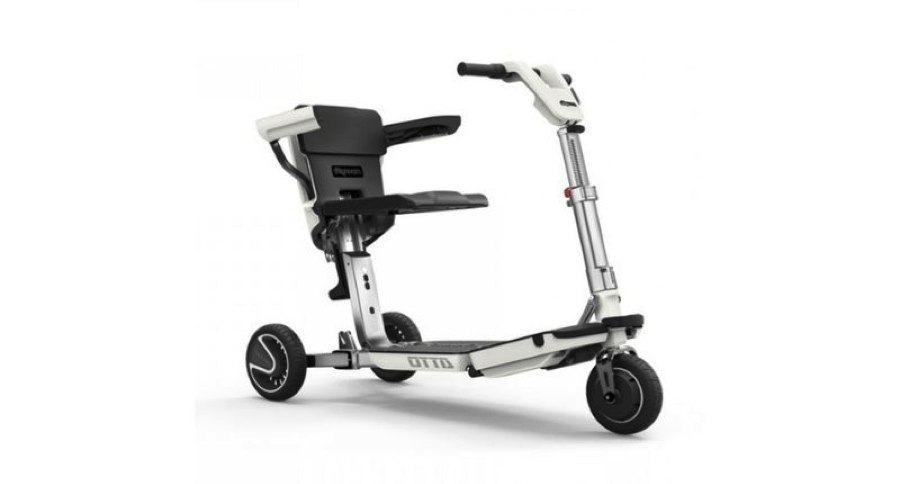 3-wheel models however tend to have that bit less power and drivability as they are short the benefit of an extra tyre. This also makes it more difficult to take a scooter with 3 wheels onto various terrains. We have picked a 3- wheel mobility scooter which offers all the benefits of one with 4 wheels.
The ATTO Folding Mobility Scooter is the best option for transporting your scooter from one place to another, whether this is by car, public transport or even by plane. It can fold up easily to the size of a travel suitcase and is light enough to lift or carry.
In comparison to most 3-wheel mobility scooters, which don't perform well on grass and other rough terrains, this model is proven to work well on both. The range, or distance it can travel between charges, is 10 miles which is great for a 3-wheel model. The maximum speed of travel is 4mph while the maximum user weight is 121kg or 19 stone.
4-wheel
A 4-wheel mobility scooter features two tyres at the front and two at the back. These models are typically faster, travel further distances and tackle all sorts of terrain in comparison to 3-wheel models. Of course, this extra wheel and enhanced features mean this type of scooter is more expensive in terms of cost.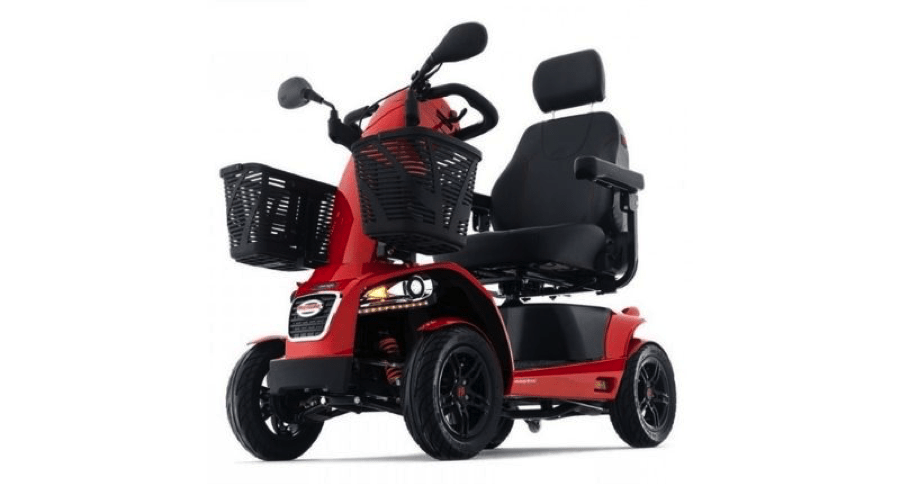 Another benefit of a 4-wheeler is the amount of weight it can carry. All mobility scooters will state the maximum user weight for that model and 4-wheel options can withstand more weight than a 3-wheeler. With 4 wheels however you do sacrifice on compactness and convenience when traveling with your scooter as they are of course much larger overall.
The FreeRider FR1 is our pick for a 4-wheel mobility scooter. The FR1 boasts a range of safety features to support its roadworthy status. It can be used a regular mode of transport for the user or to take out on day trips for extensive use. Featuring large pneumatic tyres, two storage compartments plus front and rear suspension this 4-wheeler is a great choice for anyone looking to invest in a durable, high-performing mobility aid.
Folding/Travel
One feature of a mobility aid that is important for many customers is the potential for it to fold and be easily transported. Anyone searching for a mobility aid will of course need to be able to transport the scooter at some point whether it be on a bus, a car or even overseas by boat or plane. Others just wish to be able to fold the scooter away at home when it is not in use to save space.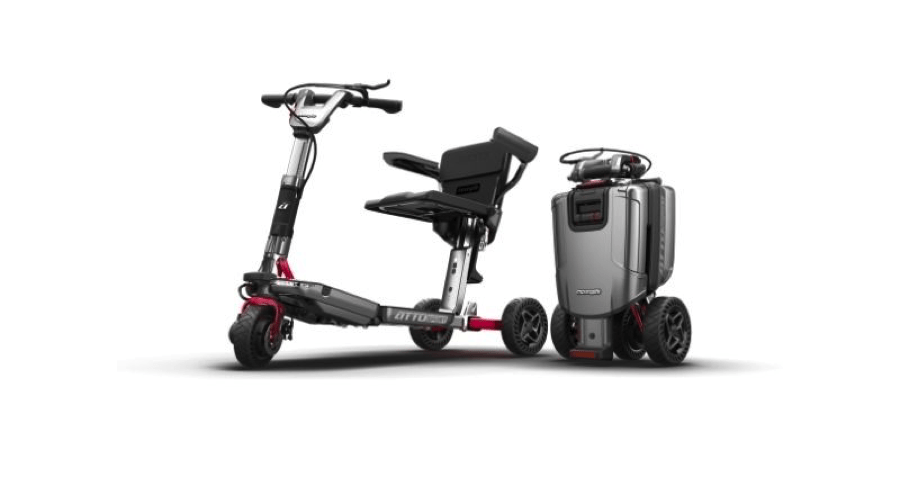 Many mobility scooters now feature an ability to fold up and be picked up by a simple handle, while others need to be dismantled into smaller parts to move them from place to place. The ATTO Sport Folding Mobility Scooter is one option for such customers. Boasting a sporty, contemporary design this model is compact, convenient and folds down to the size of a small suitcase.
Although neat in size, scooters like this one can be added to with specific accessories for example a crutches holder, seat cushion and armrests. Please note that mobility aids of this nature can be more limited in terms of their maximum user weight capacity, so be sure to check this number before going ahead with a purchase.
Heavy-Duty
A heavy-duty mobility scooter is one which can tackle all sorts of terrain be it grass, tarmac, stones, or rough and uneven ground. For people who wish to use their mobility aid outdoors or for day trips out with family where ground conditions will vary from place to place, a heavy-duty model is a must.
If you are an active person looking for a mobility aid, then our pick and recommendation is the Pride Ranger All-Terrain model. This model comes with an enhanced suspension design to tackle all sorts of uneven ground and is positioned high up off the ground compared to other scooters.
The extra-large tyres are a core feature of this heavy-duty mobility aid which can withstand long trips outside. Other features include reversing sensors a max speed of 8mph.
What Does a Mobility Scooter cost?
The cost of mobility aids like scooters for example can be quite high. Like a car or other forms of motorized transport like motorbikes, such vehicles are an investment for most. Prices range of course between models of scooters and vary in terms of the features available. Scooters are classed by size so there are small, medium and large versions for customers to choose from.
The scooters featured on our top 10 list all range from as low as €885 to as high as €9,995. From this cost range, it's clear that there is a wide variety of options available for people with different budgets. Whether you need a high functioning mobility aid for everyday transport and use or a more basic option to help preserve energy levels on outings, there is an option for everyone.
How they work
How fast do mobility scooters go?
The speed of a mobility scooter depends on the model you choose and the money you spend of course. The range of speed a mobility scooter can drive at is from 4mph – 8mph generally.
How far do they go?
Of course, each mobility scooter model will vary in terms of the distance they travel which is termed the 'range' that a scooter can go between charges. More expensive scooters can travel as far as 30 miles between charges while cheaper models may go as low as 10 miles in range before another charge is needed.
Voltage
Electric scooters and wheelchairs used for the purpose of mobility run off 12-volt batteries. There are often two such batteries fitted to models of mobility scooters giving a total voltage of 24 volts.
What type of batteries do mobility scooters use?
Batteries vary from one mobility scooter to another. Some use lithium batteries while others use deep cycle AGM options. The power output of the battery used will be written in terms of amp hours or a/h for short so for example a battery could state 50 a/h or Ah.
How long do they take to charge?
Charging time for mobility aids and scooters can range from 6 to 10 hours or in some cases 12 hours for a full charge. This will depend on the type of battery your scooter uses and the power output it is capable of. The size and model of the scooter you have will dictate the battery type or strength. The amount of charge you have left in your battery before charging will also determine the length of time it needs to be charged.
How to make them go faster?
If you are unhappy with the speed of your mobility scooter aid, then you can always look into a battery upgrade. Some models and mobility stores offer upgrades to the original battery in your scooter which will improve the speed and/or range that your scooter can achieve. Be sure to check whether a battery upgrade is possible however before you go ahead and purchase your chosen scooter to ensure this is an option in the future.
How long do batteries last?
You will generally get 18 to 24 months of battery life out of mobility scooter batteries. This is an estimate however as with the correct maintenance and care the battery for your mobility aid could last even longer than this.
It is recommended that when you do need to change the batteries in your scooter that you change them as a pair to ensure the full functionality of your scooter. Some larger models require one larger battery rather than sets or pairs of course so the above only really applies for middle-sized or small models.
How to Service Mobility Scooters
As mobility scooters and wheelchairs have safety parts and move often just like any vehicle, they do need to be taken care of and serviced. Once a year should be enough to maintain the condition of your mobility aid and this should be carried out by a technician who is trained to do so.
If you are looking for the best place to service, your scooter then it is best to reach out to the manufacturer or store you purchased it from as they will likely have an after-care service available.
Limitations
Where can you use Mobility Scooters?
In Ireland, mobility scooters and motorized wheelchairs can be used on paths, in cycling lanes, to enter buildings and in pedestrianized areas. It is advisable to use a mobility scooter on a pathway but if this is not possible the cycling lane of a road is permitted for use.
Limitations around the use of mobility scooters include the use of them to drive on roads. Such vehicles are not classed as motor vehicles in Ireland as they do not require insurance or a license to drive one. Instead, they are classed as SPVs or Special Purpose Vehicle.
It is also advised by the Road Safety Authority of Ireland for users of such vehicles to face oncoming traffic when in use, utilize pathways or hard shoulders where at all possible and use pedestrian crossings to cross over roads.