Electric scooters are becoming more popular as the days go bye but why? Recently, battery technology and electric motor have advanced tremendously. Today, electric vehicles have the advantage over fuel-powered vehicles in terms of operating cost, ease of use, and performance area. E-scooter popularity has increased since introducing a sharing system that allows users to rent for a given period.
In terms of the environment, many individuals have chosen to become eco-friendly these days. Now it is valid to say that green mode of transportation is trendy to travel in. E-scooters operate on batteries; hence no need for fossil fuels that are responsible for environmental pollution.
Since the primary propulsion system of electric scooters is clean, it improves local air quality. Many people have moved to e-scooters due to their quietness. Imagine cruising down the street on your e-scooter, and the only sound you hear is wind blowing.
You get an entirely different feeling when on an electric motor. E-scooters are quiet, and they move with ease hence accepted in most communities.
What is an E-Scooter?
An E-Scooter or electric scooter is a two-wheeled device or machine with a floorboard, handlebar powered by electricity, and is designed to be stood upon when riding. It is like a bike but without a seat and with small wheels.
The electricity used to run the e-scooter is stored in the battery kept on the floorboard. It is classified as a micro-mobility machine. The rider stands on the large floor deck.
How Fast does an Electric Scooter Go?
The speed of an e-scooter will depend on the make and brand. However, the average speed of an e-scooter is 25 to 50 km/h. This speed might look too low, but it is not a problem for some people since it is less exhausting than walking and going by bike and faster than going on foot.
For example, the fastest e-scooter has a 5000-watt motor and a carbon frame. It can reach a maximum speed of 96 km/h. However, due to the road restriction in some countries, you cannot reach that speed.
Several factors affect the speed of an e-scooter, such as engine weight, battery power, rider's weight, terrain, and tires.
Features to Look for
E-scooters are designed to be ridden while standing, but some scooters are converted into seated ones with optional accessories. The main attracting thing about electric scooters is their amazing features.
Common features in almost every scooter include folding, suspension, motor, stem, handlebar, brakes, deck, and batteries.
Speed
Generally, e-scooters are not meant for high speeds. The average speed of a normal scooter is 25 to 50 km/h.
This speed is enough to move around the neighbourhood without worrying about safety elements like the helmet. However, it is important to wear protective gear at all times regardless of the speed.
Light / reflectors
Lighting in a scooter is important since it makes the rider visible at night, especially on busy roads. Unfortunately, most scooters have a lacklustre lighting built-in.
Nearly all scooters are designed with at least one brake-activated tail light and LED headlight. Some scooters come with multi-coloured LEDs fitted around the stem and under the deck for additional visibility and aesthetic value. It is called swag lighting.
Deck and swag lighting are essential for your scooter's cool factor, increasing visibility but a powerful taillight and headlight are important.
Sorrowfully weak lights on a scooter should be avoided hence the need for additional lighting.
Brakes
A quality braking system on a scooter is important to remain in control and safe while riding on any terrain or road. The brakes on this micro-mobility device work like the ones on bicycles or cars: to slow down or stop motion.
The braking system of a scooter can be broken down into two categories: electric and mechanical.
In an electronic braking system, the motor is the main component responsible for braking, and it includes a regenerative and strictly electronic braking system.
Mechanical braking systems rely mainly on a physical mechanism to bring the scooter to rest or slow its motion. It includes a drum, foot brakes, and disc.
Mechanical braking systems are strong compared to electronic ones. However, electronic braking systems are good since they don't require periodic maintenance or adjustments.
For safety reasons, it is good for scooters to have two braking systems in case one fails in the process.
Motor
Adult scooters are designed with motors on either wheels or both. Scooters have BLDC (brushless direct current) electric motors built directly into the wheel's hub. Normal electric scooters have one motor, but more powerful e-scooters have two.
When rating electric motors, one should consider the power consumption expressed in watts. With greater wattage, you get more powerful motors.
Drive range
Depending on how far and often you plan to go with your e-scooter, it is important to consider drive range or mileage capacity.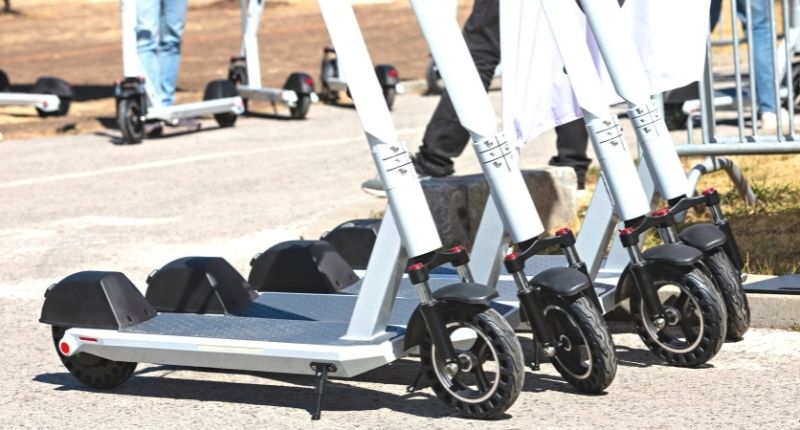 The driving range of an e-scooter will depend on the battery equipped on the it. On a single charge, some e-scooters have a driving range of 20 miles on 12v 39ah batteries. Also, some scooters can go for a long-distance without recharge. When fully charged, an average scooter can run 70k with a power of 250W.
Charge time
It only takes a maximum of 20 hours and a minimum of 4 hours to charge an e-scooter. However, the charge of any scooter will depend greatly on the charger used and battery capacity.
The best way to know how long it takes to charge a certain e-scooter from 0% to 100% is to use a charging timetable. Find your charger's current output and battery capacity to use the table.
App compatibility in some models
Some scooters are app-compatible. The wind mobility app is great to try in a new e-scooter. A map app is another great application to incorporate into your e-scooter.
Are Electric Scooters Legal to drive in Ireland
The government has put forth some legislates to use e-bikes and e-scooters on Irish roads. The legislation involves the variable speed limit for the e-scooter on different terrain. Also, the legislation ensures to have the safest regime on e-scooter.
How Safe are E-Scooters to Ride
Safety should be the first thing you think about when you leave your home in the morning on your e-scooter. It is important to be aware of your surrounding regardless of the mode of transport.
Electric scooters are made for safety, but it all depends on the rider to follow all safety laws like following road signs, being aware of other road users, and wearing a helmet. Children should follow speed laws to stay safe on the roads and, most importantly, be accompanied by an adult if they are riding on a busy road.
How to Ride One
Before riding an e-scooter, ensure you protect yourself from injuries by wearing protective gear. To start riding, you need to follow a simple step:
• Place your e-scooter on a flat sidewalk
• Raise the kickstand
• Start the motion using the kick scooter stance
• Your strong leg should be on the deck
• Hold on the throttle steadily
• To turn, rotate the handlebar
• Use the brakes if you want to stop or move slowly