They are a great way to get around if you have trouble walking. But how fast do they go? This article will answer that question by exploring the top speed of mobility scooters, and we'll also discuss some of the different features you might find on mobility scooters. Read on to discover more!
A mobility scooter is a motorised device that provides transportation for one or more people who have difficulty walking. They are often used by individuals with conditions such as arthritis, neurological disorders, multiple sclerosis, or amputees.
How Fast Can They Go?
Speed varies between different models but typically the top speed is around 5 – 7 mph. This is a slow walking pace, and some people will find it too fast.
The speed of modern mobility scooters is surprisingly quick in some models, but may not be suited to all users. Consider how fast is safe for the driver using the mobility aid and whether they will be using it outside for longer journeys or simply within their own property.
Driving Range
The driving range for a this device can vary dramatically depending on the type of battery used. Most are designed to go 8-15 miles per day based on usage with one charge. For most people, this covers their average travel requirements, but if you require more, you might need to look at models with potential battery upgrades or consider using a manual wheelchair as well.
How to Make one go faster?
The fastest speed for a mobility scooter is about 7 mph. However, if you want a faster scooter, then there are a couple of options. The first is that some models will let you upgrade the maximum speed on your scooter. You'll need to check the manual to see how much this will cost, but it can be a great way to go faster.
The second option that you have is to use a manual wheelchair as well. The beauty of having both is that you can switch between them whenever you want, depending on your needs.
Lastly, you can also often buy a second battery if you travel more than the driving range of the scooter to be able to switch out batteries. This is especially common with towable mobility scooters, designed for people who need to bring their scooter long distances or frequently go on trips requiring them to take taxis.
Who Buys Mobility Scooters?
This devices can be a great way to get around if you have lost your ability to walk or have difficulty walking for any other reason. However, not everyone who has trouble walking should use a the device as they might not meet the requirements. Here are some of the most common users for this type of device.
– Older individuals who have trouble walking (typically over 50)
– People with temporary disabilities (such as a broken leg)
– People with permanent disabilities, particularly those affecting one side of their body or suffer from arthritis.
Where to Buy in Ireland
If you want to buy a mobility scooter in Ireland, there are a few options. First, you might be able to find this device at medical equipment shops such as The Irish Wheelchair Centre. They sell both new and used models but will not provide installation or other services, so buying from them requires quite a bit of self-reliance.
Read More: Go Mobility Review: Everything You Need to Know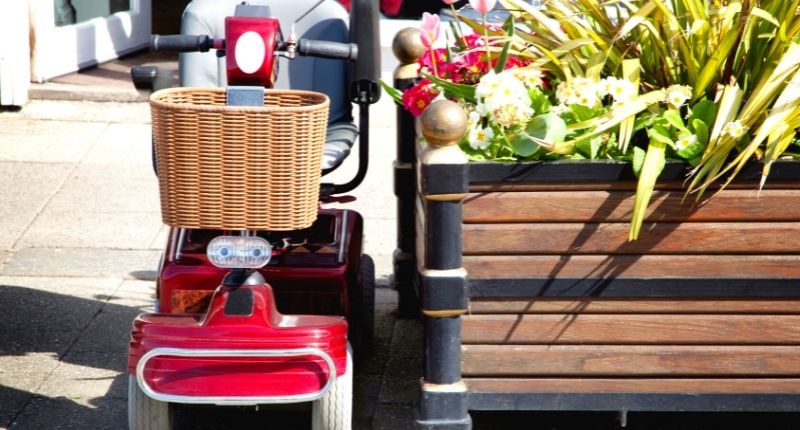 The other option is to buy online. You can buy mobility scooter online in Ireland at websites like Mobility Scooter Direct UK. This is an excellent choice if you want to ensure that you are buying the right model but don't want to deal with installation yourself.
How Much Does This Device Cost in Euros?
The price will vary depending on the brand and model, but you should expect to pay somewhere around €500 for a basic scooter. Many models will cost well over €1,000, so this can be quite an investment. You can save money by buying used rather than new ones if you have the opportunity.
The Legality of Mobility Scooters in Ireland & Where You Can Ride Them
This devices are legal to be used on footpaths, can enter pedestrianised streets and cycle tracks and can enter buildings in the same manner as pedestrians. You can ride these devices anywhere that a regular bicycle would be allowed, including bike paths if you have one. However, you should never ride your mobility scooter on the road alongside cars.
Ireland has thousands of mobility scooter users, but they are exempt from road traffic rules. Users do not have to take a driving test and do not require a licence to use one. Nor is there are legal requirement for mobility scooters to have insurance.
Mobility Scooter Features
There are many features of mobility scooters to consider before investing in one. Take a look at what areas of design and functionality you should consider prior to a purchase.
1. Speed
This is typically between 4 and 12 miles per hour, depending on the model. A good scooter will have variable speeds, which you can change as needed. Some models may also have a reverse function that is helpful if you need to back up quickly or want to manoeuvre in tight spaces.
2. Drive Range
This is the maximum distance that your scooter can travel on a single battery charge. Most models have a driving range between 4 and 18 miles which should meet most people's needs.
3. Lighting
If you plan to drive on public roads at night, you will need headlights and taillights. Most models will have built-in lights for this purpose.
4. Safety
Your mobility scooter should come with a horn for alerting pedestrians which you are approaching. Some models also have mirrors so that you can see behind you when driving.
5. Brake System
If you have drum brakes, they should be made from rubber. This will reduce the noise when braking so that your scooter doesn't startle other people around you.
6. Motor
The best electric scooter motors are hubless and recessed within the wheels themselves. This will reduce the risk of breaking your scooter down and protect them if you ever need to drive over potholes.
7. Wheel Type
Look for larger 11 or 12-inch wheels with great traction. The tires should be made from rubber because this provides the best grip.
How Heavy Are Mobility Scooters?
They are typically between 30 and 40 pounds, depending on the model.
You should look for a model that is easy to lift with one hand because you will need to do this every time you go somewhere.
Who Buys Used Mobility Scooters?
Many people buy used scooters for sale because they are less expensive than new models. You should be careful if you decide to buy one of these devices because the battery may not last as long as a new version. If the device is too old, it may also lack some safety features that may be included with a new model.
How Far Do They Go?
This devices can go up to 15 miles on a single battery charge. This varies from model to model, but the average driving range is between 8 and 10 miles.
Choosing the best this device for your needs is not an easy process. It would help if you took some time to look at different models and read reviews from people who have purchased them before to know which are the top-rated ones. You will also need to check with your physician to find out whether you can safely operate one of these devices to avoid injuring yourself when driving.