Electric Scooters are seeing a surge in popularity and sales as they offer an alternative method of travel independent of fuel or public methods of transport. E-scooters as they are also known are environmentally friendly, financially affordable for many and also fun.
What is an E-Scooter?
An E-Scooter or motorised scooter is a scooter on which a person stands up straight to drive and runs on an electric motor.
Electric scooters are different from those used as mobility aids at home or in hospitals, as they are propelled forward by a push or kick off the ground. Human propulsion works to kick start the scooter and there are no gears present either on these motorised products.
The popularity of e-scooters has soared in the recent past as they are more affordable than cars, are environmentally friendly and are ideal for those living within a short distance of amenities. City dwellers and younger members of the family in particular use them to get around quickly and affordably without the need for petrol or public transport.
Where to Buy in Ireland
Electric scooters can be bought in physical stores in Ireland, but more prominently online from e-retailers, many of which specialise in automotive sales. Many online e-scooter retailers specialise in electric vehicles of this nature and so stock a range of fitting accessories to accompany the scooters in their ranges.
Of course, like all things, e-scooters can also be bought second hand but if you are looking for a reliable new model it is best to shop with a reputable brand or store online. A one-stop-shop can help meet the needs of all electric scooter customers by suppling all items needed to ride one including chargers, locks for safety from theft and helmets.
Dedicated e-scooter stores offer expert advice on equipment needed for repairs, how to keep your scooter in great condition and whether you can use your mobile phone or another device to connect to your vehicle.
Top Electric Scooters in Ireland in 2022
#1 OKAI ES200 – Best Overall
The OKAI ES200 model is the best on the electric scooter market in our opinion. This model is in high demand across Europe and within Ireland for its overall performance ability and sleek but reliable frame design.
An extra-wide foot deck gives the rider comfort while standing during transit. The aluminium frame is very sturdy but eye-catching at the same time. Anyone would be proud to travel on this electric scooter and show it off to friends and family.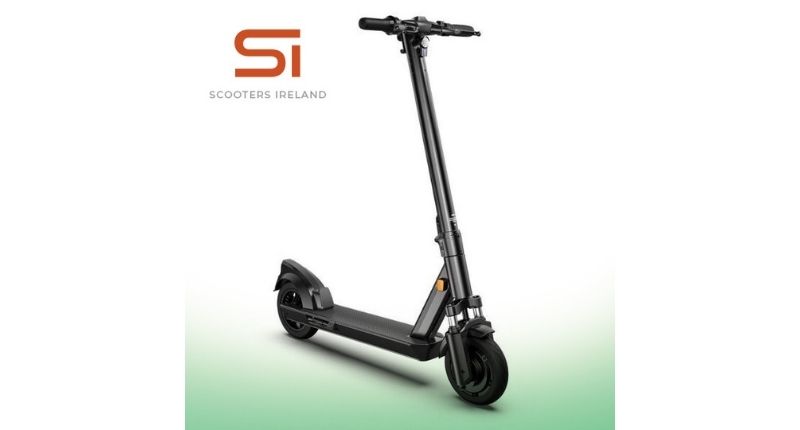 Why do we rate this option over others? Well for one the 40km range is excellent for getting around regularly and reliably on your scooter. The speed range is on par with other brands like XIAOMI or Segway and reaches the max speed limit for e-scooters on roads in Europe and Ireland.
The tires on this product are honeycomb solid tyres, which means they are puncture proof! Maintenance is reduced instantly thanks to these wheels plus the charge time is very short with just 5 hours of charging required each time.
Specifications
700w motor (maximum power)
40km Range
15.5mph / 25kph Max Speed
Foldable
10" honeycomb tires
5hr charge time
Pros & Cons
Pros
40km range
700w motor
IP55 rating
Puncture proof tires
15 degree climb
Extra-wide foot deck
Cons
OKAI ES200 is an expensive model for some budgets
#2 Kugoo Kirin M4 Pro
Kugoo is our next choice for an excellent electric transit investment. The Kugoo Kirin M4 Pro is all that the former version offered a rider plus an extra 5km in terms of distance when driving.
Take off on this model, one ride after another, without thinking about how much charge you have left on your vehicle. Thanks to the long range ability of this model, riders don't have to charge that often and also are worry free when taking on a long commute.
What really stands out with this scooter is the wide panel on which you place your feet while riding. It is slip resistant and holds feet nice and comfortably together to ensure you feel secure while standing and scooting through traffic.
It is unfortunate that the climbing ability of this model is less than the former version but at the same time it does offer 10 degrees in terms of capability.
Specifications
500w motor
50km Range
15.5mph / 45kph Max Speed
Foldable
10" pneumatic tires
8hr charge time
Pros & Cons
Pros
50km range
500w brushed motor
Extra wide foot panel
45km speed
10 degree climb
Cons
Kugoo M4 model offers a 20 degree climb
#3 Xiaomi Mi Electric Scooter 3 – Best Xiaomi
The XIAOMI Mi 3 tops our list as the best electric scooter option overall thanks to a competitive price point and an excellent range of features. All you need from an e-scooter is here in this model.
Pneumatic tyres ensure a smooth, safe ride on multiple terrains while the climbing ability of this scooter allows for riders to tackle hills easily. The long range capability of this scooter really lets the rider feel secure when driving for long periods of time.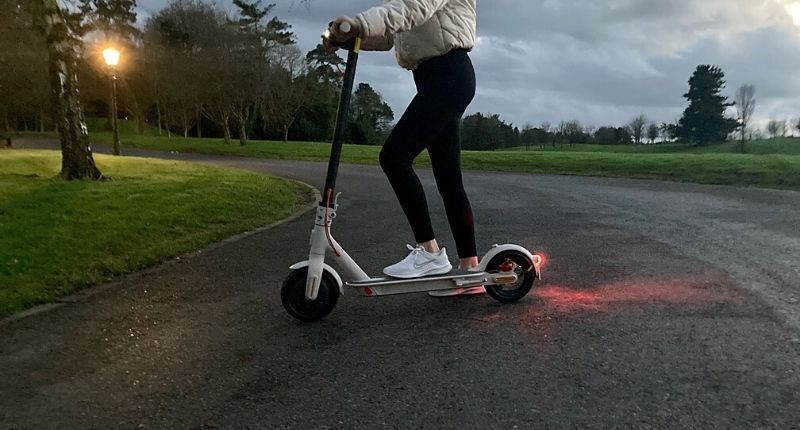 A water resistance rating should never be overlooked and this Mi 3 model has a great one. Riding in rainy conditions or on winter days is much easier and assures owners that their vehicle is protected when out and about. This rating also applies to storing the scooter, helping with other forms of possible deterioration.
Specifications
Up to 600w motor
30km Range
15.5mph / 25kph Max Speed
Foldable
8.5" pneumatic tires
IP54 water resistance
Pros & Cons
Pros
30km range
Max 600w power
Mi Home App
15 degree climb
Competitive price
Cons
XIAOMI pro 2 features a 20 degree climb
#4 Xiaomi Mi Pro 2
The Xiaomi Mi Pro 2 is the best rated e-scooter by customers of this model online. It has everything from a very long driving range to automatic regenerative brakes.
You pay the extra money for the 45km range which is ideal for those using a scooter daily as a replacement for public transport or a car.
A long range means a more powerful motor which is great for extensive use and getting around swiftly on your e-scooter. However, this comes with a longer charge time too. This model comes with a 20-degree climbing angle also.
Specifications
300w motor
45km Range
15.5mph / 25kph Max Speed
Foldable
8.5" pneumatic tires
9hr charge time
Pros & Cons
Pros
Very long range
Skid resistant tires
Mi Home App
2-year warranty
20-degree climb
#5 Kugoo (Kirin) M4
The Kugoo Kirin M4 is everything you could want in an electric vehicle as it offers all-round great features for a variety of potential riders. A top speed of 45km/h means you can take this model off-road and really enjoy the speed capability.
Be sure to watch your speed on public roads however as generally the max for e-scooters is only 25km/h. What makes this option stand out from other Kugoo models and other scooter options in general is the 20 degree climbing feature.
Extra long range when riding means less charging time for the user and the scooter. Store your scooter away knowing an IPX4 rating will keep it relatively free from rust and dampness, depending on where you plan to store it of course!
45km range
500w brushed motor
Extra wide foot panel
45km speed
IPX4 rating
20 degree climb
Pros & Cons
Pros
45km range
500w brushed motor
Extra wide foot panel
45km speed
20 degree climb
Cons
Kugoo M4 Pro model offers 50km range
#6 iScooter Foldable Motorised Scooter
Another iScooter option features on this list of top e-scooters to buy in Ireland in 2021. This certainly delivers on price and product features. iScooter describe this version as high performing thanks to its strong motor, long range and high maximum speed too.
It comes with a nice app called MiniRobot to allow the driver lock their scooter when leaving it alone and to control other features like speed. The maximum user weight is 120kg which is a bit higher than other models on this list.
An LED display, dual brake system and great motor make this a great buy for someone looking for a standard e-scooter with a few extras.
Specifications
350w Motor
25km Range
30km / h Max Speed
Foldable
8.5" Solid Tires
Pros & Cons
Pros
Shock absorbing brake system
App compatible
High performing motor
High-speed option
Cons
Charge time not specified
Range is longer in other models listed
#7 Kugoo Kirin S1
Kugoo yet again snatches a place on this list of top e-scooters to purchase in 2022 here in Ireland. They are a little bit irresistible in terms of all the features they have to offer riders and the Kirin S1 can certainly compete on price!
Other models of Kugoo e-scooters are a bit more expensive than similar, competing brands like XIAOMI but this one actually undercuts most while still delivering on range and speed. Of course, this model doesn't go as fast as some or travel as far a  distance but for most riders the spec will be enough.
Solid tires make for hassle free travel as they are puncture proof but, you must remember that solid tires cannot travel over bumps on the ground as smoothly as a pneumatic or air filled tire. Hence the cheaper price for this scooter option.
Specifications
350w motor
25km Range
25km/ h Max Speed
Foldable
Solid tires
4hr charge time
Pros & Cons
Pros
Powerful motor
Affordable model
Short charge time
Puncture free tires
Cons
Smaller tire size than other models
Solid tires can mean a bumpier ride
#8 Segway Ninebot E45E
Next on our list is the Segway Ninebot E45E. This is certainly a more expensive choice of e-scooter and most likely down to the high-end brand of this model. However it comes highly rated for a reason with a host of features like a three brake system and a smart eco-friendly battery pack.
Foam-filled tires ensure you won't get stuck with a puncture when riding the Ninebot and on top of this it has a hill-climbing angle of 15-degrees. An app comes alongside this scooter which can be used to prevent theft, lock your vehicle and control speed or cruise control options.
Specifications
45km range
15.5mph / 25kph Max Speed
Foldable
9" wheels
7.5hr charge time
Pros & Cons
Pros
Great range
Quick folding
High functioning app to connect
Puncture proof wheels
15-degree climb
Cons
Foam filled tires may make for a less smooth ride
Expensive
#9 Hovermax Electric Scooter
The Hovermax Electric Scooter is made with kids and teenagers in mind. It comes with an adjustable height feature for growing kids or to be shared within a family setting. Safety is a feature of this model with non-slip handlebars and a good braking system in place.
This waterproof option for kids and teens allows them to use it in drizzle or light rain if they wish without worry. Be mindful that the tires on this model are suited to leisurely use and not for longer journeys. Perfect for a gift.
Specifications
150w motor
12-16km Range
20km /h Max Speed
Foldable
Charge time not specified
Pros & Cons
Pros
Waterproof
Adjustable height
Dual braking system
Perfect for kids or teenagers
Cons
Maximum user weight 80kg
Tires not suited to long journeys
#10 Xiaomi Mi 1S
Xiaomi is arguably the most popular brand of electric scooter on the automotive market, and for good reason. We picked the Xiaomi Mi 1S as the best model overall to invest in whether you want to use it to get around every day or for leisurely use.
The cost of this scooter is at the higher end of the scale but is certainly not the priciest option you could choose. With this version you get a lot of features for your money and a top-rated e-scooter by customers. For a great price you get top end speed, range, and a clean, sleek design to top it off.
Specifications
250w motor
30km Range
15.5mph / 25kph Max Speed
Foldable
8.5" pneumatic tires
5.5hr charge time
Pros & Cons
Pros
Great price
Dual braking system
Mi App
3 speed modes
2-year warranty
Cons
Not completely waterproof
Read More: Best Electric Scooters for Kids this Christmas
#11 iScooter i9 with App Controls
The iScooter i9 would make a great gift for adults, teenagers, or even older children. It is full of safety features like a suspension system, anti-puncture tires, disc brakes and lights for visibility.
Tires which are solid like these come with no maintenance and no fear of punctures however they are less comfortable to ride on. This option does feature a suspension system to combat this, however. The handlebar is fixed and not adjustable.
Specifications
350w Motor
25km Range
30km/ h Max Speed
Foldable
8.5" Solid Tires
Charge time not specified
Pros & Cons
Pros
App compatible
Affordable price
Maintenance free tires
Suspension system
Cons
Tire type can mean a bumpier ride
Newer version available
#12 TOEU Adult E-Scooter
The TOEU adult e-scooter is made for the urban commuter with its quick folding mechanism and decent driving range. It is very affordable compared to other models listed but at this lower price it does not offer the same level of features as others.
New and improved areas of this model include better lighting and less noise from the motor. The tires on this option are 8.5" but do not state whether they are pneumatic or solid. For this price it is safe to guess they are solid or foam filled which are less maintenance but not as nice to drive on.
This would be an ideal gift for short journeys or leisurely use.
Specifications
250w Motor
20km Range
25km/ h Max Speed
Foldable
8.5" tires
Pros & Cons
Pros
Dual brake system
Easy fold
Good speed
Low motor noise
Cons
Motor less powerful than others listed
Tire type not specified
How Much Do They Cost in Ireland?
In Ireland electric scooters can range in price from anywhere between €180 – €650 or more. The price you pay really depends on the model you choose and the features you want on your e-scooter.
If you are looking for a long-term motorised scooter to use instead of a car and get around every day, then it would certainly be worth investing in a decent model and brand. For kids or teens however, that wish to use a scooter recreationally, there are more affordable, less extravagant options to buy.
In our comparison list of the top e-scooters to buy in Ireland in 2022 we include a range of models and brands at varied prices. Some are suited to adults and regular use while others are for recreational purposes suited to teenagers and children as gifts.
Where Can I Order an E-Scooter Online?
Electric Scooters Ireland
https://scootersireland.ie/electric-scooters/
346, No, 20 Harcourt St, Saint Kevin's, Dublin 2, D02 H364
How Fast Do They Go?
The speed of an e-scooter will of course depend on the model and brand you buy. Typically the more money you choose to invest in your scooter the more chance it will go faster when driving.
The range of speeds that scooters can go is anywhere from 15km / h to 30km / h and in some cases a little faster.
Are They Dangerous?
As with any automotive it can be dangerous to drive one if you are not being careful, safe or wearing an appropriate helmet. People in Ireland are currently taking to the roads with e-scooters but legislation has only been passed through government in October 2021 to legalise these vehicles for road use.
It is important to watch your speed, and other vehicles around you as they are not yet accustomed to e-scooters on public roads and some just may not be paying attention to anything but other cars.
As with all vehicles there are dangers to driving an electric scooter so be sure to take all of the necessary safety precautions.
What Scooter has the Longest Range?
The Xiaomi Mi Pro 2 Electric Scooter has the longest driving range available at a whopping 45km. This does mean that charging time takes longer – up to 9 hours.
However if you are using your e-scooter as a car replacement or on a regular basis having a very long range is ideal and a necessity for many.
Legality
You may be wondering if electric scooters are legal in Ireland? As of October 18th, 2021 the Irish government approved legislation for the lawful allowance of e-scooters on Irish roads. It is expected for the legislation to be finalised by Christmas 2021.
Ireland are one of the last members of the EU to legalise the use of electric scooters on roads. Public calls for this legalisation have been frequent over the past number of years as the popularity of using a motorised scooter to get around increased.
As of now people can technically be stopped by Gardai for driving alongside cars, buses and motorcycles on public roads but it still happens. The safety of scooters on the road will be addressed in legislation once finalised by the Irish government.
Do You need a License for One?
As of right now a licence, tax or insurance are not required to drive an e-scooter (once they are not driven on public roads) as they are still technically illegal to drive on Irish roads. However, with the introduction of new laws surrounding e-scooters and their eligibility to join other road users in the near future, this could be set to change.
Where Can I Ride?
Electric scooters are the perfect way to get around locally or bring with you on public transport to places of interest. Some can tackle hills while others aren't so advanced.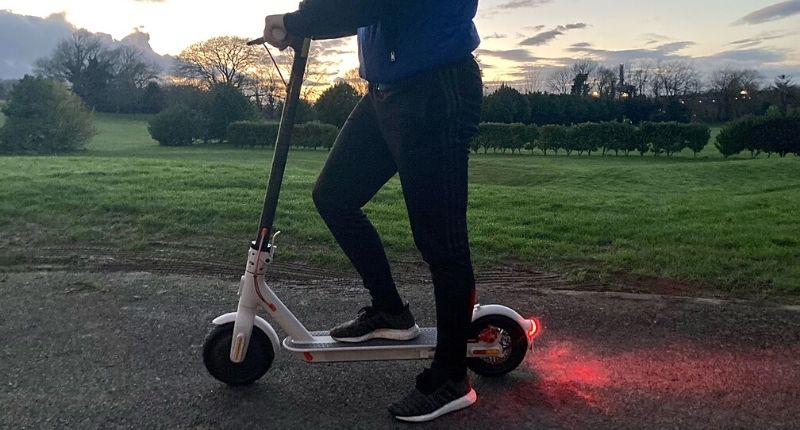 If you're thinking about taking your e-scooter on the road then be sure to check the laws in your country, where a helmet and abide by the rules of the road.
Can An E-Scooter go Uphill?
Motorised scooters in general can be used to drive uphill but not all models will work as effectively as others. Top brands like Xiaomi and Segway have this problem solved and are equipped to tackle hilly journeys. However less expensive models may not perform as you wish and you should keep this in mind when choosing a scooter to buy.
Can They Go On The Pavement?
In Ireland, there is yet to be concrete legislation on the topic of electric scooters on roads and in public spaces but as they are a motorised vehicle it is not recommended by the RSA to use an e-scooter on a path where pedestrians are walking.
Charging
Believe it or not, even when you're not regularly using your scooter you should be charging it now and then. This maintains the quality of the battery and avoids damage being caused to an unused battery.
A full charge every couple of months will keep the battery in good nick and avoid any problems when you do get back to using it again.
When to Charge
It is not needed to charge you e-scooter battery after every use unless it has been really run down from a long journey. Like electric cars batteries in e-scooters can be monitored and charged as needed. A good guide is to keep your battery between 30% to 80% or more.
Where to Charge
Electric scooters can be charged at home using the charger provided with the e-scooter you purchased. As of now there are only public charge points available for e-cars in Ireland but this could be set to change in the future as legalisation of electric scooters on roads will soon be introduced.
Can an Electric Scooter be used without a Battery
If your battery runs out or you wish to simply walk your scooter beside you this can be done however it can be tiresome. Electric scooters are heavier than manual ones and may have some resistance when used without the battery operating. Some e-scooters come with a dual function or walking mode to allow for this eventuality.
Can the Battery be Replaced
Yes. Over time as with any motorised item the battery or batteries will need to be replaced. You should contact the company you originally bought your scooter from for more information or ask when purchasing for future reference.