A surge in E-Scooter use across Ireland and Europe means new features are popping up across various brands, one being a seat. The original electric scooter design requires the rider to stand up straight while guiding the vehicle forward, but now you can get models with seats allowing the rider to sit while riding or break for a pit-stop.
What are E-Scooters with Seats called
There isn't a particular name for electric scooters which have seats. The seat is simply an extra feature of some models of e-scooters for sale on the market.
Electric scooters with seats are less common and so they can be harder to find when out shopping. One brand which has more than one version of an E-Scooter with a seat is Razor. Other brands of motorised vehicles, like Xiaomi for example, don't offer electric scooters with seats at all.
What is the Benefit of a Seat?
The benefit of having a seat on your electric scooter is mainly for comfort while driving at speed, so the driver doesn't have to stand up for the entire duration of their journey. Those who are older in age may wish to use a micro mobile form of transport like the e-scooter but wish to have a place to rest while doing so.
Not only this, but another benefit of riding with a seat attached is the luxury of having somewhere to sit when stuck in traffic or stopping for a coffee on your travels. Many of these models feature seats which can be removed from the frame and attached only when the user feels they need it. Other models incorporate the seat as part of the full design.
What are the Best Electric Scooters with Seats – 2021
The best electric scooter for you as an adult will of course depend on what features you are looking for. The great news is no matter what type of e-scooter you're looking for, there is a model out there suited for you. With e-scooter popularity on the rise it is the best time to go shopping for one, especially as versions with additional seats are now available.
Below we have compiled a short list of the best electric scooters with seats to buy in 2021. This list was created with micromobility shoppers in mind, detailing the range of scooters with seats on the market for you to pick from.
Here you can view our top product picks:
| Name | Where to Purchase | What You Get |
| --- | --- | --- |
| #1 Hitway Off-Road E-Scooter | Buy Now | |
| #2 Razor Power E300 S  | Buy Now | |
| #3 HUABANCHE Electric Scooter | Buy Now | |
| #4 Razor E-Punk | Buy Now | |
| #5 Wired XL with Seat | Buy Now | |
Top 5 Products:
Hitway are a brand who have incorporated seats into their recent designs and have done so with adult riders in mind. This model ticks all the boxes in terms of features, functionality, and overall design.
Travel far using the excellent run time of this e-scooter after a full charge. The 800w motor allows for distance and speed on 10" wheels. Fold it up to take to an off-road location or as a travel buddy on trips away from home.
Specifications:
Motor – 800w
Speed – 28mp/h
Wheels – 10"
Run time – 28km
Age Advice – Adults only
Pros & Cons
Pros
Great run time
Detachable seat
Foldable model
The Razor Power E300 is perfect for teenagers and older kids who want an electric scooter to zoom around on. The seat allows for comfort and control while riding, supporting the rider's body as they drive the scooter.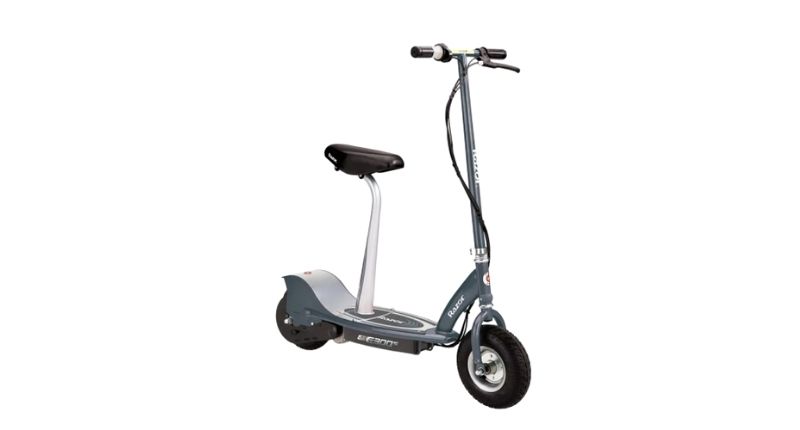 A matt grey colour palette as well as a robust design made for older children in mind means both style and functionality are accounted for in this scooter option. Pneumatic tires are a great feature of this model as they allow for a smoother ride.
Specifications:
Motor – 250w
Speed – 15mp/h
Run time – 40 minutes
Charge time – 18 hrs
Age Advice – 13+
Pros & Cons
Pros
Pneumatic tires
Great speed
Perfect for teenagers and young adults
Huabanche have created the ideal electric scooter for running errands. This model comes with an additional basket at the back for storing personal items when travelling or picking up some supplies in the local shop.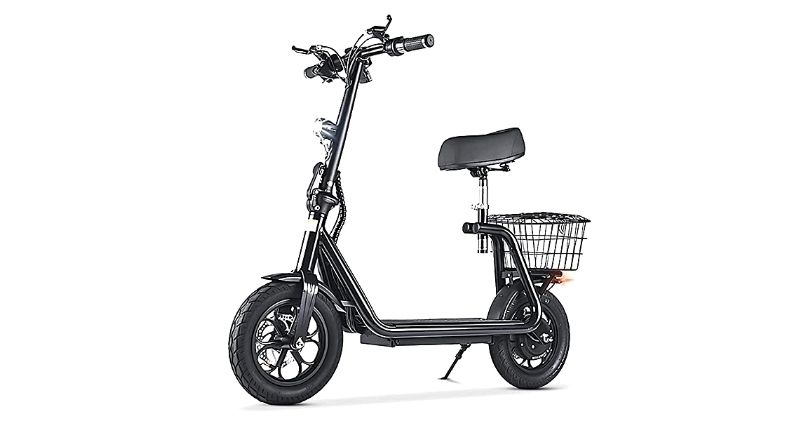 Large, 12" pneumatic tires allow for a smooth ride while the sturdy, aluminium frame is robust enough to get around comfortably. The seat comes with a detachable feature and if attached it can be adjusted in terms of height.
Specifications:
Motor – 500w
Speed – 28mp/h
Wheels – 12" pneumatic
Run time – 35 / 40km
Age Advice – Adults only
Pros & Cons
Pros
Large pneumatic tires
Long range
Storage basket
Cons
Adults only
Classic design not to everyone's taste
Another popular Razor E-Scooter model is the E-Punk. This choice is an ideal present for an active child as it incorporates the fun, leisurely element of electric scooter design. With a maximum speed of 9mp/h it is a safe and affordable model for parents to purchase for children ages 8 and over.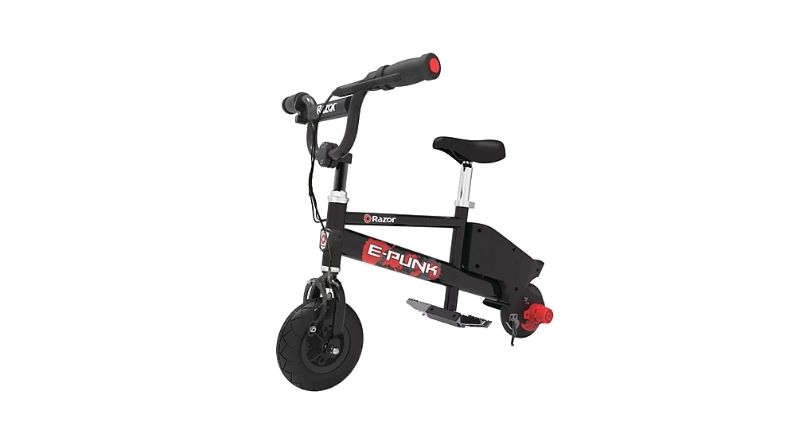 Featuring a front air-filled tire and a solid rear one, this is ideal for kids to use in skate parks, in their own garden or a playground. Adjustments can be made to the seat so that a variety of user heights can be accommodated for.
Specifications:
Battery – 12V
Speed – 9mp/h
Run time – 40 minutes
Age Advice – 8+
Pros & Cons
Pros
Lightweight
Portable
Suitable for kids 8+
Cons
Not suitable for users over 55kg
The Wired XL comes with a seat and a trendy design too. The seat allows the rider have excellent control while cruising along at a top speed of 16mp/h.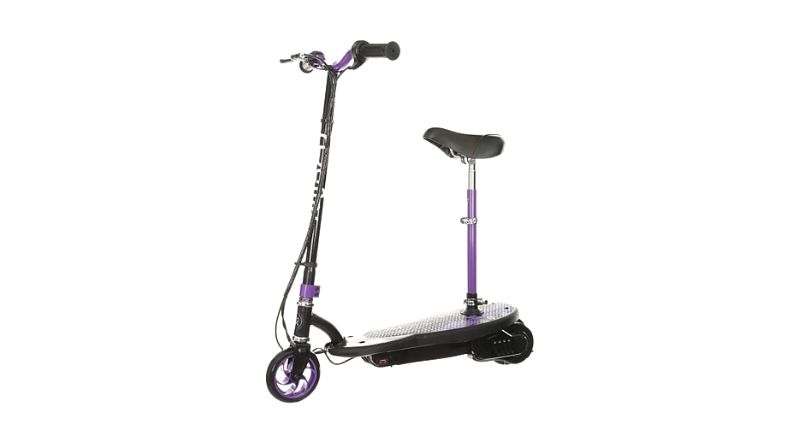 A non-slip foot plate plus brakes operated by hand make this model a great choice for safety while still maintaining an exciting riding experience. The maximum rider weight is 70 kilograms.
Specifications:
Motor – 100w
Speed – 16mp/h
Run time – 40 minutes
Age Advice – 8+
Pros & Cons
Pros
Safety features
Purple design
Good speed
Cons
Charge time not specified
One colour option only
Where to Buy Razor Scooters with Seats – Adults
You can buy Razor electric scooters from e-commerce stores like Halfords or Amazon. You can also visit physical shops which stock this brand of scooter and purchase on the spot. In our list of best e-scooters with seats, featured above, you will find Razor models of scooters with seats which are popular with both men and women.
Can the seat be removed
In short, it depends on the model. Some e-scooters will come with a detachable seat for the scooter while others will come with an in-built seat or fixed seat as part of the overall scooter design.
Can an e-scooter with a seat fold up
Yes, e-scooters with seats can actually fold up. Be sure to check the specific model for a folding mechanism as versions vary but it is certainly possible to source one with both a seat and the ability to fold up for transportation elsewhere.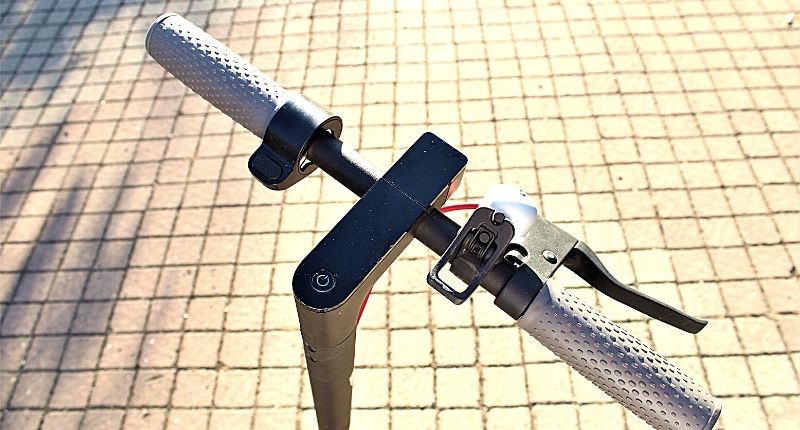 Are they legal in the UK / Ireland
In Ireland electric scooters with or without seats are legal to use on public roads once the proper guidelines are followed by the driver. Up until September 2021, electric scooters were only legal to drive on your own property or as a fun vehicle, not as a mode of transport on the roads alongside cars and bikes.
Are Electric Scooters allowed on roads
Thankfully legislation has been passed by the Irish government to legalise the use of this sustainable mode of transit and make way for a new wave of travelling around cities in Ireland. Rules and regulations set out in legislation will have to be followed by riders just as with other road users however.
Do you need a licence for one
As of now people do not need a licence for a motorised scooter however with the introduction of new legislation by the Irish government as mentioned above, this could certainly change.
Do I need insurance for one
Currently insurance for an e-scooter is not needed as they are not legally deemed as roadworthy in Ireland just yet. When planned legislation is passed in the coming months this could possible change as the vehicles are legalised to ride on public roads alongside other motor vehicles and pedestrians.
Are electric scooters with seats safe to ride/ use
Electric scooters are safe to use once the correct precautions are taken for the driver's safety and of course for the safety of pedestrians and other road users.
Do I need to wear a helmet – it is essential that you always wear a helmet while riding on an electric scooter or any motorised vehicle.
How long do motorised scooters last
The length of time a motorised scooter will last depends on several factors, but the average time is around 2-4 years with the correct maintenance. If you take care of your scooter, it will of course last longer than if you don't.
Maintenance, storage in the correct environment, and regular charging will allow your vehicle to stay in good nick and last you many years.
What are the disadvantages of driving one
Here are some of the disadvantages of riding an electric scooter:
Distance can travel
1 person per vehicle
Safety amongst other road users
Weather
Locks & theft
Is it worth it
It is worth getting an electric scooter if you want an efficient, sustainable form of transport that costs significantly less than a car. E-Scooters can also be used by kids and teenagers for leisurely use around the house or in the garden as a fun gadget.