The festive season is finally here! If you are still contemplating getting your child that dream electric scooter they've been asking Santa for, worry no more, for this is the perfect gift and time to get it.
With the advancement in technology has come the electronic scooter, which is a more convenient, two-wheeled stand-up scooter powered by an electric motor. It usually runs on a rechargeable battery.
The average cost of these scooters for kids is about €200 and above but they are worth it because other than the fun and adventure the child will get riding it, they learn to be responsible for it. In addition to this, for older kids it makes movement around their locality easier, serving as a micro form of transport.
You can get these scooters from dedicated scooter shops, or online shops and stores such as Smyths Toy Shop and Amazon. Here we have taken the hard work out of the search and put together a list of the top options for children this Christmas.
Top 5 Electric Scooters for Kids in 2021
| Name | Where to Purchase | What You Get |
| --- | --- | --- |
| #1 Our Pick: Mtricscoto E-Scooter | Buy Now | |
| #2 Razor Youth Power Core E-90 | Buy Now | |
| #3 Hovermax E-Scooter | Buy Now | |
| #4 Windgoo M1 Foldable | Buy Now | |
| #5 TENBOOM Scooter for Kids | Buy Now | |
Read on to find out which scooter will best fit your requirements and what you need to know about these scooters.
More Reading: Which Electric Scooters with Seats are Best to Get in 2021
#1

Mtricscoto E-Scooter for Older Kids & Teens 
Your child's safety is the number one priority in the making of this e-scooter. It has a minimalist design for comfort and durability, with a high-power lithium battery that guarantees powerful performance and a top speed of 23km/h.
This model is fitted with an LED light at the rear for visibility plus a dual brake system and shock absorbers giving you peace of mind that your teen will get home happy and safe! Height adjustments and folding away are quick and effortless too. This is our top pick for gifting a child with an electric scooter this Christmas 2021.
Pros & Cons
Pros
Foldable
Dual braking system
High power –lithium battery
Built-in kickstand & tail light
Cons
Not suitable for younger children
#2 Razor Youth Power Core E-90
The Razor Youth Power Core E-90 is an ideal gift for children aged 8 years and up. Razor is one of the most popular e-scooter brands on the global market and know their stuff when it comes to creating durable, powerful but safe motorised vehicles.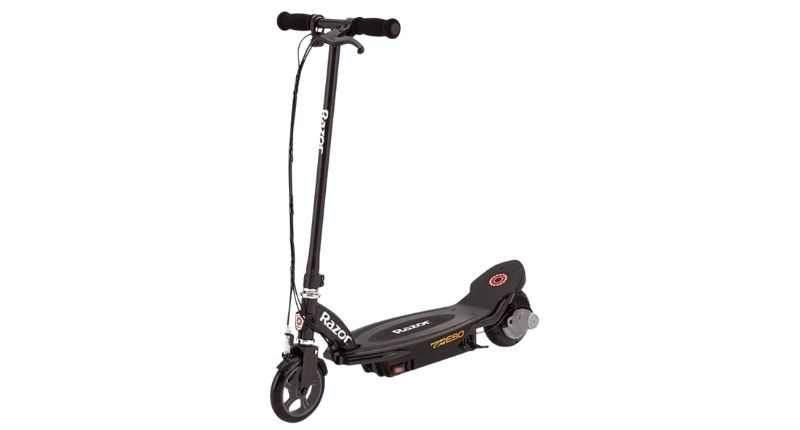 This model gives the rider 80 minutes ride time for those weighing 120lbs or less. A front brake operated by the users hand is quick and easy to access. Balance is catered for thanks to the rear wheel drive feature of this scooter.
Pros & Cons
Pros
Max rider weight is 120lbs
80 minutes drive time
8+ age range
Lightweight, durable steel frame
Cons
Handlebars are fixed at 61cm height
#3 Hovermax
With this state-of-the-art scooter, your child is guaranteed an endless adventure. Once the battery dies, they can continue using it like a normal scooter.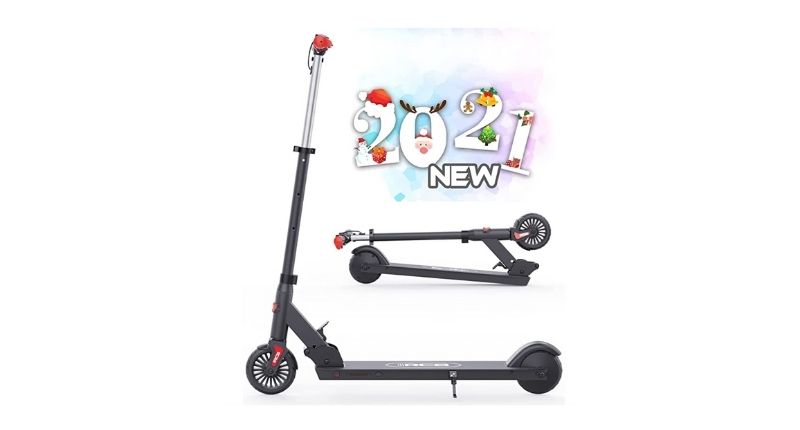 It uses assisted sliding to start, thus avoiding injuries, and has reflective bumper stickers, non-slip handlebars, and dual brakes to ensure your child is safe when enjoying it.
Pros & Cons
Pros
Powerful motor
Height adjustable
Long battery life
Waterproof
#4 Windgoo M1 Foldable
The ultimate fun-filled e-scooter is the Windgoo M1 for kids aged from 3 years to 10 years old. Thanks to the adjustable T handlebar this model can be adjusted from 31 inches to 35.5 inches as your child grows or wishes to share their scooter with friends, cousins or even siblings.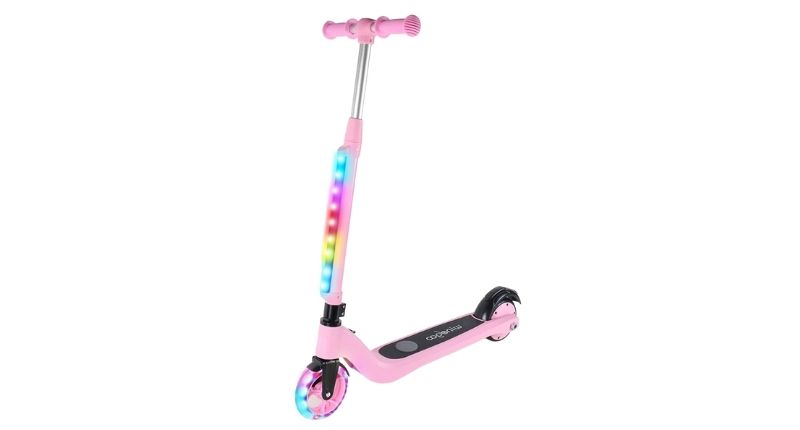 This choice comes in 5 different bright colourways which means your child is very visible outside no matter what time of the day it is. On top of that this unique design includes LED lights on the T handlebar plus lights dotted around the front wheel. When your child steps onto the footdeck these lights are activated.
Pros & Cons
Pros
Bright, visible colours
Coloured LED lights
Adjustable Handlebar
Cons
Not suitable for kids over 10 years
#5 TENBOOM Scooter for Kids
The Tenboom electric scooter would make an excellent gift for kids aged between 8 and 12 years. It is designed for an older kid in mind as the design incorporates large wheels, dual suspension and a handy folding option.
Five trendy colours options plus adjustable height settings make this a very flexible option for parents to purchase this Christmas. You can change the height of the scooter from 89cm to 103cm over time as your child grows with it or to share between the family.
Pros & Cons
Pros
Large wheels
Dual suspension
Foldable
Cons
Not suitable for kids under 8 or over 12 years
Are Electric Scooters Safe for Kids?
Yes, they are but with caution and adult supervision. Most electric scooters have an average speed of 15mph (24km/h). However, brands that make electric scooters for young children, especially under age 8, manufacture them with lower maximum speed and more balanced ergonomics.
The standard electric scooter is only advisable for children over the age of 16. Those younger than should use brands specifically designed for that age, and the minimum recommended age being eight and over
The legality of Electric Scooters in Ireland
The government of Ireland recently has approved a new Road Traffic Bill, which legislates the use of these scooters on Irish roads, making them the perfect gift for Christmas 2021. These scooters will be prohibited on busways and motorways but will be allowed on cycle routes.
The above will be implemented by the end of the year with speed limits of not less than 6km/h and not more than 25km/h.
How They Work
Simply put, when you press the throttle (switch on the handlebar) on the scooter, a signal is sent to the battery, which in turn releases power. The power released travels via the wires to the motor, which produces the movement of the wheel. Of course, the movement of the wheels equates forward movement of the scooter.
You are probably wondering how far the scooter can go; Depending on the frequent start, stops, your weight, and the terrain you ride on, the scooter can go between 5 to 4o miles
How Long Do They Take to Charge?
For a new scooter, the charging period should be an average of 12 hours, but for normal charging, the time should be between 4 and 20 hours, depending on its capacity and the charger you use. The charge can last between 30 minutes to 6 hours.
How to Repair
When your scooter refuses to run, the first thought is to rush to a mechanic to fix it, which is a good idea. However, there are minor problems which you fix. For example, if the motor refuses to start, you can check for basic things such as whether the power switch is on or if the circuit breaker works.
If the circuit breaker is the problem due to overload, you can correct the problem then push the reset button on the circuit for it to work. You can try to push the scooter to kick start it and if it still does not work, try charging the battery pack for complete hours.
If it still fails to work or has more complex problems, you can take them to an electrical repair shop near you or call them and have them come take a look.
How to Stay Safe
Ensure, however, that you always prioritise the rider's safety by getting safety gear such as a helmet, elbow, and knee pads. Wrist guards may seem like a good idea, but they are not because they can make it hard to grip the handlebars on your scooter.
Ditch your headphones so that you can be aware of your surroundings, lower your speed when going down a hill, use the designated cycle lanes, and always follow traffic laws put in place. In addition, always check the maximum weight that the scooter can carry to avoid damaging the scooter.
Train your child fully and ensure they have this knowledge, and practice what you have taught them wherever they go.