Electric bikes are bicycles with a battery-powered assist that can be achieved through peddling and sometimes through a throttle. There are different types of e-bikes, i.e. electric hybrid bikes, mountain bikes, built for various places like the city, hills etc.
An electric powered mountain bike is a bicycle specifically designed for off-road trails. They are heavy with powerful brakes and wider handlebars to help the cyclist with balance and comfort. The bicycle is designed with wider tyres since the mountain terrain has rocks, roots, steep grades.
For this reason, the bike has become very popular with city folk who try to deal with potholes or over curbs.
What is an Electric Hybrid Bicycle?
An electric hybrid bike is designed so that it can be used both in the city streets and on light trails. Compared to electric bikes, electric hybrid bikes are better because they have a feature that is puncture resistant, making your ride as stress-free as possible.
Where is Best to Purchase
It is easy to purchase an electric bike because you can order one online on many sites, i.e. amazon, go mobility. The bicycle can be delivered to you from the comfort of your home by Go Mobility if you are looking for a mobility aid or e-bike in Ireland. Another option is to get them at shops near you.
Top 10 E-Bikes to Purchase in 2021
Here are our top picks from the Irish E-Bike market and available for customers to buy online in 2021:
#1 The Outsider
The outsider is designed to stand alone, and it's powered by a 250 or 750-watt BAFANG rear hub motor. It has a 50+ kilometre range per charge. This bike is designed to keep thing exciting and at the age of your seat as you take on different adventures.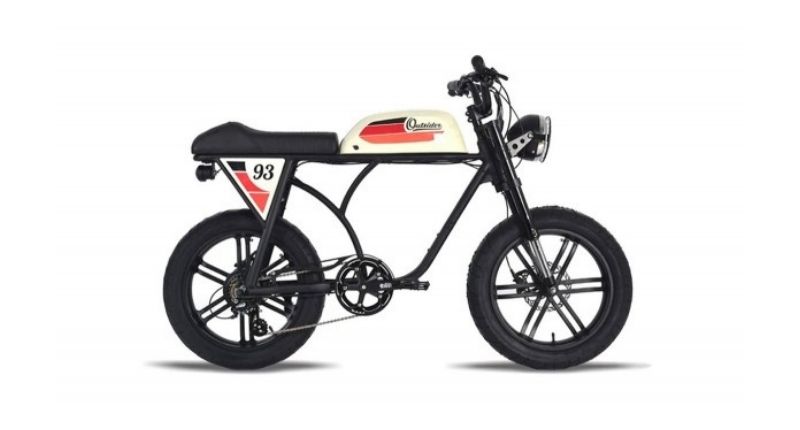 It doesn't matter whether you cycle daily to work. School or just an earth lover-you will get the whole experience. The outsider comes with its Pros and Cons:
Pros & Cons
Pros
Features a removable tank
Easier access to the battery
Effortless battery recharge
Includes interchangeable tank covers
Cons
Tyres aren't as tough as other models
#2 Greaser Classic
The greaser classic is an electric, vintage-inspired and beautiful bicycle. It runs on a 250watt geared brushless rear hub motor and is legal for use on all public roads which makes it convenient.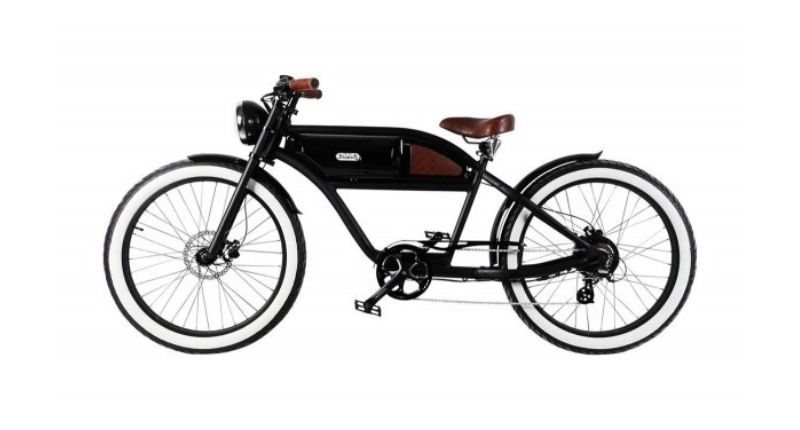 Due to its 50km per charge Samsung lithium ion battery, you can use it on a day to day basis, but you have to consider some things like the riders weight, wind, outside temperature, stop and go traffic etc.
Pros & Cons
Pros
Strong hub drive motor
It's legal to ride in most cities
You can use the greaser classic daily
Cons
The Greaser classic is not cheap
#3 Greaser S Blue/Black/Red
Just like the greaser classic, the greaser S is convenient for everyday use. It has a powerful 500/350 watt geared brushless motor, which you can use to ride uphill without breaking a sweat.
The bicycle can cruise anywhere that cars cannot be able to reach, this means you can also beat traffic jams when in a hurry.It comes with a couple of
Pros & Cons
Pros
Beautiful exterior which makes it attractive
It's a great bike to ride because the PAS kicks in when you start pedalling
The large tyres on the bicycle can handle tough roads easily
Cons
This electric bicycle is physically large
#4 Ruffian
The ruffian is a high-performance bike for people that don't compromise on style. It is powered by the motor from Bosch which is the best and has a maximum torque of 75Nm and up to 340% delivered support and responsiveness.
Its batteries are hidden in the ruffian tank and can be charged while riding the bike and without memory effect or minimal self-discharge. It weighs less but has strong support. The bike has clean belt drives and designed to meet the cyclists' demands. Since they are carbon belts, they last longer and they're almost maintenance free.
Pros & Cons
Pros
Stores energy, which is long-lasting
For those that enjoy riding on a zero-emission vehicle
Lasts longer and is almost maintenance-free
Cons
There's not much shock absorption
#5 Lil Buddy Silver
This electric bike targets people that are into mini bikes. The little buddy silver has a Bosch power pack of 300Wh and a powerful supernova headlight.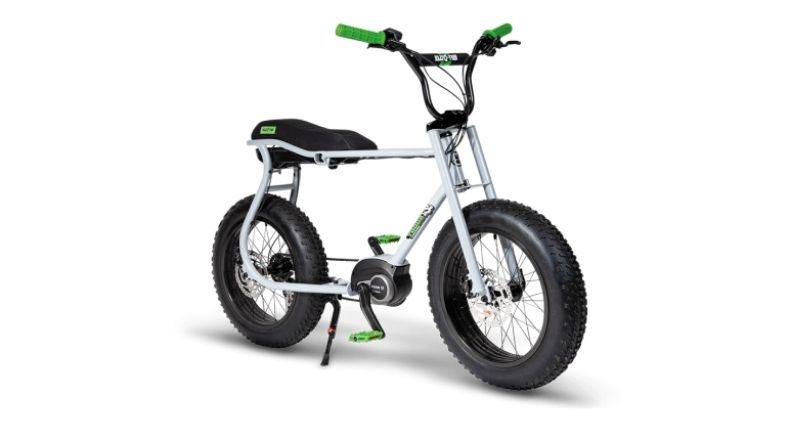 The bike emits very low carbon compared to cars therefore works to conserve the environment.
Pros & Cons
Pros
Saves money and keeps you healthy
Good fit for people that love mini bikes
Relatively low carbon emissions
Cons
The bike requires some research on its legal status
#6 Vacay Classic
The vacay classic is built for people with an eye for chopper culture. The vacay classic has a 250 to 500 watt geared brushless rear hub motor. It also has a Samsung lithium ion 36volt, it can range from 25km/hr up to 45km/hr.
The display provides feedback on battery level, speed, wattage output etc. The speed can be adjusted all the way up to 32mph and the battery is located on the down tube giving it balance.
Pros & Cons
Pros
Adjustable speed giving it good balance
Has a large LCD display
Powerful brakes
Cons
It is not a cheap bicycle to purchase
#7 Vacay Springer
The vacay springer has adjustable brakes. It has unique style with an added suspension. It's motor is powerful with 250 watts and it gives you assistance when you need it most.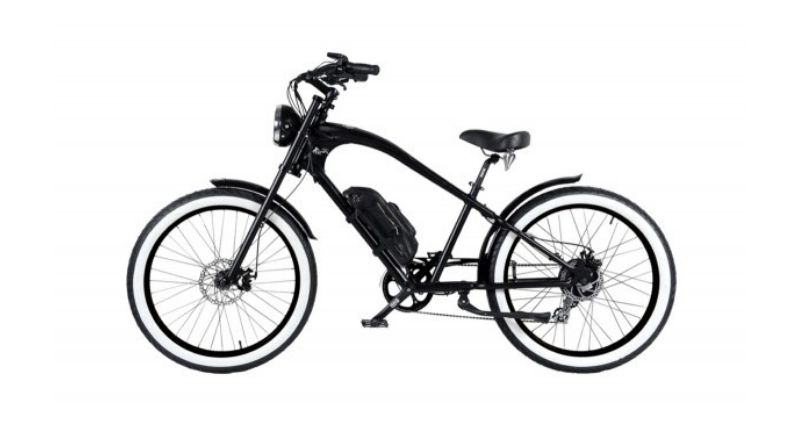 The seats on the bike are super comfortable, large and cushioned, the springs have you riding in complete comfort even on a bumpy or rough terrain.
Pros & Cons
Pros
Brakes are adjustable
Great speed on the road
The seats are extra comfortable
Cons
It can be tiresome to charge
#8 Hitway E-Bike
The Hitway urban city bike can be very economical and is built for city roads. It's lightweight and strong and has an ultra-light aluminium alloy.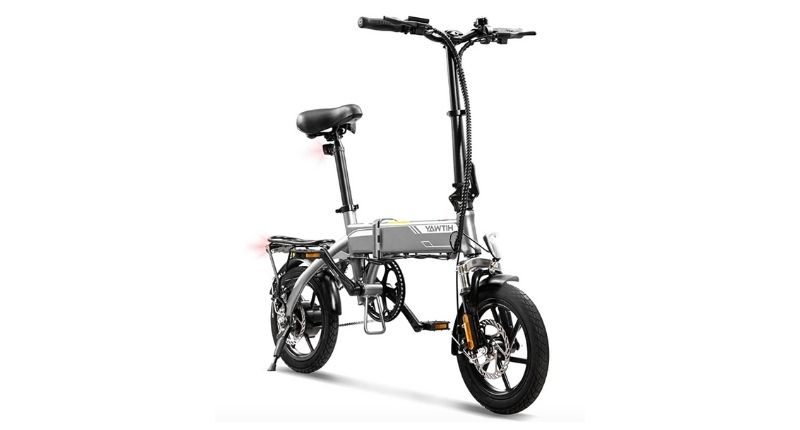 It weighs about 22kgs and the maximum cargo it can carry is up to 100kgs. It's high speed but safe: 250W equipped with automotive grade power lithium battery.
Pros & Cons
Pros
Hidden batteries which cuts through the air easily
Large lamps on it allow you to see clearly in the dark
Fat tyres make you feel like you're floating on air
Cons
You need to check on its legality when you're in certain states
#9 Hitway Urban City Bike
This is a city bike with a driving range of 20-100 miles. With a rechargeable battery and the seats are adjustable. The output on the bike is strong and efficient and stable.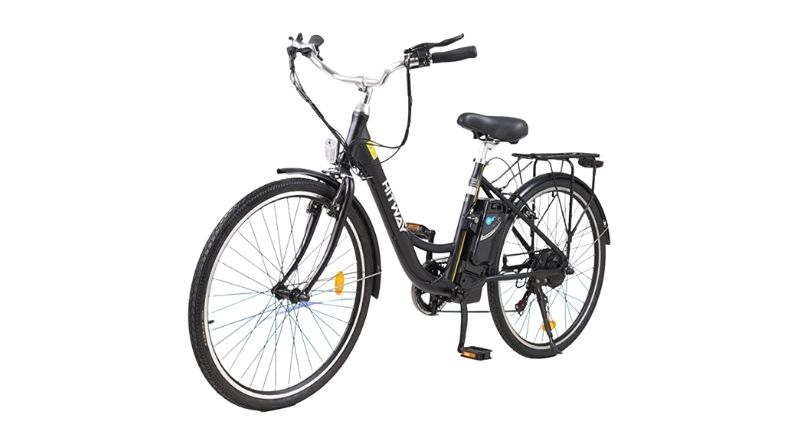 It has a CE certification pursuing environmental safety.
Pros & Cons
Pros
It's lightweight and strong
It has high speed but it's still safe
Provides adjustable riding mode for cyclists to choose from
Cons
It is sensitive when changing gears
#10 Windgoo B20
The Windgoo B20 operates as well as it looks. This model is sporty, trendy and ideal for regular commutes whether it's to and from work or more off road journeys for leisure and fitness. Folding it up is simple in just a few seconds.
This lightweight model has three driving modes, dual brakes and is lightweight which makes it easy to travel with and stow away at home or at work. Cruise control is an option for riders which will make your journey that bit smoother and enjoyable.
Pros & Cons
Pros
Lightweight
Quick & easy folding mechanism
Affordable option
Cons
Smaller frame may not suit all riders
What is the Driving Range & Top Speed of E-Bikes?
The general driving range on electric bikes is 20-100 miles and the top speed you can do is 20mph.Some are designed to carry cargo although the weight limit on e-bikes is set to range at 220-300 pounds.
How Long do they Last
After about three to five years after purchase is when e-bikes performance begins to decline. However the experience of driving one is thrilling and certainly worth the investment.
What is the Cost of One
The bikes cost from ___ up to ___. They have a pedal assist, its an operating mode which helps you peddle easier and in case of a lock, the mini by Kryptonite comes highly recommended.