Shower seats and shower chairs make bathing a safe experience by minimising the risk of falls. However, finding the perfect shower seat is a tricky process.
Where Can I Buy Shower Seats & Chairs?
You can purchase from an independent business or Amazon, depending on what you want. Choosing a shower seat depends on physical ability and your shower.
While they resemble average chairs, the function and materials are different. The material of a shower seat needs to be waterproof, and most chairs are aluminium or plastic.
There are three types of shower seats:
Mobile
Mounted
Stool
When choosing a type, consider your needs and how often you will use it.
Top 10 Shower Seats to Buy in Ireland
Here are the best shower chairs currently on the market in Ireland:
| Name | Where to Purchase | What You Get |
| --- | --- | --- |
| #1 My Pick: GoMobility Days Stationary Shower Chair | Buy Now | |
| #2 Patterson Medical Contour Shower Seat | Buy Now | |
| #3 Days Healthcare Mobile Shower Seat | Buy Now | |
| #4 Patterson Medical Shower Stool | Buy Now | |
| #5 Nisorpa Shower Stool | Buy Now | |
| #6 NRS Healthcare Folding Shower Seat | Buy Now | |
| #7 Days Aluminium Shower Stool | Buy Now | |
| #8 Days Removable Seat Shower Stool | Buy Now | |
| #9 Days Corner Stool | Buy Now | |
| #10 Days Aluminium Shower Seat | Buy Now | |
This chair is adjustable and has drainage holes. The back is plastic, and the arms are steel. There are rubber caps on each leg to prevent slippage, and the fitted armrests secure movement.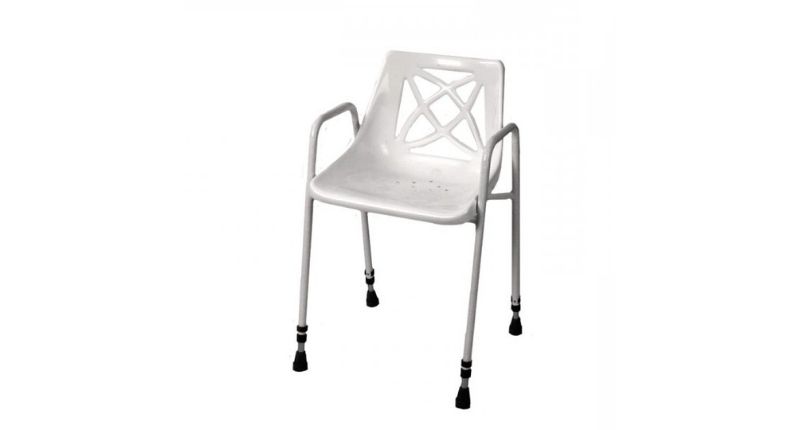 If you want to save money but need a high-quality shower chair, this is a great pick.
Pros & Cons
Pros
Durable plastic
VAT refund available
Adjustable height
Cons
Fitted armrests limit mobility
This model is all about comfort. The curved seat adds extra safety. It has a moulded plastic seat and an aluminium frame.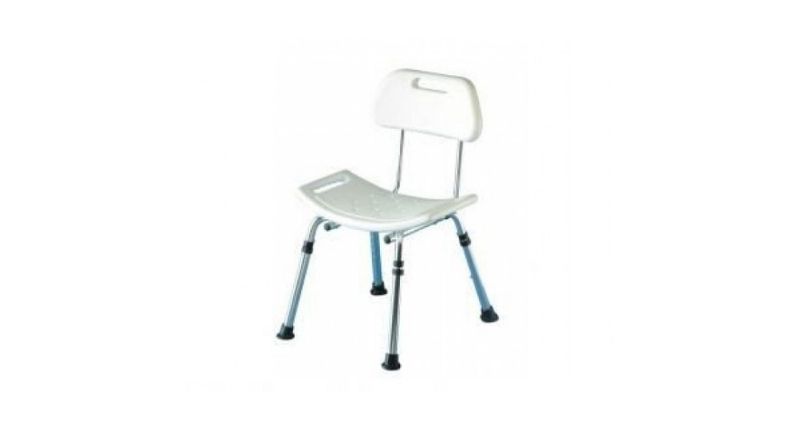 Despite the aluminium, this chair won't rust. It also comes with a curved backrest for support. The downside of this seat is, of course, the cost. The Patterson Medical shower seat is worth the splurge if you can make it work – it's stable and lasts a lifetime.
Pros & Cons
Pros
Curved seat for safety
Durable
Curved backrest
Mobile chairs are very convenient. This chair has a supportive back bar, and brakes ensure you never have to worry about your chair moving around in the shower.
Some positives of this shower seat are its braking system and replaceable parts. Negatives include a higher risk of falling out and needed supervision while in use.
Pros & Cons
Pros
Braking system
Replaceable parts
Backbar for support
If you need support but don't want a chair, this shower stool is an ergonomic option – especially for small spaces.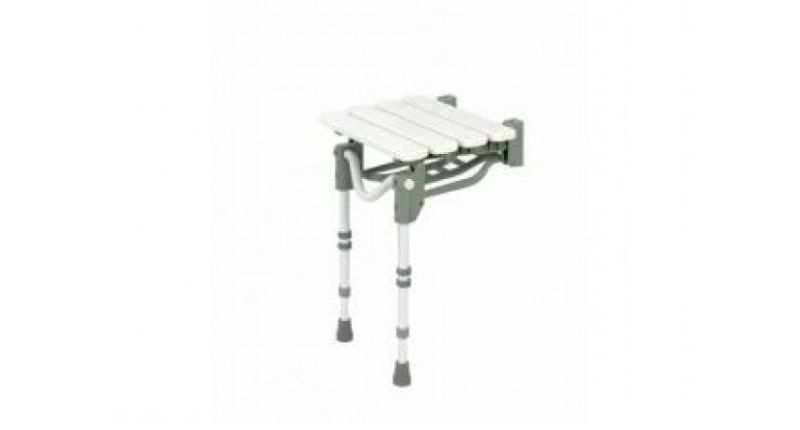 This stool is foldable, and the legs adjust. It mounts to the wall with aluminium and stainless steel. Hiring a professional is an extra expense, but having a secure stool is worth it.
Pros & Cons
Pros
Space-saving
Non-slip feet
Cons
Requires professional installation
This stool has an adjustable height, curved seat, and padded armrests. The Nisorpa stool is for users that take long showers and need something that isn't rigid.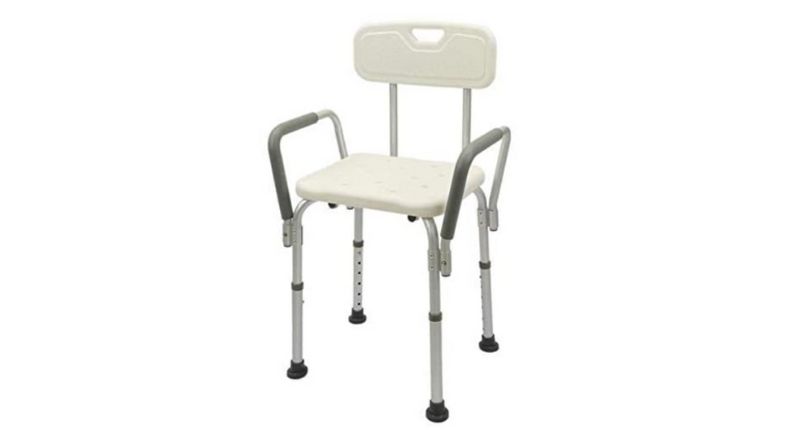 Pros of this seat are its padded base and built-in side handles. Cons are the price, and padded material wears out faster than plastic.
Pros & Cons
Pros
Padded seat
Adjustable height
Armrests/ handles
Cons
Expensive model
Padded seat less durable than plastic
This wall mounted shower chair comes with legs and a seat which are both capable of folding away. The design allows for safe side transfer onto the seat.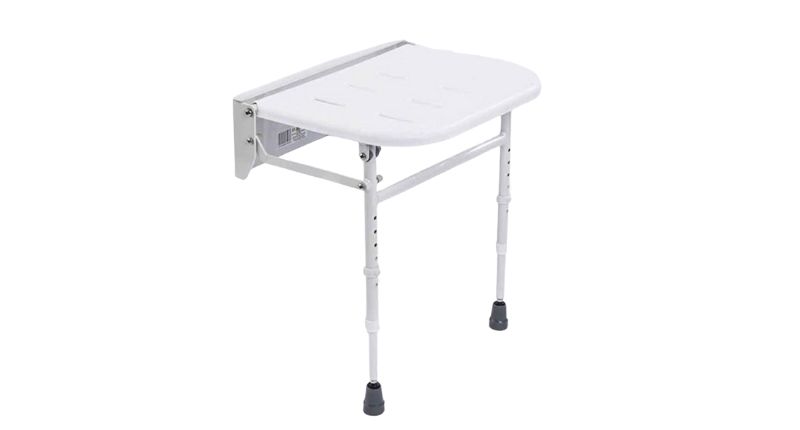 The seat has waterproof padding for convenience and comfort.
Pros & Cons
Pros
Wall mounted
Drainage holes in seat
Foldable when not in use
If you prefer a simple chair, this is your best bet. It has a curved base for comfort and aluminium legs. There are no armrests, but it has side handles for easy manoeuvring.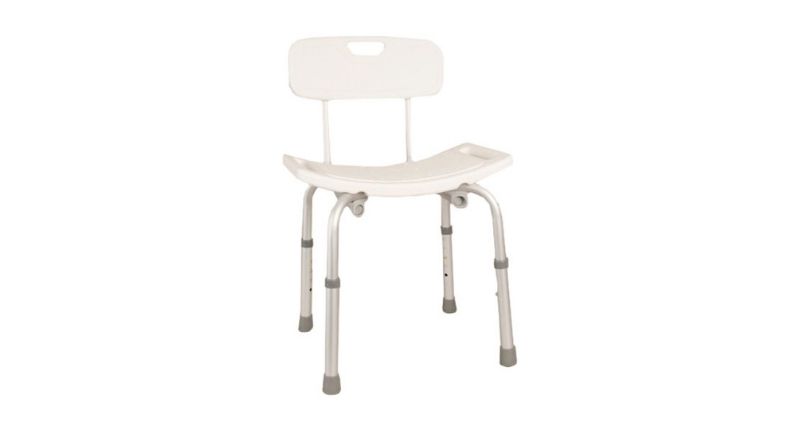 Other positives are non-slip rubber soles and adjustable legs. It is a bit bulky – so if you don't want your shower seat to stick out, it may not work for you.
Pros & Cons
Pros
Non-slip feet
Adjustable legs
Curved seat for safety
Keeping mould from your shower stool is essential. This chair has a removable seat for proper cleaning.
This stool is best suited for those needing minimal supervision.
Pros & Cons
Pros
The clip-on seat is sanitary
Armrests for added stability
Cons
Not ideal for someone needing a lot of assistance
This chair is perfect if you want something subtle. Since it's flush against the wall, it is less apparent than a traditional stool.
The shower seat comes packed with all the needed tools. The negative of this stool is that the drainage holes are small, so water is more likely to collect.
Pros & Cons
Pros
Subtle and simple
Space saving
Corrosion resistant
Cons
Small drainage holes
No handles or backrest
Do you want the reliability of a chair without the size? With a curved plastic seat and adjustable legs, this stool has you covered.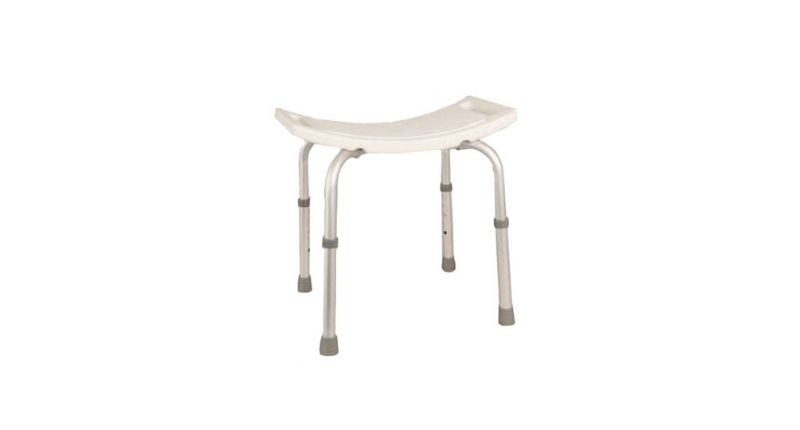 If you have minimal back issues, this stool is a substantial choice.
Pros & Cons
Pros
Cutout handles
Non-marking rubber tips
How To Use
Before using your shower seat, make sure all adjustments are sturdy. You should also check rubber soles.
When you sit, sit in the middle of the seat. Never sit on the edge.
Safety & Installation
Shower seats are generally safe, but proper installation is crucial.
Call a professional to install seats and springs. Never try installing a wall-mounted seat!
Locations for Your Seat
Always put your shower seat on a flat surface.
Make sure your chair does not go up the tub sides. For walk-in showers, position the seat in a corner.
Weight Limit & Bathtub Use
Every chair has a different weight limit. You should know your exact weight before purchasing a shower seat.
Most showers are inside bathtubs, so you might be wondering if a shower chair will fit in narrow spots. The answer is yes! Measure your bathtub for the best fit.
Foldable mounted seats work best in bathtubs. Walk-in showers are best for mounted chairs.
How Much Do They Cost?
Prices vary. A more elaborate seat will be more expensive. Hiring someone for installation adds to your total cost.
Will HSE Ireland/Government of Ireland Pay for a Shower Chair?
HSE Ireland may pay for your shower chair if you have a medical card. If you have private insurance, you may pay more.