Baby changing tables are essential. Whether you want to DIY your changing table or shop around, read on for further information and product recommendations.
What Is a Changing Table?
Changing tables are for changing nappies, cleaning your baby, and so on. The more elaborate models resemble furniture, while the basic versions are more bare-bones.
Should I Buy a Changing Table?
Baby changing tables are the easiest way to change nappies and clean your baby. 
However, there are DIY options that we'll get to later—so don't worry if you're on a budget.
When Do Babies Outgrow a Changing Table & When Do I Stop Using It?
That varies. Usually, parents discontinue use when the baby is potty trained and can stand on their own.
Where to Buy a Changing Table
You can purchase a changing table at most mass retailers, either online or in physical stores. Costs range from €100-200.
Finding which table is best for your baby is a challenge, but we think the best traits are storage, stability, and comfort. 
Top 5 Changing Tables to Buy in 2021
Here are the top 5 changing tables to buy in Ireland in 2021:
| Name | Where to Purchase | What You Get |
| --- | --- | --- |
| #1 Our Pick: COSTWAY 4-in-1 Changing Table | Buy Now | |
| #2 GJWL Wooden Changing Table | Buy Now | |
| #3 My Babiie Grey Stars Changing Table | Buy Now | |
| #4 Ickle Bubba Coleby Baby Changing Table | Buy Now | |
| #5 Mychild Peachy Changing Unit | Buy Now | |
If you're looking to solve multiple problems at once, this is your best bet. There are so many options for storage, and you can use it as a drying rack, shoe rack, or bathing station.
The lower level is for toys or nappy products, while the side pocket makes storing bath time goodies a breeze. Overall, this table is excellent if you need to save space and storage options.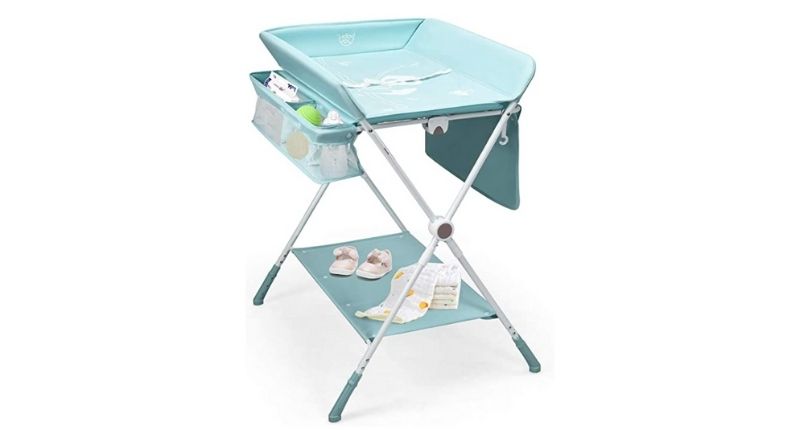 Pros & Cons
Pros
Adjustable height levels
Safety belt
Height gage
Sometimes changing tables are eyesores, so if you want something that looks like traditional furniture, this table is perfect. With cute knobs and multiple colours available, this table matches any decor.
While this is a stylish changing table, it could be cumbersome for small spaces. It's best suited for larger nurseries and rooms.
Pros & Cons
Pros
Durable
Guardrails
Adjustable height
This table has it all. We love the star pattern and mesh window cubbies, and the mesh on each shelf prevents any nappy-changing products from spilling.
This changing table is best for babies that don't regularly make too much of a mess, as you have to get deep into the corners of the table to ensure cleanliness.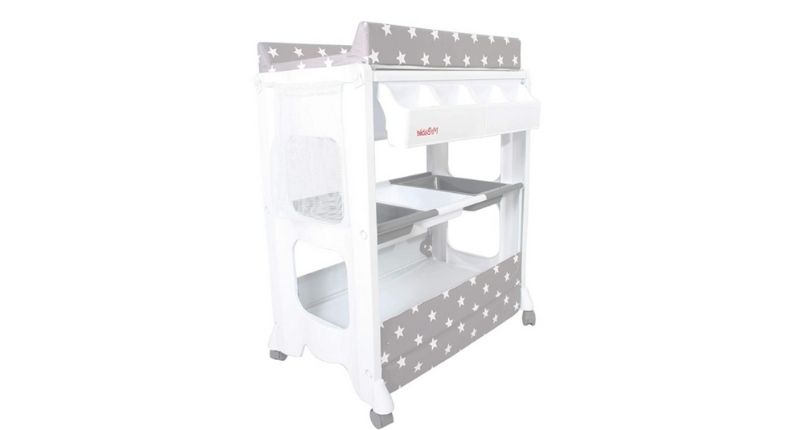 Pros & Cons
Pros
Concealed bath
Lockable wheels
Works for babies up to 15kgs
This table is no-frills and no-nonsense but still has storage. This model is great for those on a tight budget or if you already have plenty of storage. This table may be too dull for some, but it gets the job done safely and quickly.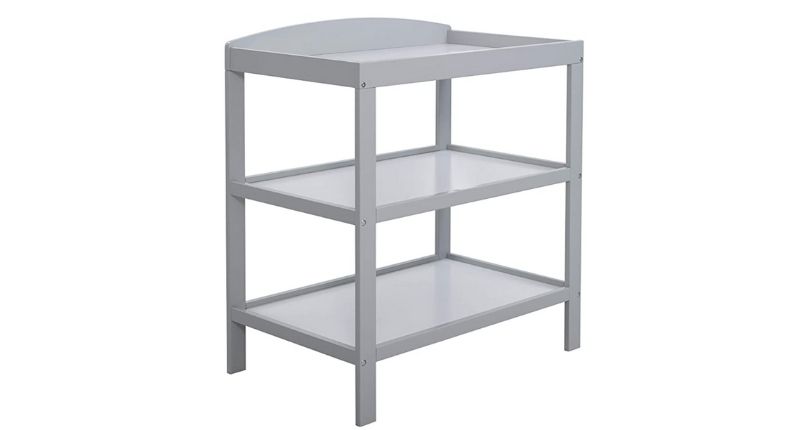 Pros & Cons
Pros
Simple design
Expansive shelves
Won't clash with other decor
Cons
Not ideal if you want something aesthetically pleasing
You may want some colour and pizazz with your changing table, and the Mychild model delivers. With a neutral design up top and mesh shelf windows, this table will brighten your day. 
We think this changing table is best for new parents. The attached wheels and storage make nappy-changing a faster process.
Pros & Cons
Pros
Hidden bath
Attached wheels
Lightweight
DIY Changing Tables
Remember the DIY opportunities we mentioned earlier? Well, here they are! 
The most popular way to DIY a changing table is to use a dresser. Here's how you do it: 
Check the height of the dresser.

Measure the top of the dresser and buy a changing pad.

Attach the changing pad with velcro or straps.
If you prefer starting from scratch, that is more of an undertaking – but possible! Figure out what style you want, then: 
Use plywood to build the base and sides.

Insert shelves wherever needed.

Paint, stain, or sand the table. 

Attach a changing pad.
Try researching DIY bookshelves – most changing tables have a similar design. Regardless, the essential aspect of a DIY changing table is the height. 
A short table causes back pain. Ideally, a changing table should be about 36 inches tall.
How to Organise a Changing Table
Make sure you have everything you need to change your baby. That means creams, lotions, wipes, powders, towels, and nappies. Then, organise your shelves by how often you use each product.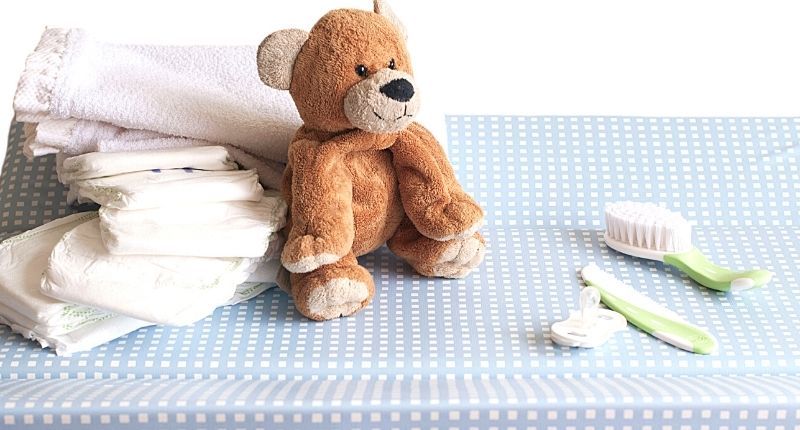 For example, diaper rash cream is not for every day, so put that on the bottom shelf. But nappies, wipes, and towels are used daily, so those should be on the top shelf.
Where Do I Put My Changing Table at Home?
The inconspicuous place is the nursery, but if you do not have a separate room, try the laundry or even a guest bedroom. 
How Do I Clean a Changing Table?
Depending on the material of your changing pad, you can wipe it with a damp cloth or, if it is fabric, wash it in the washing machine. 
Wipe the top of the table down with a wipe and Lysol to disinfect. 
What to do With an Old Changing Table
There are several options for repurposing your changing table. 
Upcycling
If you want to keep your changing table, up-cycle it! You can turn your changing table into almost anything, such as: 
Play kitchen or area for kids

Bar cart

Bookshelf
These mainly work for wooden or DIY changing tables.
Recycling
If your table has seen better days, recycle it. This method is best for plastic changing tables. Make sure you check local recycling laws! 
Selling
If you need to get rid of your changing table quickly, try selling it. The best way is Facebook Marketplace or other forms of social media.
Industrial Changing Tables
Changing tables are not just for homes – public bathrooms need industrial changing tables that are easy to clean and convenient. Below are two popular models. 
This industrial table folds out to save space and has straps for safety. It also has high side rails to prevent falls. Each side has storage hooks to keep the table clear.
If the bathroom you are using is narrow, a vertical table is the better choice. It has deeper sides than the other model, a waist bar to keep babies in place, and rounded edges to prevent injury.
Changing Table Safety
The safety of your baby is crucial. But, unfortunately, changing table accidents happen. 
If your baby falls, immediately check for head injuries. Take them to the emergency room if these signs are present:
Swelling 

Vomiting

Loss of consciousness

Bleeding 
Falls are not always fatal, but to prevent falls, strap your baby to the table properly.
Another way to prevent falls is to know the weight limit for your changing table. Pretty much all tables have a limit of 30 pounds.
Also, never let your baby sleep on a changing table. They can wiggle around and hurt themselves when you are not looking. Never leave them alone.