A bath transfer bench is a mobility aid that helps the elderly or people with disabilities get into the bathtub. It's built, so they don't have to step over the ledge. Lifting your leg high enough to get over the lip of the tub can throw off your balance. It's also slippery once you step into the tub, so the bench gives you a source of stability.
How to Use a Bath Transfer Bench
Bath transfer benches straddle the edge of the bathtub, so half of it is in the tub and half is out. This gives you space to sit down and then slide down or turn your body. At that point, your legs are in the tub, and you haven't lost your balance. You can sit on the bench for your whole bath or shower or use it when you feel unsteady on your feet and need to rest.
Where to Buy a Bath Transfer Bench
You can find bath transfer benches at many drugstores, big box stores, and home goods stores. You can also order them online, though you might have to assemble them yourself.
| Name | Where to Purchase | What You Get |
| --- | --- | --- |
| #1 Our Pick: Comfy Transfer Bath Bench | Buy Now | |
| #2 PEPE Transfer Bench | Buy Now | |
| #3 NRS Healthcare Bath Bench | Buy Now | |
This Comfy Transfer Bath Bench is extra wide, making it easy to get in and out of the bath. The seats and backrest have supportive padding for more comfort. The segmented cushions let water drain without allowing mould to grow.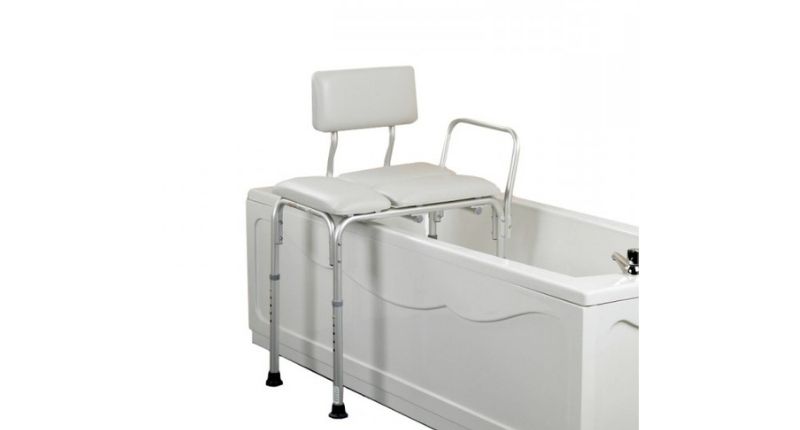 The PEPE Bath Transfer Bench has three wide panels to give you plenty of space to settle on the bench and ease your way into the tub. A sturdy aluminium armrest gives you something to hold onto while you're moving. 
The feet on the tub-side of the bench have suction cups to hold them in place. The legs are adjustable and lock into place once you find the right height.
This bath transfer bench looks different from the others because it doesn't use an aluminium frame. Instead, it's completely made of durable plastic with rubber feet. You can easily turn it to fit in a left- or right-hand tub.
How Much Does a Bath Transfer Bench Cost?
Bath transfer benches typically cost anywhere from £100 to £300. If you're eligible for VAT relief, you can get a discount by filling out paperwork.  
How Often Should the Elderly Bathe?
The elderly should bathe at least once or twice a week. This keeps them clean and prevents skin irritations and infections. You can help them clean up with a warm washcloth between bath days.
Sometimes, especially with dementia patients, it helps to have a routine. In that case, bathing every day is something they can depend on, and they're less likely to resist it.
Other Ways to Transfer a Person into a Bath
You can use a transfer board to help someone into the bathtub. It's also helpful for getting someone out of a wheelchair into bed or onto the bath bench. The Samarit Banana Board has a slight curve to better fit against your body. The Curved Transfer Board with Non-Slip Pad stays in place to promote independence.
You can also help someone into the bath by physical lifting. This might be difficult because you have to stay steady while you're lifting someone else's weight. It helps to have a bath transfer bench nearby, so you can just help the person to that instead of having to lift them over the edge yourself.
Final Note
Bath transfer benches are mobility aids that help the elderly maintain independence. There are different options available to best suit the person's needs and their bathroom space. If you're eligible for medical aid, those funds can cover the bath transfer bench.